Advertisement:

Scythe Kamakaze CPU Cooler
Join the community - in the OCAU Forums!


Introduction, Overview, Package

Over the past few years we've seen a barrage of aftermarket CPU coolers entering the enthusiast computing market. Coming in all shapes and sizes, various colours, with or without flashing lights, the one common trend seems to be that with decent performance comes a decent amount of noise. In more recent times this noise has reached unwelcome levels. With many striving for a near silent PC whilst still maintaining those decent clock speeds, the market is starting to see better designed cooling units, including some extremely large ones.

Weighing in at a touch under 700grams, this unit is one of the large ones...

The Package
Scythe is a fairly new company and the Kamakaze is their flagship cpu cooler. It's designed for both socket A and socket 478 but in this review I'll only be covering the AMD side of things.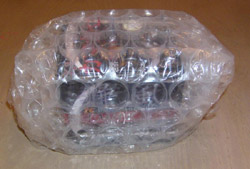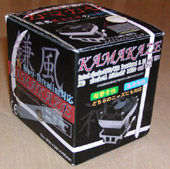 At first I thought the jumbo bubble wrap was a bit overboard for protecting the cooler, but upon opening the box I rather appreciated it. This heatsink is large and apart from a fairly useless looking piece of bubble wrap inside, everything is stuffed into a smallish box.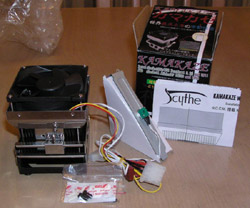 Here you can see everything contained inside the box. This includes:
The cooling unit (heatsink, retention module & fan)
Fan controller (attached to fan)
Black and white A4 sheet of instructions
Thermal Grease
P4 Socket (around base of cooler inside box)
AMD Socket (attached to retention module out of the box)
Socket 478 mounting bracket (to replace the stock motherboard mounting bracket, not necessary in all situations)
Product Overview
Model Name: Kamakaze
Manufacturer: Scythe Co., Ltd., Japan
Compatibility:

Intel Pentium 4 (socket 478) up to 3.2GHz
AMD Athlon XP (socket A) up to 3400+

Fan Dimensions: 80 x 80 x 25mm
Heatsink Dimensions: 70 x 70 x 57mm
Combined Dimensions: 90 x 85 x 90mm
Fan Speed: 1300 ~ 3400rpm (with rheostat)
Air Flow: 13.6CFM @ 1300rpm ~ 34CFM @ 3400rpm
Noise Level: 16dBA @ 1300rpm (lowest); 37dBA @ 3400rpm (highest)
Weight: 690g (1.44lb)
When I first disassembled the unit I was met with a nasty surprise. The heatsink looked pretty darn mangled.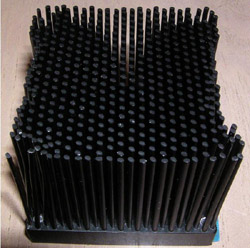 Another reviewer received a sample like this and claimed it didn't affect performance greatly, but I took it upon myself to fix things up. Here's what 3 minutes and a flathead screwdriver achieved.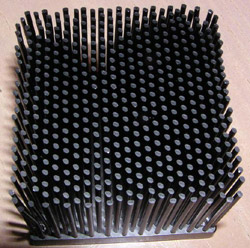 As you can see the pins bend pretty easily. I contacted Tier 2 systems about the damage and they acknowledged that Scythe is aware of the problem and has it under control. Apparently the unit I received was the worst they've seen and if anyone received a unit as badly damaged as mine they'd be willing to replace it.

Shipping damage aside, the heatsink looks pretty good. Using a copper base with aluminium pins has proved a fairly good combination for heat dissipation in the past. Apparently this is because copper as a material has better thermal conductivity but aluminium is better at releasing the heat at lower fan speeds.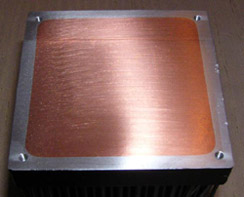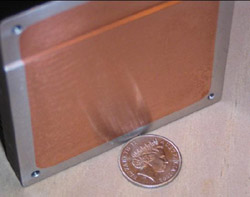 The heatsink base comes coated with a thin, protective film. Removal reveals a flat, shiny base without a mirror finish.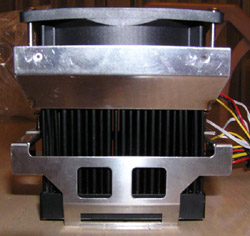 In this picture you can see some light scratches on the shroud. Also, just above the screws on the corners of the shroud some marks from the manufacturing process are visible. After installation they probably won't even be seen, but they shouldn't really be there in the first place.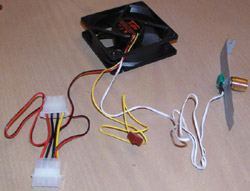 Here you can see the fan removed from the heatsink. Including a fan controller in the package is a nice touch but even on full power the fan is honestly so quiet compared to my case fans that the only time I touched the knob was during testing. Also you'll see in this picture that the fan controller is not removable. So those with a fan bus will have to leave the PCI bracket dangling inside the case or attach it regardless.

The final comment I have on the unit's construction is the omission of a fan grill. Many find these important for protection of stray wires in a messy case and of course the fingers of those crazy people that shove their hands inside the case while the computer is still running. Personally it doesn't make a huge difference to me, I'd probably remove a fan grill anyway because of the extra noise it tends to make. If anyone really has a problem, mounting a grill with the existing screws looks easy enough to do.


---
Advertisement:


All original content copyright James Rolfe.
All rights reserved. No reproduction allowed without written permission.
Interested in advertising on OCAU? Contact us for info.