Advertisement:

Smartech Winner 1 Gas RC Car
Join the community - in the OCAU Forums!


Intro, Package, Features

Broadly speaking, you can divide remote controlled toys into two categories: battery-powered and nitro-powered. Battery-powered is more common - it's generally cheaper at the outset, there's less maintenance involved and they're usually a fair bit quieter. With batteries, however, you're limited by how long the battery lasts. 20 minutes or so from a high-performance car is doing well, and then you either plug in another battery or go home and charge it up for an hour before you can play again. If you run out of fuel in a nitro car, you top it up from the litre bottle you brought with you and carry on. Nitro fuel is much cheaper per minute to use than a 7.2v 6-cell battery, but of course, you can only use it once. Nitro cars generally have higher performance - but the fastest RC car in the world is battery powered. I could go on and on comparing the various flaws and benefits of battery vs nitro, but suffice to say, I personally had assigned nitro cars to the "too noisy, too much hassle" basket, and stuck to my trusty battery-powered cars for years.

And then ToyRange sent over a "Smartech Winner 1" 1/10th nitro car, and I had to learn all this nitro stuff anyway.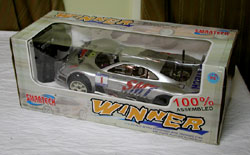 The first thing that struck me about this car is the sheer size of it. It's 1/10th scale, which isn't the largest size available by a long shot, and I already own a couple of 1/10th scale dirt buggy machines, but this car with its Mercedes-inspired shell certainly looks the business.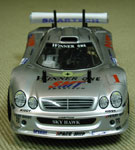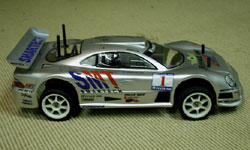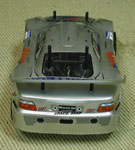 The car comes fully-assembled and ready to go apart from fuel, batteries etc. The shell itself is a little disappointing in terms of build quality, with stickers misaligned, one wheel arch rubbing on a tyre etc. There was even a large clear sheet which has mistakenly been left on the car instead of being removed (to leave only the stickers behind) and on one side the large decals are all wrinkled with bubbles beneath them. Fortunately these quibbles are easily corrected or have no real effect on the car, and the poor-quality impression of the shell doesn't seem to carry over to the car itself.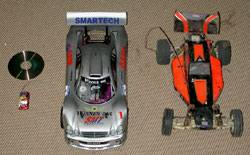 Here you can see the size of the Smartech car compared to one of my old Team Associated RC10 1/10th buggies, the Shenquiwei Micro RC Car and a normal full-size CD.

In fact, coming from a background of using 10 year old dirt buggies, this modern on-road car is a revelation. A full alloy bottom chassis plate is complemented by metal in other important places like the wheel carrier pins and shock mounts. A quick going-over reveals all screws and mounting bolts seem to be tight, which is an important check before you run a car like this. There's a roll bar to offer some protection to the top of the cylinder head and a hefty foam bumper at the front of the car.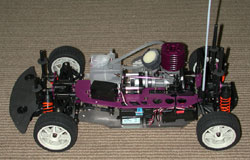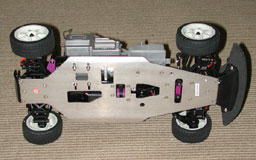 This car is four-wheel drive, so down the centre of the chassis there's a drive-shaft, connecting the front and rear axles to the motor. At each end we have a diff and each wheel has its own spring-and-dampener shock absorber. The servos, radio receiver and batteries are mounted out of harm's way. The steering and suspension are adjustable via turnbuckles, so you can play with the geometry if you like. It seemed well set-up from the factory so I've yet to experiment with it. One thing I might adjust is the ride height, because the shell looks a little ungainly - lowering the car will make it look better and the suspension allows for that adjustment.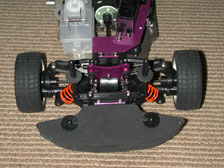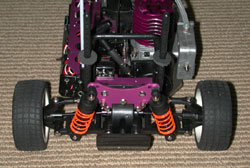 My two dirt buggies are set up for racing, so they don't have a reverse option. Instead, pulling the throttle back results in the electic motor simply stopping, which makes the car brake. It's much more useful to have brakes than a reverse gear for racing. This Smartech car follows the same philosophy, but takes braking to another level - the front driveshaft actually has a small disk-brake setup on it! The throttle servo opens the throttle on the carburettor when moving forward, but when the servo moves backwards, as well as closing the throttle, it presses two metal plates against a fibreglass disk attached to the driveshaft, very effectively stopping the car. The tyres are very grippy when they're worn in a little, so it's nice to know you can slam the brakes on if you get the car totally out of shape and headed towards a gutter. Of course, if you don't quite stop in time, the front foam bumper can help minimise damage. I wouldn't be surprised if most nitro cars lack reverse, because reversing the drive from the engine isn't as simple as it is with an electric motor.

Anyway, in the box you of course get the car, the remote controller, a fold-out sheet of instructions and, curiously, a small bag containing a cable-tie and a balloon.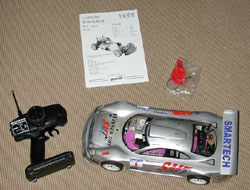 I asked Raaj from ToyRange what the balloon was for, assuming it to be part of some intricate engine-starting procedure, but he suggested it was "for fun, give it to a kid or something". Ahh. Son, come here. Daddy has this awesome nitro-powered RC car to play with, but you.. you get this balloon. Go crazy.

Update: Yes yes, the balloon is for putting around the electronics in the car so they don't get wet, and the cable-tie is for sealing the end of it around the wires. So you can all stop emailing me now.

The manual is pretty bad, I have to say. The first few pages cover buying additional things you don't need to buy because they're included (like radio gear) and assembly steps you don't need to perform (because the car is shipped fully assembled). The instructions for tuning the motor seem to be off a different car entirely. It also really smacks of being translated from Chinese by someone who unfortunately doesn't write English too well. But you can work things out, for the most part, and failing that you can ask on ToyRange's forum for this car.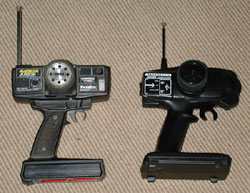 The controller does have a decidedly plasticky feel to it, compared to my old Futaba Magnum Junior. It has a battery power indicator, for some odd reason tucked behind a clear door, and axis trims for the two channels. It takes 8 AA batteries which are not provided. The car takes another 4 AA's and you will also need to get yourself some nitro fuel and a glow plug igniter. Some who-now and a which-what, you say? Read on..


---
Advertisement:


All original content copyright James Rolfe.
All rights reserved. No reproduction allowed without written permission.
Interested in advertising on OCAU? Contact us for info.

---
Recent Content


Team Group C440 Cardea Ceramic M.2 NVMe SSD


Synology DS720+ NAS


Raspberry Pi 4 Model B 8GB


Retro Extreme!


Intel Core i9-10980XE


AMD Ryzen Threadripper 3960X


Team Group T-Force Vulcan 500GB SATA SSD