Antec SLK3700-BQE Black Quiet Super Mid Tower Case
Join the community - in the OCAU Forums!
Introduction and Comparisons
Note:
If you just want to read about the SLK3700-BQE skip to the second page, if you want to know why I bought one, and how it compares to some other Antec cases, keep reading.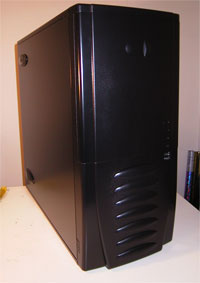 After avoiding the endless computer-upgrade-cycle for the last few years, it's about time I looked at replacing my current home system, and I hope that my approach to the new machine does not upset too many OCAU readers. My PC sits under the table next to my desk, and only gets moved when I want to work on it. This means that I'm not interested in flashing lights, UV stuff, window mods, LED fans or many of the other aesthetic bits and pieces that have very little practical function. I don't intend to take the PC to a LAN, so it does not need to be a light uber-mod-of-showoffness. But most importantly I don't want it be something that sounds like a jumbo jet taking off.

What I do want is quiet. Recently I've noticed that even the fairly-soft-hum of a standard PC gets a bit annoying, so I thought now would be a good time to see if I can get something close to silent computing. At the same time I don't have an unlimited amount of money to throw at it, so I expect I'll have to make some compromises.

The first obvious step in building the machine is selecting the enclosure and power supply. I set myself a rough limit of about $150 for the case and hopefully accessories, but at the same time I know that I don't want to use any of the generic $50 jobs either.

Ideally the new PC enclosure would have the following:
Good build quality.


Good design, from airflow, fan position and noise perspective.


Removable MB tray.


Front USB/Audio/Firewire ports.
While many of the aluminium PC enclosures, have some great features and looks I'm not yet convinced that the cost/benefits are in line with my requirements. There are also quite a number of new cases around that seem to be designed for looks before function, so I avoided those as well. Looking at various local online vendors (I didn't want to pay for shipping for a large item like a case), I had nearly decided on either the TK-3800 or TK-6600 from Task. They met all my requirements, had a few nice additional features and were well within my budget (including a PSU), but I knew nothing about their build quality or how they'd perform in terms of noise and cooling ability.

On the other hand, Antec's build quality and their reputation for quiet designs immediately came to mind when considering the components for the new system. One of the 'Solution Series' of cases the SLK3700-BQE "Black Quiet Super Mid Tower" seemed to have most of the features I wanted, and was well within budget. Antec's Solution Series blurb suggests the following: "Our Solution Series boasts many of the same features found in our high-end cases … And they can be yours for far less than you might think."

Since Antec, and even the name 'Solution Series', indicate that the SLK3700-BQE is a 'budget' case, I took some time comparing it to the similar, but more expensive, cases from Antec. I concluded that although the Solution Series is a bit cheaper than the LifeStyle Series (Sonata), and obviously much cheaper than the Performance One (P160), according to my requirements the differences are not that great.

When comparing the SLK3700-BQE and P160, aside from looks and the obvious fact that the P160 is a premium aluminium case, it also has the movable front panel with USB/audio/Firewire and a removable motherboard tray. A few additional features of the P160, that are not found in the SLK3700-BQE – the nifty front fan holder, the included LED fan and clear side panel don't really bother me, but the fact that it was about three times more expensive did.

The oft-praised Sonata with its Piano Black finish and other cosmetic features looks a lot nicer than the cheaper SLK3700-BQE and also has front Firewire ports, but other than that, I thought the SLK3700-BQE was actually a better option. The SLK3700-BQE's mat-black finish is apparently more scratch resistant, it has one additional drive bay, a slide-out floppy drive bay and as a result is slightly larger – all of which were good additions for me. The front fan on the Sonata is also in a strange position, mounting behind the lower drive bays instead of in front of it. Unfortunately neither has a removable motherboard tray.

Another member of the Solution Series the SLK3700-AMB is almost the same as the BQE, and it comes a little bit cheaper. The AMB has room for 11 drives, but does not have the sideways mounted hard drive bays like the other Antec cases I've mentioned. And while I did say that looks are not important, you must admit that the black BQE looks better than the metallic bronze AMB. ;)

While there were a number of additional cases within my budget they did not appear to offer many important additional features that the SLK3700-BQE did not have, and most similar priced cases appeared to be lacking in design, build quality or features. Other similar priced Antec cases did not have the sidways mounted hard drive bays which I quite liked.

One of the major differences when comparing the Sonata and Solution Series mid-towers is that the Sonata is usually packaged with a TruePower 380W power supply, while the Solution Series usually ships with a SmartPower 350W. I decided to eliminate this difference by comparing (and buying) the enclosure and power supply as separate items.

Spending some time looking at different power supply options, and their prices, I narrowed the choice down to Maxpower, Antec (True or Smart Power series) or one of the newer Thermaltake units. My PC doesn't really run anything special, since our other machine, a dual CPU server has multiple RAID drives, the DVD burner and all the other things that often put lots of load on the power supply. When I compared the cost, features and wattage of the various power supplies, I eventually decided on the Antec TruePower 380W – incidentally the same unit that ships with the Sonata. It should be quiet, have an adequate capacity for my system and some future upgrades, but was not overly expensive.


---
Advertisement:


All original content copyright James Rolfe.
All rights reserved. No reproduction allowed without written permission.
Interested in advertising on OCAU? Contact us for info.

---
Recent Content


Team Group C440 Cardea Ceramic M.2 NVMe SSD


Synology DS720+ NAS


Raspberry Pi 4 Model B 8GB


Retro Extreme!


Intel Core i9-10980XE


AMD Ryzen Threadripper 3960X


Team Group T-Force Vulcan 500GB SATA SSD