Compro VideoMate Live USB2.0 External TV Tuner
Join the community - in the OCAU Forums!


Introduction, Package, Specs, Internals

A TV tuner card is a popular addition to a desktop PC. It adds substantial entertainment value for relatively little money. We have previously tested the Asus 880 TV Tuner card and recently Compro Technology's VideoMate TV Gold Plus.

Both these earlier products are PCI cards, or what we call "internal" solutions. The user has to open the PC case for installing them. Due to this internal installation, these PCI cards are inconvenient to move between one PC and another. Today we have a look at an external TV tuner, Compro Technology's recently introduced VideoMate Live USB 2.0 TV. As the name suggests, this product is based on the USB 2.0 standard. It takes advantage of the 480 Mb/sec maximum transfer rate the USB 2.0 interface is offering. This is more than enough bandwidth for this purpose. The user doesn't have to worry about TV pictures stuttering, which could be the case when using the USB 1.1 interface with a maximum of only 12 Mb/sec bandwidth. The advantages of an external TV tuner are obvious: installation is easier, because the PC case doesn't have to be opened, and it can easily be used with another PC, or even provide mobile TV when used with a notebook.

PRODUCT CONTENT, SPECIFICATIONS, AND SYSTEM REQUIREMENTS
The "VideoMate Live USB" comes in a pretty looking box with a transparent window exposing the device itself. The box contains the TV Tuner and related hardware parts, such as a power adaptor, a remote control, and various cables.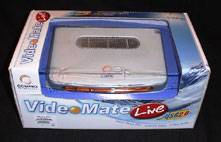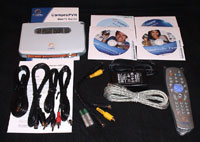 Furthermore it contains a bundle of software for video watching, capturing, editing, burning, and replaying. Last but not least we found 2 manuals, one for the installation and usage of the hardware, and one for the bundled attached applications.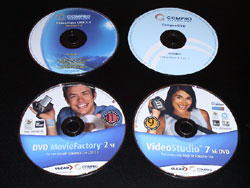 The VideoMateUSB housing itself looks "sleek", which is not unimportant considering that this is an external solution. Who wants to have an ugly box sitting beside their PC?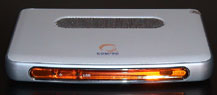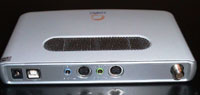 VideoMateLiveUSB's encoding (viewing signals live and storing them on the HDD) and decoding is hardware based. The heart of the VideoMate USB 2.0 is the Cirrus Logic MPEG-2 Codec chipset. It transforms live signals from sources such as TV antenna, DVD, or VHS to digital format for either viewing them live or storing them on a hard disk. Hardware-based encoding is independent from the system computing power. This way the PC's hardware configuration (such as the CPU speed) does not affect the video quality. This is in contrast to software-encoding based TV-Tuner & video capture devices that rely on the PCs processing power.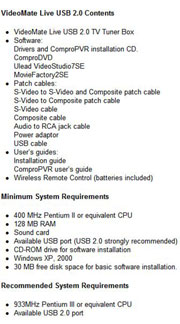 The VideoMateLiveUSB case is sealed. Breaking the seal is voiding the warranty. We nonetheless opened it and found some interesting hardware components on the PCB.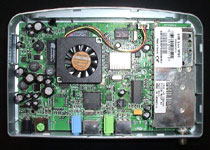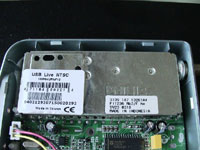 The most prominent part at first glance is the TV tuner itself. Compro is using the Philip Fi 1216 MK2 TV tuner for PAL/BG and the Philip Fi 1236 MK2 tuner for NTSC TV.


---
Advertisement:


All original content copyright James Rolfe.
All rights reserved. No reproduction allowed without written permission.
Interested in advertising on OCAU? Contact us for info.

---
Recent Content


Team Group C440 Cardea Ceramic M.2 NVMe SSD


Synology DS720+ NAS


Raspberry Pi 4 Model B 8GB


Retro Extreme!


Intel Core i9-10980XE


AMD Ryzen Threadripper 3960X


Team Group T-Force Vulcan 500GB SATA SSD