CoolerMaster AquaGate Liquid Cooling System
Join the community - in the OCAU Forums!


Introduction and Contents

I've been around Overclockers Australia for a few years now, and often watch the happenings in our Extreme Cooling forum with interest. But, while I have played with some strange fans and pelters before, water cooling is not something that I've personally felt a need for. There are three main reasons for this: firstly the effort (expense, time, expertise and mess) involved in selecting components to build and maintain a water cooling system is too great. Secondly, all our PC's stay on 24/7 and I've seen the results of spectacular failures of unattended extreme cooling methods, but probably most importantly: it's simply not been needed.

However, as components continue to increase their thermal output it seems that bigger, more complex and louder solutions are required to keep everything at an acceptable temperature level. Recently we've seen the advent of giant copper CPU coolers, video card coolers that take up several PCI slots and an array of other air-cooling options that make your computer sound like a jet airplane taking off.

Given that one of the aims of my current PC upgrade is to try to keep the systems as quiet as possible, I found myself limited in terms of cooling options. So, when CoolerMaster sent us one of their new AquaGate 'Liquid Cooling System' units to look at, I was very interested to see how it performs in terms of its cooling ability and also if it would allow for quiet computing.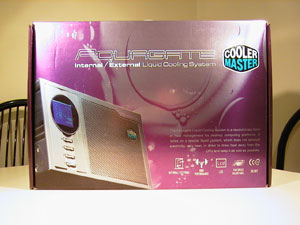 CoolerMaster's AquaGate contains all the elements needed to quickly and easily install the kit into your PC. It has a number of helpful design features that make the system simple to setup, maintain and run with a minimal amount of fuss or mess. An 'emergency shutdown' function should protect systems from any mishap, even if they are left on 24/7. And, importantly, the liquid-cooling setup should allow for a quiet, but well cooled system. Given that the AquaGate seems to address the three main reasons why I've not used water cooling before, it will be interesting to see if it can live up to these expectations.

Inside the Box:
The AquaGate 'Internal/External Liquid Cooling System' is an all-in-one kit; it contains all the componenets required to install the liquid cooling unit into your PC. This makes the kit an attractive prospect to anyone who is new to water cooling; the contents of the kit and the comprehensive instruction manual mean that anyone who can assemble their own PC, or install a CPU Heatsink and fan, should have no problems installing or using the AquaGate. For this reason, this review will focus on the AquaGate unit as a whole kit, rather than examining each component in depth like a water-cooling-veteran would when assembling their own piece-meal setup.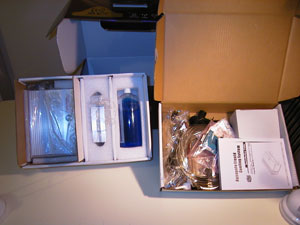 The AquaGate arrived very well packaged in an attractive metallic-purple box, and at 425x200x290mm the box is almost the size of a mid-tower case. Inside the box are two separate packages. The Liquid Cooling Unit, coolant, LCD mounting bracket and substitute block are all firmly packed in soft expanded foam, while the other box contains all the other components: water block, pipes, clamps, pump, PCI card etc.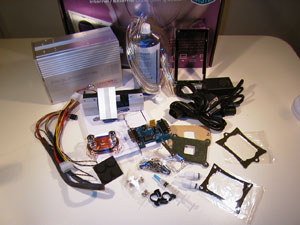 Examining the contents of the kit highlights CoolerMaster's approach to the AquaGate; comprehensive and well thought out. There are some 23 different components included in this system and a total of about 55 items! Obviously the kit has the expected liquid cooling paraphernalia, but it also contains mounting components for a variety of different CPU types, pump power cables for both 110V and 220V, a thermal sensor, thermal paste, and a number of options for mounting the AquaGate's LCU. The components also include a PCI card and LCD control panel, details of both provided later.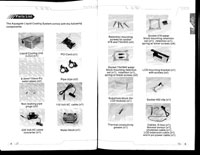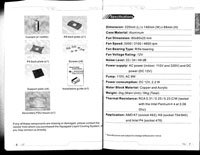 scanned manual pages showing the complete list of components included
---
Advertisement:


All original content copyright James Rolfe.
All rights reserved. No reproduction allowed without written permission.
Interested in advertising on OCAU? Contact us for info.

---
Recent Content


Team Group C440 Cardea Ceramic M.2 NVMe SSD


Synology DS720+ NAS


Raspberry Pi 4 Model B 8GB


Retro Extreme!


Intel Core i9-10980XE


AMD Ryzen Threadripper 3960X


Team Group T-Force Vulcan 500GB SATA SSD