Advertisement:

The Snarf's Shuttle Project
Join the community - in the OCAU Forums!


Parts Used, Fitting It All In

Greetings from The Snarf in Holland. This article will explain how I created my Shuttle project. Firstly, here are some pictures of all the parts I am using to make my barebones work.


left: 92mm fan, some tubing, harddisk and optical drive mountings, water pump and some wire, light.
centre: P4 cooler, PSU cooler, radiator, motherboard and PSU.
right: 4 hard disks + mounting stuff, processor, copper shim, memory, RAID controller, video card and optical drive.
Project: Shuttle SN45G
Case: Shuttle SN45G Barebone
Main board: Shuttle FN45
Processor: AMD XP 1700+ @ 2338 MHz.
Memory: 1024MB Geil Ultra Kit 6-2-2-2
VGA Card: Hercules Radeon 9800XT 256MB
Hard disks: 4x Maxtor 160GB ATA133 8MB 7200RPM (In Raid 0 stripe 640GB)
IO Controller: Promise Ultra 100 XT2 Raid controller
Cooling: Home build water cooling (9cm thermaltake fan)
Optical: Samsung DVD/CD-RW slim drive
OS: Windows XP home Dutch

It all began in December last year. I was looking for a small computer with an NForce chipset and no onboard video. I chose to buy the Shuttle SN45G. After installing my AMD XP1700+ it became clear I needed water-cooling because the temperature was rising to 80 degrees at 2000Mhz. So, I was looking for a small radiator and water pump. I found a complete water-cooling kit that you can put in a 5¼" drive bay. This fit into my little case perfectly with the radiator on the back. Heat problem solved and I can run at a speed of 2158MHz @ 51 degrees with one 12cm intake fan and two 7cm fans on the outside for exhaust.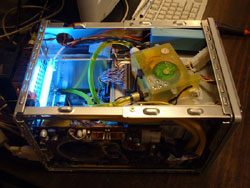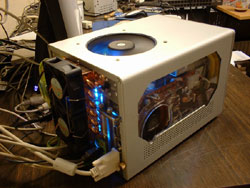 The two 160GB hard disks that I had in the case weren't big enough for all my data, so I needed to think of a way to squeeze more hard disks in. Unfortunately, the water pump was taking up a lot of space. After a brainstorm I managed to mount the pump on the side by the VGA card - luckily, with only 3mm spare.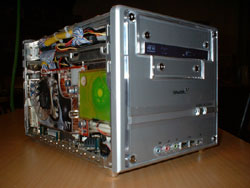 Now for a way to put in two more hard disks on top of my (notebook) DVD/CD-RW drive. With a small piece of aluminum and a bracket set, I had figured out a way to mount the extra two hard disks sideways - but I had to cut out a large piece of my case (so be it!). Now, having four hard drives and 640GB of space, I was so happy.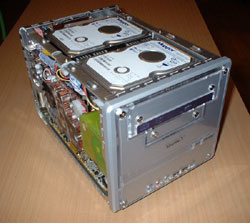 Then I had a small problem with my power supply. 200W was not enough, so I had to buy a 250W silentX PSU. After installing the PSU my temperature was much higher: processor (56º) and my new PSU (58º). So, I needed to do something about it. I had made from a copper pipe a sort of PSU cooler (©®™ The Snarf) and replaced the two 7cm fans with one 9cm one. The PSU temperature dropped 9º to 49º while the CPU temperature fell to 42°. So, I overclocked my CPU even further to 2238MHz. This brought it to 46° at 100% load.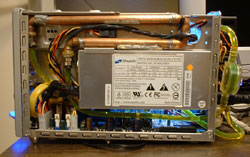 ---
Advertisement:


All original content copyright James Rolfe.
All rights reserved. No reproduction allowed without written permission.
Interested in advertising on OCAU? Contact us for info.

---
Recent Content


Team Group C440 Cardea Ceramic M.2 NVMe SSD


Synology DS720+ NAS


Raspberry Pi 4 Model B 8GB


Retro Extreme!


Intel Core i9-10980XE


AMD Ryzen Threadripper 3960X


Team Group T-Force Vulcan 500GB SATA SSD