Socket370 Cooler Comparison
Join the community - in the OCAU Forums!


Intel Retail and Globalwin Coolers

Well, I've had a fun couple of weekends testing all the Socket-370 heatsink/fan combinations I could lay my hands on! I tested them in one of our Celeron 366 @ 550MHz testbeds, each for 20 minutes of Unreal flyby with the SETI cmd-line client running in the background. This locked the CPU at 100% utilization, and was long enough to indicate how well the cooler was getting the heat off the CPU. We left the machine with the cover off for 10 minutes between tests, to allow it to cool down.

All up, 7 different units were put through their paces, firstly with the stock thermal pads and then with thermal paste applied and the pad removed. We used 2 different chips with each unit - one normal 2.0 chip and a 2.2v chip sanded to full copper. So in total there's 26 temperature readings. This took a very long time. :) Let it not be said we do things half-heartedly at Overclockers Australia!

Are all coolers created equal? Is it really worth paying extra? Read on to find out..

Firstly, an introduction to the units included in the test. A notable absence is the Alpha socket-370 cooler. This is not included because [a] they're not easily available in Australia (yet - I'm working on it :) ) the general concensus from the overclocking community seems to be that the Socket370's are not on par with their Slot-1 counterparts - the new GlobalWins are as good if not better, and [c] we don't have one yet. :)

First up, the Intel Retail Heatsink/Fan:

Actually, there seem to be at least 2 different units included with the retail Celeron PPGA 366A's. See the photos below.



The "old" type came with the first batch of 366's we got, week 14's. The "new" type came with some week 15's and 17's we got a bit later. We don't know if there's actually a time correlation between them, but we're going to call them "old" and "new" to differentiate them. Here's a quick summary of differences we spotted:




As these are obviously very different units we thought we'd see how they compare performance-wise. Unfortunately neither provide the capability to monitor the fan's RPM so we couldn't see if they differ there. Another problem with the retail units is that the cable is very short. It's long enough to get to the nearest fan connector on the Aopen AX6BC-Pro, but not long enough to get to the other one. This may be a problem as some people don't like using the "smart" connectors as wayward software can sometimes turn the fan off. If you have a peltier on your system this can be catastrophic.. (but then again - if you're using a peltier with the retail heatsink/fan you deserve everything you get :) )

Globalwin CPM25603-16:



This unit has formed the backbone of our overclocked C366 business. A solid performer, it has been recently superceded by the CPM25603-32 (which used to be called the CPM25603-12 but was renamed). It uses the Superred CHA6012DB-A fan, which moves 20cfm.

Globalwin CPM25603-32: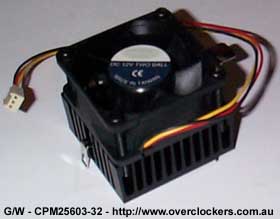 This unit sports the same 25mm-high heatsink as the -16 unit, but boasts a newer, more powerful fan (a YS-Tech FD1260257B-2A 2.16W unit pushing 26cfm). Although it spins slower, the new fan actually pumps more air (and is noisier).

You can see the differences below. The -32's fan has much more aggressively angled blades.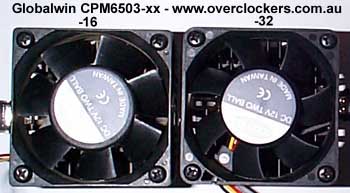 ---
Advertisement:


All original content copyright James Rolfe.
All rights reserved. No reproduction allowed without written permission.
Interested in advertising on OCAU? Contact us for info.

---
Recent Content


Team Group C440 Cardea Ceramic M.2 NVMe SSD


Synology DS720+ NAS


Raspberry Pi 4 Model B 8GB


Retro Extreme!


Intel Core i9-10980XE


AMD Ryzen Threadripper 3960X


Team Group T-Force Vulcan 500GB SATA SSD