DVIco FusionHDTV DVB-T Digital TV Tuner Card
Join the community - in the OCAU Forums!


Intro, Specs, In the Box, Requirements

Are you plagued by family members hooked on Home & Away, Neighbours and Today Tonight? None of who are in the room actually watching the TV with their eyes, but if you change the channel, you're in trouble? Look no further!

Digital TV is the first major change to the terrestrial broadcast of TV since the introduction of colour 30 years ago. Currently, Australia leads the world in the volume of shows filmed and presented in high definition digital and all shows are broadcast in standard definition, crystal clear quality, so why not jump on the bandwagon and enjoy the show! Digital video broadcast on terrestrial channels, or DVB-T, comes in high definition widescreen (HD) and standard definition (SD). The [HD] marker appears on shows that will be broadcast in HD, however most shows that everyone watches are already in HD, with the exception of late night infomercials and a fair whack of daytime TV. The HD channels are mostly populated by morning news shows such as Sunrise, GMA and Mornings with Kerri-Anne, and then the HD demo loops are played all day until the gameshows start in the late afternoon. The demo loops are 576p and 1080i video streams with AC3 dolby digital sound, and personally, its nicer to watch 20 minutes of looping HD footage than an infomercial show - pictures of the demo loops will follow. SD is the mainstay of the networks, with most shows broadcast in 16:9 widescreen (even Kath & Kim). More information can be found at Digital Broadcasting Australia and the Australian Broadcasting Authority.

Digital TV can be decoded by native DVB-T television sets, plasma displays and LCD TVs, as well as set top boxes (STBs) which can be had for about $200 at Dick Smiths, and of course the entire point of this review, DVB-T cards for your computer! This review is of the DVIco FusionHDTV DVB-T digital video terrestrial TV card, as well as a guide to installing the cabling to use these and maximizing your viewing experience. Let's get started!

The Box:
The box has a listing of features, system requirements and specs, the lists are all accurate to the letter, no marketing spin here!

Features:
Decoding and viewing of Digital terrestrial television.
Supports all current formats to Australian standard AS4933.
Real time digital video recording.
Scheduled recording.
Recording stream cut on the fly utility.
High resolution still image capture.
Analog video & audio capture.
HD (MPEG 2) to DVD/MPEG4 conversion.
DVHS capture, recording and playback using IEEE1394 card.
Dolby Digital 5.1 spdif output.
Convertible aspect ratio (16:9 or 4:3).
Auto and manual channel scan.
Remote control capability.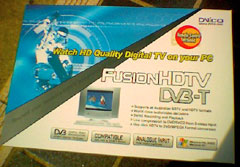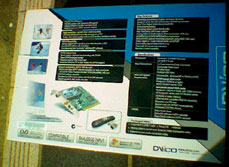 In The Box:
The card, in the usual anti static bag, packed in foam
An outdated copy of the drivers, (2.0.0) vs. the current version (2.70.02) which you can download from the DVIco site here.
A copy of Videostudio 7 SE DVD, I'm not going to install it as I have no use for it.
An English-only manual, written in perfect, coherent step-by-step instructions. I didn't read it until i started writing this, but who does?
An internal sound card cable, this is for analogue audio for the composite and s-video inputs. its basically a CD-audio 4 core cable.
An external audio cable, 2 female RCA connectors to a 3.5mm stereo plug.
Mine came with a remote, I'm unclear whether its an option or not, my supplier only has models with a remote. The remote receiver connects via USB.
Warranty card: the warranty is handled by an Australian ABN-holding company, which is a good thing for warranty as you don't have to deal with international claims or in legal matters with the Australian importer, which are often transparent to end-users. The warranty is for one year return to base and technical support, a nice touch and a lengthy warranty for a pci card that's connected to a large antenna and surrounded by an earth supply - lightning anyone? The warranty card also outlines how to install the remote control drivers, and that contrary to the manual, there is no external video cable included.
Everything was in little plastic zip-bags, Dvico is doing their part to choke the seagulls. :)

The Card:
The card is based on the Conexant CX23881 decoder and the LG DVB-T Tuner. Not much in the way of datasheets around on the LG tuner, but hey - it's a tuner, it tunes alright for me. The Conexant chip supports DVB-T signal decoding and passes the stream to the software to decode the MPEG video. Although there's no hardware decoder, this is a good thing for our purposes, as we can just record the MPEG transport stream straight to our hard disk and encode it to divx later. No fuss with decoding it on the chip, then re-encoding it on the fly!

Input Connections:
Coax Antenna/Cable Connector. This is your standard antenna connector, just like the one on the back of your TV.
Composite Video Input. This is an RCA connector for you to plug your XBOX/PS2/PSX or whatnot into. Handy!
S-Video Input. Same as composite, however S-Video provides a much clearer signal, use this over composite if you can.
Analog Audio Input. A 3.5mm female stereo plug, the external audio cable plugs into this one, so you have a pair of RCA connectors to plug your Composite/S-Video audio input into.
Requirements:
This was taken off the back of the pack - it's pretty unclear as to what it really means. Basically a CPU over 750MHz, a graphics card that supports overlay, and for watching HD at least an AGP4x slot and DDR ram. This makes sense as you're transferring 12Mbit/s of video and audio around your system, but note that during the installation the quality of the decoder (or at least something similar, it's really quite unclear what it does) is presented for you to select, based on your box's specs, it preselects the closest one that matches your system, don't fiddle.

Operating Flavours accepted are: Windows ME, Windows XP or Windows 2000 and apparently it's not impossible to get it to work on Linux, DVB projects are rolling along and if you're interested, grab a card and start contributing! :)

Agg note: Othy mentioned that there is a Linux driver available here that supports this card and works fully with MythTV.

Here's the list from the back of the box:
DxVA based VGA cards
Pentium3 750MHz or faster
All ATI Radeon series VGA Non-DxVA based VGA cards
Pentium4 1.6GHz or faster with 128M memory
GeForce4 MX420,440,Fx5200,5600 Series, Ti Series and ATI Radeon series
DDR266 or faster memory
UDMA66 IDE controller-HDD for recording
Requires one PCI slot
Sound card with S/PDIF input(optional)
Conexant CX2388x drivers Drivers
Dvico tuner driver
Dvico full software HDTV decoder
Dvico DxVA software HDTV decoder
Kinda confusing! Let's just say if it doesn't work on your machine, it's time to upgrade. Sounds like a good money-spending rationalization to me!


---
Advertisement:


All original content copyright James Rolfe.
All rights reserved. No reproduction allowed without written permission.
Interested in advertising on OCAU? Contact us for info.

---
Recent Content


Team Group C440 Cardea Ceramic M.2 NVMe SSD


Synology DS720+ NAS


Raspberry Pi 4 Model B 8GB


Retro Extreme!


Intel Core i9-10980XE


AMD Ryzen Threadripper 3960X


Team Group T-Force Vulcan 500GB SATA SSD