XTRAC Hammer, XTRAC Ripper XL, Steelpad QcK+ Mousepads and Mad Wax
Join the community - in the OCAU Forums!


Introduction and XTRAC Hammer

A while back we had a look at a couple of mousepads that were quite different in their appeal - the Steelpad S&S and the Thermaltake Gamma Pad. Today we have three more mousepads on the testbench.. errr, desk. One is a plastic mousepad from XTRAC, and the other two are cloth pads - one also from XTRAC, the other from Steelpad. We also received some XTRAC "Mad Wax" mousepad lubricant, which we'll try out - only on a mousepad though, I promise.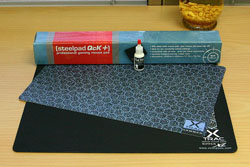 XTRAC Hammer:
The first of the three mousepads we'll look at today is the thin plastic XTRAC Hammer.



Oh yes, it's definitely hammer time. The XTRAC Hammer is one massive mousepad. Measuring in at 430mm x 280mm across the middle of the mousing surface (in comparison, the Steelpad S&S from our previous review measured 320mm x 265mm) and being a regular rectangular shape, it provides a whole lot of room to move. Any bigger and I'd have to give my mouse a packed lunch and a bottle of water to go from one side to the other - in fact (and I'll touch on this in a moment) it may be a little bit too big for some people.



Here we can see the Hammer with a standard issue Dell plastic mousepad on it, and a standard issue Dell optical mouse for scale (as well as Kostya, my Siamese fighting fish, making sure it's not planning to attack his bowl).



Looking at a side view, we can see that the Hammer is also very, very thin. In fact it's about 0.5mm thick (measured with a scale rule to add scientific weight). I like thin mousepads, and the Hammer is the thinnest I've used.



The top mousing surface has a printed blue pattern that reminds me a bit of the lino in my nanna's kitchen, but the XTRAC website explains that it's specifically designed to offer optical mice superior tracking. It actually feels a bit like lino as well, and because it's so thin and slightly soft, it's quite flexible, meaning it sits flush with your desk surface, even if it's not totally planar. (Agg edit: Planar being a fancy word for "non-bumpy", of course. Spot the engineer.)



Completing our tour of the Hammer, the underside is white and smooth. A bit like me, really. The bottom surface is slightly rubbery, which allows it to grip smooth surfaces reasonably well, but it can slip around a little on really shiny surfaces particularly if it gets a bit of air under it. I only had a problem on one table, though - it had no issues on any of the actual desks I tried it on. It's a tradeoff - a more rubberised back surface would make the Hammer thicker.

Usage:
Because the XTRAC Hammer is so huge, it can be a bit of an issue to position it on your desk if you have limited space. If you sit with your keyboard straight in front of you and your mousepad to the right of your keyboard, the far edge of the hammer will be a long, long way away, making it pretty much impossible to run your mouse off the side of the pad - a good thing. There is some salvation for those with standard-sized desks though - because the Hammer is so thin, you won't really notice if you put part of your keyboard on top of it. This way it can be made to fit, though admittedly it means you've bought a large mousepad that you're not fully utilising.

As the Hammer is branded as an optical mousepad, I only tried it with an optical mouse, leaving my ancient Microsoft ball mouse safely tucked away in the cupboard . I used my standard issue Dell optical mouse (which I think is made by Logitech).

The top of the Hammer isn't completely smooth, it has a very fine texture, but feels relatively smooth to the touch and not at all bumpy. The mouse slid nicely across the surface, without any real resistance, although perhaps not quite as smoothly as on a hard, inflexible plastic mousepad.

Tracking was perfect, I threw the mouse around on the surface in as much of a manical manner as I could manage, but I couldn't induce any mistracking or make the cursor generally go bezerk like I've seen with some "generic" mousepads. Impressed. Very impressed.


---
Advertisement:


All original content copyright James Rolfe.
All rights reserved. No reproduction allowed without written permission.
Interested in advertising on OCAU? Contact us for info.

---
Recent Content


Team Group C440 Cardea Ceramic M.2 NVMe SSD


Synology DS720+ NAS


Raspberry Pi 4 Model B 8GB


Retro Extreme!


Intel Core i9-10980XE


AMD Ryzen Threadripper 3960X


Team Group T-Force Vulcan 500GB SATA SSD