ABIT Fatal1ty AA8XE i925XE LGA775 Motherboard
Join the community - in the OCAU Forums!


Introduction, Package, Specs & Features

There is no need to introduce the Taiwanese electronic manufacturer ABIT. They are a household name for high-end motherboards targeting DIY and overclocking enthusiasts. The "Fatal1ty AA8XE" is ABIT's latest flagship product for Intel desktop processors. It's based on Intel's fastest chipset and comes with a lot of interesting features. Some of them are unique, like ABIT's propriety "OTES" cooling system. The AA8XE is aimed at gamers, and ABIT has developed this product in collaboration with a well-known gaming personality called Johnathan "Fatal1ty" Wendel – hence the unusual name of this mainboard. ABIT offers a "Fatal1ty" mainboard with similar design features for socket 939 A64 processor as well. They even have a dedicated website to promote their Fatal1ty products.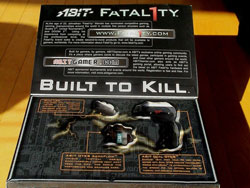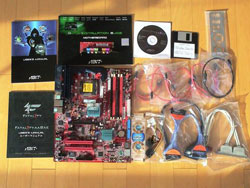 PACKAGING:
The AA8XE comes in an impressive package. The box is bigger and sturdier than usual and weighs almost 4 kg. It comes with a flip-up section and has cut-outs so that some important parts of the mainboard such as the OTES housing are visible. The PCB is protected by a clear plastic lid. As well as the motherboard itself, the box contains:
1 x 7.1 channel Intel HD audio daughter card
1 x OTES RAM Flow Device
1 x Back I/O shield
4 x SATA cables
1 x rounded ATA 100 cable
1 x rounded floppy cable
2 ports USB2.0 + 2 ports IEEE194 Cable
1 x SATA Power cable
Owner's Manual and "uGuru" Manual
Installation CD and SATA RAID Driver Disk
Case Badge and Jumper Setting Label
As with previous high-end ABIT motherboards such as the IC7 MAX3 reviewed on OCAU here, the included items are stored in separate boxes. No other motherboard manufacturer is taking so much care to prevent damage to the contents. The comparison between the Fatal1ty AA8XE box and the competing ASUS product, the P5AD2-E Premium, shows the difference: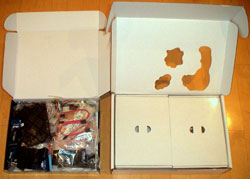 SPECIFICATIONS AND FEATURES:
The AA8XE is based on Intel's 925XE chipset. This is the only Intel chipset supporting a system bus frequency of 1066 MHz – all other Intel chipsets support only 800 MHz. Intel is currently offering 2 processors with a 1066 MHz system bus: The Northwood/Gallatin core based 3.46 GHz Extreme Edition and the recently released Prescott core based 3.73 GHz Extreme Edition. The 925XE chipset is backward compatible: 800 MHz system-bus processor will work with it as well. The 925XE chipset is usually complemented by Intel's ICH6 Southbridge with 4 SATA channels, 1 ATA IDE channel, and 8-channel high-definition sound. The AA8XE comes with the ICH6-R, the "R" moniker signifying RAID capability. A useful new feature available with the ICH6-R is Matrix RAID. It allows running a RAID0 and a RAID1 array in tandem with only 2 hard disks and a spare disk as back-up for the RAID 1 array.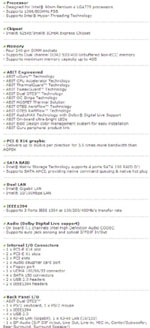 Click for full specifications


For more information on these various technologies, see our previous articles: 925XE chipset & 3.46GHz EE P4 CPU, 3.73GHz Extreme Edition CPU and Intel's Matrix RAID.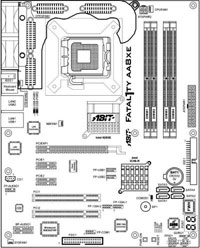 The most noticeable feature implemented on the AA8XE is the black OTES housing. "OTES" stands for "Outside Thermal Exhaust System". ABIT introduced OTES in 2002 with their "Siluro" GF4 Ti4200 video card. More advanced versions were later implemented on motherboards as well, such as the IC7 Max3. OTES provides active and passive cooling to mosfets and the circuitry. The AA8XE sports the latest and most advanced OTES version.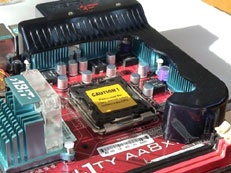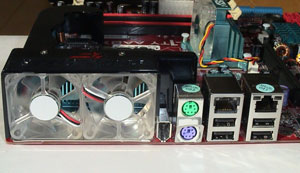 The size of the mosfet heatsinks has been greatly increased and the hot air is now sucked away from the mosfets and blown out of the case by 2 fans at the end of the OTES housing instead of previously only 1 fan. Guessing by the stream of hot air the 2 fans are spewing out, OTES is working better than ever. We will later examine its impact on stability and overclocking.


---
Advertisement:


All original content copyright James Rolfe.
All rights reserved. No reproduction allowed without written permission.
Interested in advertising on OCAU? Contact us for info.

---
Recent Content


Team Group C440 Cardea Ceramic M.2 NVMe SSD


Synology DS720+ NAS


Raspberry Pi 4 Model B 8GB


Retro Extreme!


Intel Core i9-10980XE


AMD Ryzen Threadripper 3960X


Team Group T-Force Vulcan 500GB SATA SSD