Advertisement:

OCZ PC2-6400 Platinum EB (DDR2 800MHz)
Join the community - in the OCAU Forums!


Introduction, Description, Comparisons

Although the benefits of DDR2 over DDR1 are obvious in theory, including lower voltage and much higher frequency headroom, DDR2 got off to a slow start when it was introduced in mid 2004. Initially it was much more expensive than DDR1 and did not perform better than high-end DDR1. This has all changed with the introduction of high yielding "second generation" DDR2 as we have recently shown. Also, and most importantly, the price of mainstream DDR2 has fallen substantially; 1GB DDR2 modules are now available for 130 US$, which is in fact lower than 1 GB DDR1 modules because manufacturers are shifting their production capacity for high density chips from DDR1 to DDR2.

Intel has been pioneering DDR2 with their 915/925 chipset since mid 2004. They have recently launched their second chipset family with DDR2 support, the 945/955. It was the other way around when DDR1 was introduced 5 years ago. AMD, normally not in the chipset business, even designed a chipset, the AMD760, to promote the introduction of DDR memory. The situation is entirely different now with DDR2. Although the industry has embraced DDR2 and all memory manufactures are offering modules since mid 2004, chipsets for AMD processors do not yet support DDR2. The breakthrough for DDR2 came a while ago with the availability of high yielding DDR2 chips running at 667 MHz and above with relatively tight timings of 3-2-2. The first DDR2 product that did run at such timings came from OCZ Technologies. The final thoughts in our OCZ PC2-4200 Platinum Rev.2 review were this: Without doubt OCZ PC2-4200 is the best performing DDR2 in the market as no other product is currently capable of running at 667 MHz with latency timings of 3-2-2-2. DDR2 is still at the beginning of its development. We will see even better yielding memory chips over the next years. Just a few months later we are now in the position to report test results with DDR2 specified to run at 800 MHz from the same company.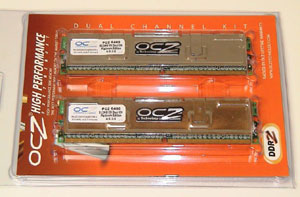 OCZ is selling 2 modules of PC2-6400 Platinum Enhanced Bandwidth in a dual channel pre-tested kit with 2 x 512 MB (Part Number: OCZ28001024EBDCPE-K). Obviously they are not offering a 1 GB module yet, at least we did not find any advertised at their website. OCZ PC2-6400 is specified to run at 2.1 volt, but OCZ is expressively extending their lifetime warranty for usage with 2.2v, or +5%. The modules are covered by mirrored copper heatspreaders.




Until recently we thought that heatspreaders are not necessary for DDR2 modules, because DDR 2 runs cooler than DDR1 due to its lower voltage. DDR2 modules in previous tests became just lukewarm. We had to change our opinion after running OCZ PC2-6400 at 2.3 volt. After a while these modules become quite hot and a quality heat spreader is therefore useful. The most important OCZ PC2-6400 feature is apparently the advertised capability to run at 800 MHz with timings of 4-3-3. At the time of writing, these are the most aggressive timings available for DDR2 PC2-6400.



To demonstrate how fast DDR2 has developed since it started retailing just 10 months ago we are including two older products in this test as well: Samsung PC2-4200 (533 MHz DDR2) was actually the first DDR2 product in the market. It is rated at 4-4-4. Crucial Ballistix PC2-5300 (667 MHz DDR2) is rated to run at 667 MHz with latency timings of 4-4-4. The Samsung and Ballistix modules are unlike OCZ PC2-6400 not sold in pre-tested dual channel kits, but as single modules.





Samsung DDR2 comes without a heat spreader. Itís the only product where the actual RAM chips and their marking are visible. It has to be noted that OCZ is not manufacturing the memory chips. Like many memory vendors they purchase them and manufacture the printed circuit board to use them on. The chips on the Ballistix module are from Micron which is Crucialís parent company. The Samsung modules carry of course Samsung RAM chips. We have asked OCZ who is manufacturing the OCZ PC2-6400 chips, and although their customer support is very responsive, they would not tell us. Well, sourcing is often confidential business and the consumer usually only cares about the performance they get for their money and not where the parts are from. Our best guess is that the OCZ PC2-6400 chips are manufactured by Micron.


---
Advertisement:


All original content copyright James Rolfe.
All rights reserved. No reproduction allowed without written permission.
Interested in advertising on OCAU? Contact us for info.

---
Recent Content


Team Group C440 Cardea Ceramic M.2 NVMe SSD


Synology DS720+ NAS


Raspberry Pi 4 Model B 8GB


Retro Extreme!


Intel Core i9-10980XE


AMD Ryzen Threadripper 3960X


Team Group T-Force Vulcan 500GB SATA SSD