X-Micro Mini DiscGo 20GB
Join the community - in the OCAU Forums!


Introduction, Bundle, Compatability

Isn't it great that floppy disks are dead? Well alright, they're not completely dead, but I can't remember the last time I used one. That's a refreshing change from the days of loading your entire operating system from floppy disk each time you turned the machine on..

The reason why they're dead, of course, is mostly because every PC in the universe is connected to a LAN, a WAN, the internet, or has some other network method of transferring files to other machines. For those that don't, and for a million other reasons, the explosive popularity of USB flash drives has assured nobody will reach for a floppy disk when they need to store or transfer a file. Everyone has a USB port in their PC and virtually all opterating systems will make a flash drive available as soon as it's plugged in, with no drivers required.

The final reason why floppy disks are no good anymore is that they're so small in terms of capacity. 1.4MB?! Even the mystical 2.88MB floppy is tiny. Flash drives go up to about 2GB now, which is much more useful. But even so, in a world with 500GB hard drives, a 2GB hole in your pocket isn't always going to cut it. Those old HDD caddies are ok, if your mate happens to have the same model as you. External USB enclosures are fine too, but 3.5" ones need separate power, while 2.5" ones need expensive laptop hard drives and they're all pretty bulky to carry around. So what we really want is a flash drive that can hold a more useful amount of data while still being convenient to use, and small and light enough to fit into your pocket.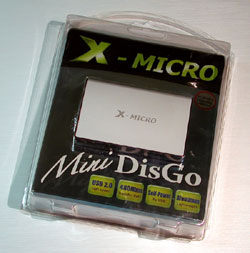 Enter X-Micro's Mini DisGo. It's quite a lot like a normal flash drive, in that it's powered by the USB port, it's hot-swappable, it needs no drivers, it's lightweight and fits nicely into your pocket. However, it comes in capacities of 5GB, 10GB, 20GB, 30GB and 40GB, all based around Toshiba's range of 1.8" hard drives. X-Micro were nice enough to send along the 20GB version for us to have a look at.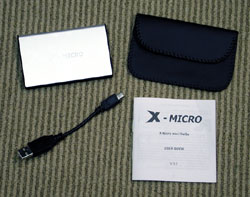 I'm really not a fan of this destroy-to-open sealed-clamshell packaging everyone seems to be using lately, but I'll cope. Having slashed it open with a stanley knife, while carefully avoiding severing a finger, you'll find the unit itself, a small manual, a small USB cable and a rubbery pouch for taking the unit and cable on the road with you.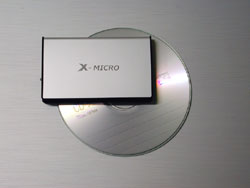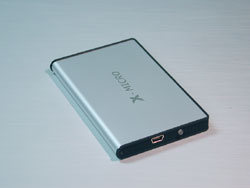 Note that no CD is included in the pack - I'm just using one in the photo to give you a sense of scale. It's slightly larger than a credit-card and about as thick as a pencil. You can easily carry the Mini DisGo in the top pocket of a business shirt or similar. At 85g it weighs less than a couple of bucks in silver change.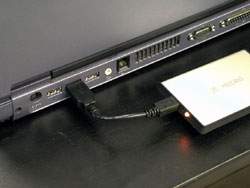 There are no external controls, simply a mini-USB port and a status LED. The LED is green when powered and red when transferring data. During use there's only the faintest of high-pitched whines - I had to put my ear within about two inches of the unit during use to hear the sound. It gets only very slightly warm during use.

Compatability & Reliability:
I performed the testing on my current desktop PC, based on an Athlon XP 1800+ at 2.4GHz on DFI's LANParty NFII Ultra B. With "powered by USB" devices there's always a concern that they'll only work on certain ports and not on others. The Mini DisGo worked fine on the random assortment of ports I could plug it into, namely the onboard ports on the motherboard, the onboard ports on my Sony laptop, those on my wife's Dell laptop and the ports on the side of my shiny new(ish) Dell 2405FPW LCD monitor. The only other possibly problematic configuration I can see is an unpowered hub, but I don't have one here for testing. As it turns out, I did the benchmarking using the ports on the monitor, for the highly scientific reason that they're the easiest to reach when sitting at my desk.

In terms of reliability it's difficult to say anything based on our single sample. I can't find any warranty info at the moment. Of course, this product contains a hard drive with moving parts, which the conventional flash drives don't. But frankly USB thumbdrives aren't particularly reliable anyway in my experience, being truly the "floppy disk of today" in that respect. Don't keep the only copy of your PhD thesis on one - in fact, never put yourself in the situation of only having one copy of any vital data. I think if you treat the Mini DisGo with the same respect as a normal thumb drive or an iPod, and practise sensible data storage, you'll be ok.


---
Advertisement:


All original content copyright James Rolfe.
All rights reserved. No reproduction allowed without written permission.
Interested in advertising on OCAU? Contact us for info.

---
Recent Content


Team Group C440 Cardea Ceramic M.2 NVMe SSD


Synology DS720+ NAS


Raspberry Pi 4 Model B 8GB


Retro Extreme!


Intel Core i9-10980XE


AMD Ryzen Threadripper 3960X


Team Group T-Force Vulcan 500GB SATA SSD