Welland ME-740 3.5" HDD Enclosure
Join the community - in the OCAU Forums!


Hard drive enclosures are nothing new, but I recently got my hands on a fairly nice 3.5" one so I thought a quick review might be in order. Welland make the ME-740 series of enclosures with a USB2.0 version, a FireWire version, a version with both FireWire and USB2.0, and apparently also some with SATA connectors. Actually, a quick search of PlusCorp's site reveals a range of 2.5" and 5.25" versions as well. I've only seen the USB2.0 3.5" version, and that's what we're looking at today.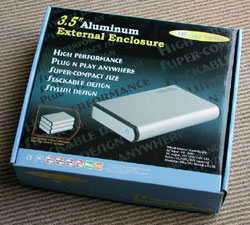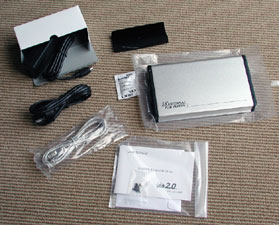 In the box you get the enclosure itself, a USB cable, a power cable, an external power supply transformer, a small black stand to steady the unit on its side, a quick manual and a CD with some Win95 USB drivers etc. On virtually any other operating system this unit will magically work as soon as you plug it into a USB port, of course, which also means you can pretty much ignore the manual.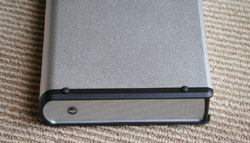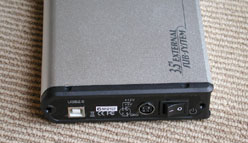 Basic stuff here, an activity LED at the front and ports for USB2.0 and power on the back. There's a power switch on the unit which is handy if you don't use the drive all the time. Note that there's no fan in this unit. There are little rubber feet and indents so you can stack them on top of each other if you like, or stand them on their sides, optionally using the included plastic base for extra stability.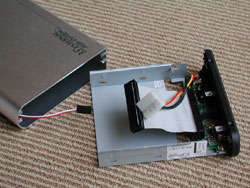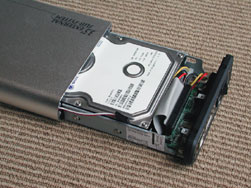 Installation of a hard drive is as you'd expect: unscrew the end cap of the enclosure, slide out the tray, screw the drive into the tray, return the tray to the enclosure. The screws used on the end cap are annoyingly small and easy to strip with the standard medium philips-head screwdriver used everywhere else in your PC. It's a little fiddly to get the cabling tucked away inside as you close it up, and there's a jumper for the front external LED.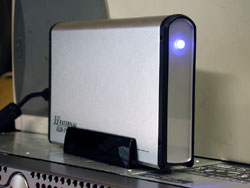 As mentioned earlier there's no fan in this unit. The hard drive doesn't quite contact the metal shell of the enclosure, but as the drive warms up this enclosure does a pretty good job of radiating the heat out. On some of the particularly hot days we've been having in Sydney the enclosure does get quite warm with a 7200rpm drive inside, but it has to be a really hot day for the drive to become worryingly hot. During those extreme conditions (over 40C ambient) I put the drive on top of my mid-tower's blowhole exhaust fan, and that extra airflow kept it at a safe temperature. Stacking a few of these with busy 7200rpm drives in them might not be a great idea on hot days.

It also does a pretty good job of damping the sound - I can only barely hear the annoying bearing whine of my WD1200JB when it's in the ME-740. The LED is, as usual, irritatingly bright if it's pointing at you, but from an angle it's fine. If you really don't like it, don't plug it in when you install a drive.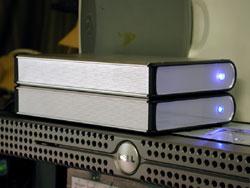 I actually bought one, and then a few weeks later bought another one. The first has a 400GB Seagate permanently installed while the second is used for swapping various other drives on and off various machines. No problems at all with the quite wide variety of drives I've tried in it, and I've copied many hundreds of gigabytes back and forth over the last few month or so. The only thing on my wishlist is that there was a slot for a label or something to identify which is which. It's no biggie to use a sticker of course, but something a bit neater would have been a nice addition.

Performance:
Of course, outright performance isn't really the main concern with external drives. It's more about usability than setting benchmark highs. As mentioned earlier I've copied many hundreds of gigabytes back and forth using these caddies with no complaints. For those of you who insist on numbers, here's what HdTach had to say about a Seagate 400GB 7200rpm drive in the Welland caddy: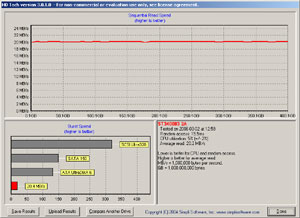 Note that the line is flat, with linear access across the drive. This is different to what we experienced with the Mini DiscGo recently, where solid-state devices produced flat graphs and hard drives produced graphs that decayed speed-wise across the drive. The reason why, of course, is that the USB2.0 interface is limiting the transfer speed of this drive. Plugged direct into the IDE controller we would expect about double the reported 20MB/s or so that we're getting here. But again, the key word is usability. Copying a 1.4GB file from the drive took about 90 seconds. Copying it back onto the drive took a smidge over 2 minutes. This is perfectly reasonable given the convenience of hot-swappability and external storage. For regular file-manipulation tasks it's as if the drive is inside the PC, playing videos is fine too. Once you start to do multiple things at once on the drive it slows down a bit, but that's a general limitation of USB in my experience.

Anyway, they're listed as AUD $69 at PlusCorp. There's cheaper options out there of course, but I quite like these ones. Recommended.
---
Advertisement:


All original content copyright James Rolfe.
All rights reserved. No reproduction allowed without written permission.
Interested in advertising on OCAU? Contact us for info.

---
Recent Content


Team Group C440 Cardea Ceramic M.2 NVMe SSD


Synology DS720+ NAS


Raspberry Pi 4 Model B 8GB


Retro Extreme!


Intel Core i9-10980XE


AMD Ryzen Threadripper 3960X


Team Group T-Force Vulcan 500GB SATA SSD