Advertisement:

Intel Pentium D 920 and 955 Extreme Edition
Join the community - in the OCAU Forums!


975X Chipset, Test Setup

Together with the 9xx series Intel has launched a new core logic, the 975X chipset. The 975X chipset diagram and feature list shows that the changes from the 955X chipset are minor.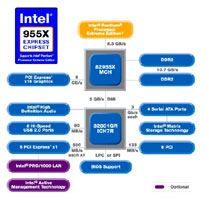 The memory controller has been optimised: The 975X controller hub comes with improved electrics such as optimised ball-out and other optimisations aiming for better bandwidth and lower latency. As already with the 955X chipset Intel's "Flex Memory Technology" supports different memory module sizes to be inserted and still remain in dual-channel mode. Intel is claiming that the 975X chipset will work with "Conroe", the successor to "Presler". While there is no reason to doubt that the 975X chipset itself will do so, it has to be seen whether this applies indeed for first generation 975XE motherboards. It is no secret that the planned "Conroe" Extreme Edition, to be released towards the end of 2006, will run with a 1333 MHz system bus. And indeed we found a 1333 MHz FSB frequency choice in Intel's 975XBX motherboard's BIOS. Another improvement is that now 2 PCI Express controllers in the MCH enable "2 x 8" operation for the 16 PCI Express lanes.



955X and 975X Compared


Although initially rumored, unfortunately nVidia SLI drivers do not work with the 975X chipset. Obviously both companies could not work out a license agreement. NVidia is offering 2 platforms of their own for "Cedar Mill" and "Presler". The high-end version "nForce4 SLI XE MCP" comes with SLI support, the nForce 4 Ultra MCP without. Although the new Pentium D 9xx series works with the existing 945/955 chipset family, Intel is specifically recommending to run the 955 Extreme Edition with chipset 975X motherboards, apparently because of the improved PCB circuitry required for such boards.

TEST SET-UP
We had 2 Pentium D retail samples available, and one 955 Extreme Edition (engineering) sample.



Left to Right: 920 front, 920 back, 955 XE back


From AMD one X2 3800+ (Manchester) and one FX-60 (Toledo) were tested as well. Our principle motherboard for testing "Presler" was the 975X based Intel 975XBX motherboard. Intel has limited overclocking with this board to 30% FSB frequency increase. As we later found out, a 920 is overclocking far higher than 30%. We changed therefore for overclocking to the Asus P5WD2-E motherboard that comes without any overclocking restriction. The idea for our overclocking tests was to apply "regular" conditions and look for results that are achievable for every user with high-end air-cooling. Instead of the generic Intel and AMD cooling devices we used Thermaltake's acclaimed "Big Typhoon" heatpipe based cooler together with a powerful 120mm fan with more than 100 CFM. It goes without saying that all processors would achieve higher frequencies with water or phase-change cooling.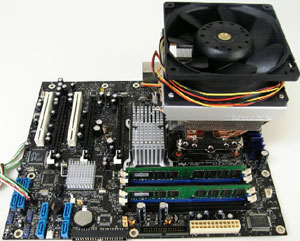 Overclocking "stability" was defined as successfully completing all application and gaming benchmarks at least 3 times and running 24 hours with 100% processors load on both cores. We used Stanford's Folding at Home client for the 24-hour stability test. Crashing, freezing, or "Early Unit Ends" (miscalculations) during the 24-hour run were regarded as test failure.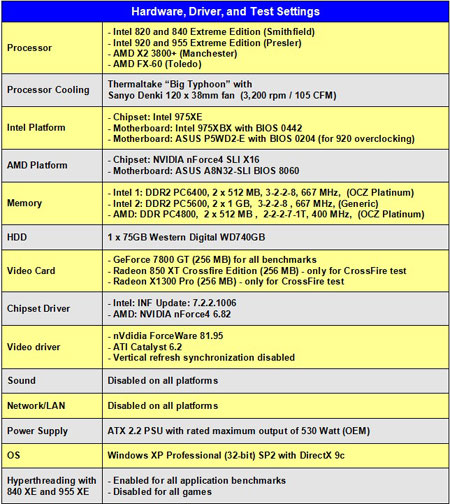 Intel's 840 and 955 Extreme Edition processor are "Hyperthreading" capable. We left this feature enabled for all application benchmarks. We disabled it for all gaming benchmarks because of the reported conflicts between nVidia's Forceware drivers and HT enabled dual core processors running 3D games with SMP support.


---
Advertisement:


All original content copyright James Rolfe.
All rights reserved. No reproduction allowed without written permission.
Interested in advertising on OCAU? Contact us for info.

---
Recent Content


Team Group C440 Cardea Ceramic M.2 NVMe SSD


Synology DS720+ NAS


Raspberry Pi 4 Model B 8GB


Retro Extreme!


Intel Core i9-10980XE


AMD Ryzen Threadripper 3960X


Team Group T-Force Vulcan 500GB SATA SSD