Advertisement:

Brando Workshop USB 2.0 to SATA / IDE Cable
Join the community - in the OCAU Forums!


Here's a quick review of an interesting little gadget from Brando Workshop, an electronics retailer based in Hong Kong. It's a "USB 2.0 to SATA/IDE Cable", which, as the name suggests, is something like a USB external enclosure.. without the enclosure.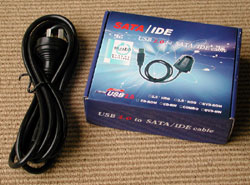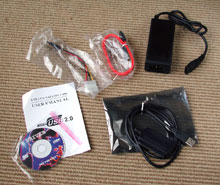 Brando provided the kit in a nice retail box and included an Australian power cable. Inside the box is a driver CD, quick-install sheet, Molex-to-SATA-Power cable, SATA data cable, power transformer and the cable itself in an anti-static bag. Being a USB device, the driver CD is only required if you have Win98 - 2k and XP will see it automatically. The power transformer is a fairly cool gadget by itself, going from mains voltage to a Molex plug for hard drives, CDROM drives etc.

But of course, the USB cable itself is where the real interest lies. Or rather, the other end of it:



There we find on the far side a normal 40-pin IDE connector, on the near side a 43-pin 2.5" IDE connector and on top a SATA socket. The other end is a conventional USB cable you can plug into the back of your motherboard or a USB hub etc.

Usage:
I set about testing each interface in turn. Firstly, the normal 40pin IDE: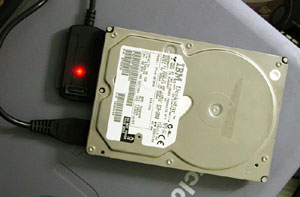 Installation was pretty simple - plug the IDE connector into the drive, and the power connector, then plug the power connector into the mains. The drive spins up, then plug the USB cable into the PC and it detects it as per usual for USB-connected hard drives. This is the recommended order for connecting the drive - as in, don't plug USB in and then power it up. I actually did that first and it didn't detect the drive. The HAL-like red LED indicates USB activity, by the way. Here's the obligatory HDTach graph: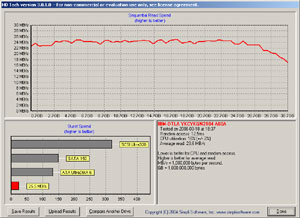 The keen-eyed observer will have noted the hard drive is a 30GB IBM "Deathstar", of the ill-fated 75GXP series. This is the last survivor of four GXP Deskstars I've owned, and I keep it around as a sacrificial offering to new gadgets like this, rather than risking an important 200GB unit. Anyway, for a six year old drive it acquits itself well in HDTach, scoring slightly more than a modern 400GB drive did in the Welland enclosure reviewed here recently.

Next up, the 2.5" IDE connector. This of course is used by laptop hard drives, but the only one of those I have lying around is an 810MB Fujitsu one from a Compaq laptop I upgraded about 10 years ago. So the performance numbers can be ignored here, but it'll at least show if the connector works..



..which it does. Of course, no power cable is needed here, as the IDE connector carries the drive's power, and USB can provide enough to run the drive. I played around with formatting the drive and it seemed to work ok. HDTach shows how far hard drives have come since this one was made, but again this isn't a fair test of performance, so don't blame the Brando cable.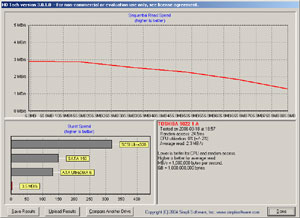 So, on to the SATA connector. With SATA being a relatively new standard, I have no sacrificial hard drives that use it. In fact only two, and the one with the least valuable data right now is an almost brand new WD2500JS SATA-II 250GB. This makes me nervous, but given the Brando cable has done so well in testing so far, I plug it all in and power it up..

At about this point the Brando cable's power adapter starts crackling and emitting blue sparks from the mains-plug end. Fantastic. Fortunately the SATA drive isn't fried and no rude emails are required. In fact, I can't really blame Brando for the power issue, because firstly I'm reasonably sure they're just a retailer and don't even make this cable, but secondly because even if they did, the power pack would almost certainly be made by someone else and bought by them to include in the cable kit. In fact, it says on the bottom "QUAN HONG" and "XANG FU ELECTRONIC CO. LTD". But still. Quality control is in the details and blue sparks are the bad kind of exciting.

A SATA drive cares not where it gets its power, however, so for testing I used an internal Molex from the PSU to power the drive and the Brando cable to connect the SATA to USB as per the other drives. If your SATA drive doesn't have the Molex power, you can use the included Molex-to-SATA to power your drive from your PC, or from the included power pack.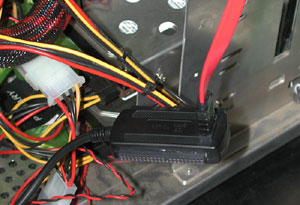 The only important cables in that picture are the red SATA going into the black Brando cable.. the power cables etc are just in the background. Anyway, this worked fine, and I watched a couple of videos off the SATA drive and basically forgot it was externally connected, which shows how well it works. Here's the HDTach graph:



A few other details: according to the box you can actually run SATA and IDE drives off this unit at the same time (but not a 3.5" and a 2.5" at the same time, it seems). Given the power unit is faulty I didn't explore this capacity at all. The cable supports 480MB/s USB2.0, and can be used with hard drives, CDROMs, even DVD burners and rewriters. No mention is made of SATA-II, but I think the USB interface will be the limiting factor there anyway.

One handy use would be copying from one drive to another without having to open your PC up. Of course, you'd need a power splitter cable which isn't included, and the USB interface would make it annoying if you had to copy a large amount of data.

Conclusions:
This is quite a handy device that performs as advertised. One unit isn't a proper sample set of course, but it seems the quality of included power supply might not be the best - hopefully Brando will address that in future units. I might have just lucked out this time, though, and gotten a bad one. Anyway, the cable itself seems to work well and makes life a lot simpler if you don't want to use an external enclosure. Brando offer the unit for US$ 35.00 from their website in Hong Kong.
---
Advertisement:


All original content copyright James Rolfe.
All rights reserved. No reproduction allowed without written permission.
Interested in advertising on OCAU? Contact us for info.

---
Recent Content


Team Group C440 Cardea Ceramic M.2 NVMe SSD


Synology DS720+ NAS


Raspberry Pi 4 Model B 8GB


Retro Extreme!


Intel Core i9-10980XE


AMD Ryzen Threadripper 3960X


Team Group T-Force Vulcan 500GB SATA SSD