Intel Core 2 Duo "Conroe" CPUs
Join the community - in the OCAU Forums!


Introduction, Conroe Features

"NetBurst" Leaves, "Core" Arrives:
Intel's current desktop processor, the illustrious Pentium 4, was introduced in November 2000 with a core frequency of 1.4 GHz. Since then Intel has ramped up the frequency all the way to 3.8 GHz and even introduced a dual core version. The latest Pentium 4 iterations, the "Presler" and "Cedar Mill" cores, were released just half a year ago. The Pentium 4 micro-architecture called "NetBurst" offers several advantages such as high frequency and features like the acclaimed Hyperthreading. However, eventually it has turned out that above around 4 GHz "NetBurst" is too power hungry and thus running too hot for usage in desktop or mobile systems. The improvements Intel implemented over the years, such as higher frequencies, power reducing features, larger processor cache, new instructions, and moving from 130nm to 90nm and lately 65nm production technology were not enough to prevent Pentium 4 based processors slowly falling back behind the newer and more efficient Athlon 64 product line from AMD. At the beginning of 2005 Intel decided therefore to cancel the development of new "NetBurst" based products and announced the development of a new micro-architecture. With this new design, later called "Core", Intel is aiming at better performance-per-watt, higher energy efficiency and optimized multi-processing. Intel points out that "Core" is not an entirely new design but a combination of the best elements from "NetBurst" and the "Banias" architecture that powers the acclaimed "Pentium M" used for laptops.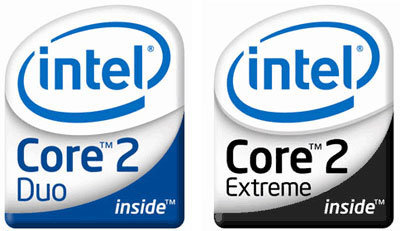 On 28th July 2006 Intel will start retailing "Core 2 Duo", a line of dual core desktop products based on the Conroe core and powered by the new Core micro-architecture. Unlike before, Intel will from now on use the same micro-architecture for desktop, mobile and server processors. Core 2 Duo will soon be followed by "Merom" for laptops and "Woodcrest" for servers. All of them are dual core products. For early 2007 Intel is planning a Core based quad-core version codenamed "Kentsfield". Intel is still the dominant microprocessor manufacturer and you can bet that over the coming years millions of PC around the world will be powered by products based on the new design.



From outside, back and front, Conroe looks like any previous LGA 775 processor. Nothing is indicating that beneath the integrated heatspreader everything has changed. Intel has outfitted the entry level Core 2 Duo versions - E6300 clocked at 1.86 GHz and E6400 at 2.13 GHz - with only 2 MB shared L2 cache. The higher clocked E6600, E6700 and X6800 have a massive 4 MB shared L2 cache which takes up half the processor die. Remember: When the first Pentium 4 core was launched in 2000 it came with just 256 KB L2 cache. Conroe's direct predecessor, the dual core Pentium D Presler, came with 4 MB total L2 cache as well. However Presler's L2 cache is separated into 2 x 2 MB, whereas Conroe has a joint 4 MB cache that can be accessed in its entirety by both single cores. We will cover this in more detail later. Conroe has a die size of 143 square mm and comes with 291 million transistors. As with its predecessor, Conroe is produced with 65nm technology. But Presler comes with 376 million transistors and a die size of 206 square mm. The smaller number of transistors is probably one reason why Conroe's TDP (Thermal Design Power) could be reduced by up to 40% compared with Pentium D. The technical description provided to us by Intel shows that Core 2 Duo will run with a core voltage range (VID) of 0.8500 volt to 1.3625 volt. The voltage range is dynamically regulated, which we will explore later in this article.

Core 2 Duo runs with a 1066 MHz front-side-bus frequency for improved system bandwidth. Intel's previous dual core products were running an 800 MHz FSB. A 1066 MHz system-bus was reserved only for "Extreme Editions". The current fastest Core 2 product is the "Extreme X6800". Previous Intel processors with the "Extreme" moniker were not only clocked higher than the rest of the pack, but came with additional cache or were running at faster FSB speed. Not so the X6800. It's no different from any other Core 2 Duo product - with the exception of the core frequency. The X6800 comes however with an open multiplier which makes it easier to manipulate the processor speed for higher performance. The multipliers of all other Core 2 Duo processors are locked. Another caveat is that Intel's acclaimed "Hyperthreading" feature is for the time being disabled on all current Core 2 Duo processors. Hyperthreading allows running 2 threads per execution core, instead of normally only 1. Intel is mentioning HT capability in their Core 2 Duo documentation and we assume therefore that they will enable it for future versions to keep the product line attractive over its life cycle.




Left: Pentium D 920 - Centre: Core 2 Duo E6700 - Right: Core 2 Duo X6800


Intel will continue to offer the NetBurst based Pentium D as entry level product until the end of 2006. Our experience with the 9xx series (Presler) was a very pleasant one, in particular with regards to the huge overclocking headroom. You can read our analysis of Presler here.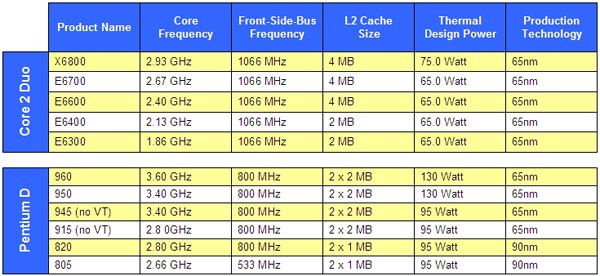 Intel's Dual Core CPU Range


For those users who are not looking for maximum performance, the 9xx series will still be an attractive alternative to the more expensive Core 2 Duo products.



If you're a Digg user and you like this review, please Digg it - then, read on!




---
Advertisement:


All original content copyright James Rolfe.
All rights reserved. No reproduction allowed without written permission.
Interested in advertising on OCAU? Contact us for info.

---
Recent Content


Team Group C440 Cardea Ceramic M.2 NVMe SSD


Synology DS720+ NAS


Raspberry Pi 4 Model B 8GB


Retro Extreme!


Intel Core i9-10980XE


AMD Ryzen Threadripper 3960X


Team Group T-Force Vulcan 500GB SATA SSD