Advertisement:

Intel Core 2 Duo "Conroe" CPUs
Join the community - in the OCAU Forums!


Test & Benchmark Settings, Results

Test Settings and Benchmark Software:
We benchmarked two "Core 2" processors: an X6800 clocked at 2.93 GHz and an E6700 clocked at 2.67 GHz. Both CPUs were pre-production engineering samples.




Core 2 Duo E6700

Core 2 Duo X6800


The test platform was an Intel 975XBX rev. 304 motherboard based on the revised Intel 975X chipset, with 2 x 512 MB DDR2-800. We compared the Core 2 processors with a dual core Pentium D 955XE. This is an "Extreme Edition" CPU running, like Core 2 Duo, with a fast FSB speed of 1066 MHz. Regular Pentium D 9xx are running the front-side-bus at only 800 MHz.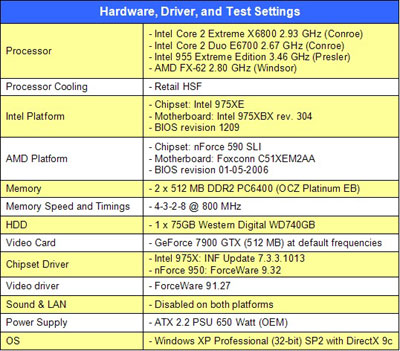 We are also comparing Core 2 Duo with AMD's latest and greatest desktop processor, the just released dual core Athlon 64 FX-62 ("Windsor") clocked at 2.8 GHz. Comparing Intel and AMD systems has become somewhat easier since AMD launched the AM2 platform with DDR2. Using the same memory when benchmarking Intel and AMD systems means memory results can be removed from the equation when interpreting performance differences. We benchmarked the FX-62 on a Foxconn C51XEM2AA motherboard based on the nForce 590 SLI chipset. The same 2 x 512 MB DDR2 800, graphics card, hard disk and power supply unit were used for the Intel and AMD systems. The motherboards were not installed in cases when the benchmarks were running, but on open trays for ease of access.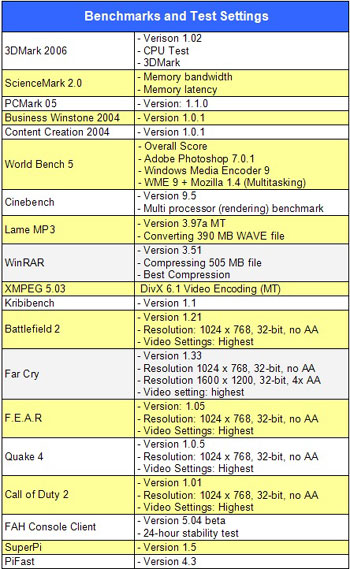 Benchmark Results:
The first test when benchmarking a new CPU is naturally a dedicated CPU test. Both 3DMark 2006 CPU tests show Conroe outrunning the 955XE by up to 25%. We can also see that both Conroe CPUs are substantially faster than the FX-62 - even the E6700 is still 9% ahead. The AMD system on the other hand retains a healthy lead in memory bandwidth thanks to the on-die memory controller. It seems that AMD's move to DDR2 has further extended the bandwidth lead over Intel systems. The on-die memory controller remains a strong selling point for AMD. It's technically more elegant and efficient than Intel's front-side bus design. AMD's advantage however is a theoretical one, because in practical terms the huge bandwidth does not translate into better performance. Since DDR memory is running in dual channel mode, bandwidth is not a bottleneck for system performance anymore. More important is the memory latency/access time. Intel's new Core micro architecture has dramatically improved (lowered) memory latency in comparison to NetBurst. ScienceMark shows that the FX-62 system is still a few percent better in this regard, but the difference has become practically irrelevant. Core's much better memory latency is probably a major reason for the vastly improved performance of Core 2 Duo versus the previous generation dual core Pentium D. Mathematical calculations with PiFast and SuperPi show that Core 2 Duo is dramatically outperforming the 955XE: the X6800 is 52% faster than the 955XE, and the E6700 still 38%. SuperPi is a simple, but widely used benchmark to gauge CPU performance. The X6800 needs 17 seconds to calculate 1 million digits of Pi, which is incredibly fast in comparison to any other desktop processor. What we can also see is that Core 2 Duo leaves AMD's FX-62 far behind in SuperPi and PiFast.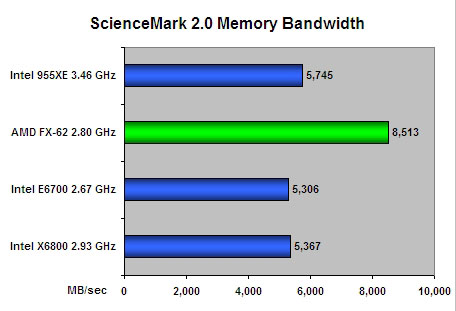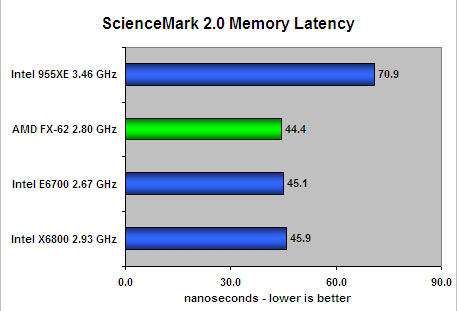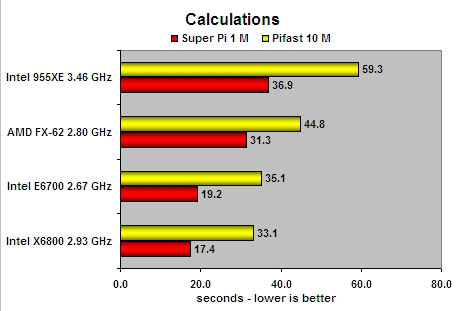 ---
Advertisement:


All original content copyright James Rolfe.
All rights reserved. No reproduction allowed without written permission.
Interested in advertising on OCAU? Contact us for info.

---
Recent Content


Team Group C440 Cardea Ceramic M.2 NVMe SSD


Synology DS720+ NAS


Raspberry Pi 4 Model B 8GB


Retro Extreme!


Intel Core i9-10980XE


AMD Ryzen Threadripper 3960X


Team Group T-Force Vulcan 500GB SATA SSD