Advertisement:

Inno3D GeForce 7600GS AGP Video Card
Join the community - in the OCAU Forums!


Introduction, Package, Specs

I haven't done a video card review in a long time, but I was intrigued when Inno3D offered to send me their new 7600 GS AGP card. This is an unusual card, being based on a PCI-E chipset but using an AGP bridge so it can (only) be used in an AGP system. I know there are a lot of people out there still using AGP-based systems and maybe feeling a little left behind as the market moves to PCI-E. I wondered how much benefit I'd see from moving my current fastest AGP machine, based on the now two generations old but once king of the hill Radeon 9800 Pro, to a newer, significantly cheaper, but only mid-range, modern card. The fact that this new card has HDTV-Out and that the R9800Pro was to be part of an HTPC I'm building (so HDTV support could be very handy), sealed the deal.



So this won't be a traditional review comparing a new card to a range of current competitors, but it will hopefully give some insight into whether it's worthwhile spending a relatively small amount of money to extend the life of a once-mighty AGP system. With Vista and DirectX 10 cards lurking on the horizon, there's plenty of people who don't want to make the leap to PCI-E just yet, so spending a few bucks on an AGP-based system might still be a wise move. If you're after a more traditional review of this card, NGOHQ did a great job of comparing it to ATI's X1600 Pro here.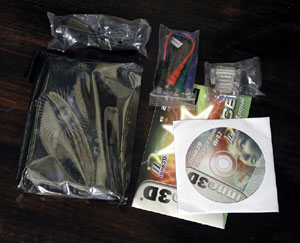 But for now, let's look at the package and the card itself. Inside the glossy box you receive the card, manual, a driver CD and two cables for connecting the TV-Out to your TV etc. There's also a DVI to VGA converter in case you want to run two screens with VGA connectors. The driver CD also has DVD-player software included, and the card manual seems to be pretty generic and covers a few different models. Overall this is a very minimal package, but given this isn't a high-end card it's good there's no perhaps-unnecessary extras raising the cost.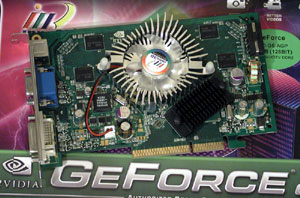 The card itself is fairly unexciting too, but the eye is drawn to the smaller black heatsink on the front. Under here lurks the PCI-AGP bridge, allowing AGP users to enjoy a GPU that was designed for PCI-E connectivity. The main GPU cooler isn't as impressive as the high-end cards, but again this suits the mid-range character of the card. My only concern might be that aftermarket coolers (including water-coolers) might be fouled by, or fail to properly cool, the PCI-AGP bridge chip. Again though, the target market for this card is probably not too inclined to overclock it or even bother changing the stock cooler. It's quiet and the card seems to run cool enough as standard.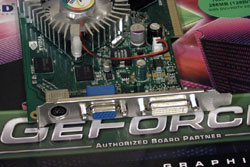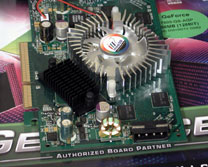 Note the VGA connector, DVI connector and round black plug for the (HD)TV-Out cables. There's also a 4-pin molex plug on the back of the card for additional power supply.

Here's some general specs from one of the box ends:
Core Clock - 400MHz
Full Microsoft DirectX 9.0 Shader Model 3.0 support
True high dynamic-range (HDR) lighting support
NVIDIA PureVideo technology
Built for Microsoft Windows Vista
Dual-link DVI supports displays up to 2560x1600 resolution
NVIDIA CineFX 4.0 engine
NVIDIA Intellisample 4.0 technology
NVIDIA ForceWare Unified Driver Architecture (UDA)
NVIDIA nView multi-display technology
PCI Express support
OpenGL 2.0 support
Not too sure about the "PCI Express support" listed, given this is an AGP-only adapter. :) For those wondering, the 256MB of memory is clocked at 400MHz also - or 800MHz effective as it's DDR2 (on a 128-bit bus). But from the feature list we can see this is definitely a current-generation card, which isn't surprising given it's in the same family as NVIDIA's current top-flight 7900 cards and the lower-level 7300's. So it's fully-stocked in terms of features, but does it have the raw performance to justify an upgrade?

If you're enjoying this review and you're a Digg member, please take a moment to Digg it!


---
Advertisement:


All original content copyright James Rolfe.
All rights reserved. No reproduction allowed without written permission.
Interested in advertising on OCAU? Contact us for info.

---
Recent Content


Team Group C440 Cardea Ceramic M.2 NVMe SSD


Synology DS720+ NAS


Raspberry Pi 4 Model B 8GB


Retro Extreme!


Intel Core i9-10980XE


AMD Ryzen Threadripper 3960X


Team Group T-Force Vulcan 500GB SATA SSD