Advertisement:

Swiftech H20-220 Apex Ultra Watercooling Kit
Join the community - in the OCAU Forums!


Introduction, Kit Contents

OCAU of course caters to those enthusiasts who look for new or "extreme" methods of obtaining greater performance from their beloved gaming PCs or workstations. But despite the surge in watercooling kits over the last couple of years or so, we're also home to a huge number of people who are content with high-powered air cooling and some who - dare I say it - stick to using the default cooling for their CPUs and video cards.

It's sensible enough that not everyone is willing to go to extremes to improve the results from their benchmarking, and I must confess that I've never really been thrilled about the idea of water whizzing around the inside of my computer. I'm not only concerned about the obvious sparking connotations, but also the possibilities of what else could go wrong - such as the pump failing. However I can't ignore the popularity of watercooling and the many positive aspects - such as, potentially, a drastic decrease in sound levels as well as the obvious processor and system temperatures being lowered. For a basic introduction into the theory behind PC watercooling, check out (and feel free to contribute to) this OCAU Wiki page.

So, as I'm a complete virgin to watercooling, I decided to write an article about installing one of these popular kits, from the point of view of someone who has never used such extreme cooling before. It'll be much the same as someone who has simply walked into a computer store, selected an off-the-shelf, all-inclusive watercooling kit from a well-known manufacturer, and walked out (after paying, of course).

The manufacturer on this occasion is Swiftech, who have been producing watercooling equipment for many years, and are even now selling the Storm water cooling block developed by OCAU's very own Cathar - although the Apogee block in the kit we're looking at today is not one of his creations.

After considering the "watercooling newbie" approach we were aiming for, Swiftech very kindly sent us their H2O-220 Apex "Ultra" CPU Liquid Cooling Kit, which comes with everything you need including a massive radiator that mounts two 120mm fans.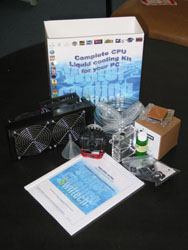 As you can probably tell, this article is part "personal experiences", part product review and part instructional information. I'll throw in some rules, and "do's and don'ts" as we go along. I'll just let you know now: I did swear at a few points, but overall the experience wasn't too painful.

Kit Contents:
The well-packed box is absolutely full of interesting-looking bits for the project ahead, but as I've got a nice photo of the box contents, I'm not going to list them myself. Just click on the photo below: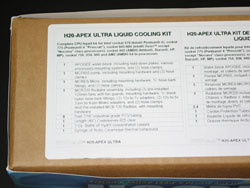 The first thing that struck me when I began madly unpacking everything was the quality of the parts and the thought that has gone into creating this kit. The coolant reservoir, for example, is made of clear perspex with two threaded holes for nylon hose barbs to fit into, which when screwed in, fit perfectly and snugly into the thread and hole. The small case itself is without a mark, well sealed and indicative of craftsmanship that goes into the kit. The waterblock is just as good in quality, and overall there's a reassuringly solid feel to the kit.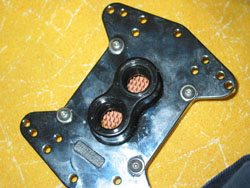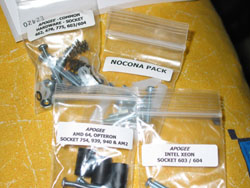 Swiftech also provide enough bits and pieces to fit most hardware configurations. The waterblock comes in a seperate cardboard box and has small baggies, each marked for a certain socket type, with all the parts required to fit that socket. The manual features exploded images of each socket type and the correct configuration to fit the waterblock properly.

The manual itself is of high quality, albeit seemingly printed on a colour laser printer and bound in-house, rather than being produced en masse by a professional printing works. The content of the manual is well written and covers the complete installation of the kit, but sometimes it goes in-depth into an issue, and other times seems to brush over a subject quickly. Nevertheless, it will answer most questions that a beginner has. Swiftech also has a FAQ and installation guides page (and OCAU has its own Extreme Cooling forum where questions also can be posed.)

One small niggle I have about the kit and its parts is that while the various bags that came with the waterblock were clearly marked for the relevant socket types, the bags of parts for the rest of the kit were not marked. While it's not a big issue and with a bit of contents-list reading and studying the bags will solve that problem, a little more clarity would help a newbie feel more at ease.

Preparing the Case:



After carefully reading the manual from cover to cover, I began planning exactly how I was going to install this kit in my case. There are cases out there that were designed with watercooling in mind (with holes in the rear for hoses, etc), and I pondered buying a new case, but then I decided that would hardly be fitting. As an OCAU person, how could I not mod my case for this? Besides, it couldn't be that hard, could it...?


---
Advertisement:


All original content copyright James Rolfe.
All rights reserved. No reproduction allowed without written permission.
Interested in advertising on OCAU? Contact us for info.

---
Recent Content


Team Group C440 Cardea Ceramic M.2 NVMe SSD


Synology DS720+ NAS


Raspberry Pi 4 Model B 8GB


Retro Extreme!


Intel Core i9-10980XE


AMD Ryzen Threadripper 3960X


Team Group T-Force Vulcan 500GB SATA SSD