Advertisement:

Microsoft Windows Vista
Join the community - in the OCAU Forums!


Introduction, Installation, Aero

As most of you would know, Microsoft has released Windows Vista, the first completely new OS out of Redmond in around five years. Microsoft has claimed many improvements in Vista over Windows XP including improved security which was has been a major problem for Windows XP. In this review I hope to share my experiences as a new Vista user and clear up some of FUD which has been floating around the internet over the last couple of weeks.

Test Methodology:
I will be testing Windows Vista on two machines, one being a desktop and the other a laptop. The desktop test machine is a custom built machine with an Intel Core 2 Duo E6400 (2.13GHz) CPU, 3GB RAM, DFI Infinity 975X/G motherboard and a GeForce 7900GT video card. The laptop test machine is a Dell Inspiron 6400 which has an Intel Core 2 Duo T5600 (1.83GHz) CPU, 1GB RAM and Intel GMA 950 onboard video. It is certified by Dell to be "Windows Vista Capable".

Windows Vista Ultimate 32 bit will be installed on a clean formatted disk. On first boot Windows Update will be run to get any updates available from Microsoft. I will then proceed to install the latest device drivers downloaded from the manufacturers' website. After all of the device drivers have been installed I will install the applications to be tested.

Installation:
Installing Windows Vista is very different to installing Windows XP. In XP you had to run through two sets of installation wizards, one in text-only "DOS" mode and one in the Windows GUI. Vista now has a completely GUI-based installation with the ability to load SATA/RAID drivers from a CD, floppy disk or USB thumbdrive, compared to XP where it would only accept a floppy disk.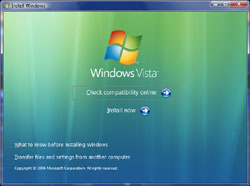 Installation is also quicker than XP, as Vista uses a new image-based installation method where an OS image is copied and decompressed to your hard drive. Vista also comes with many more drivers than any previous version of Windows, so expect more things to be detected out of the box.



This is the "Install.wim" image file which contains the drive image of Windows Vista. "Wim" stands for "Windows Image" and it is 2.25Gb in size.

64 Bit:
As you probably know all versions of Windows Vista will be shipping in 32 bit and 64 bit varieties. I am omitting the "Starter" edition as we probably won't see much of it in this country - it's a cut-down version aimed at developing nations. Anyway, 64 bit Vista will come with "Kernal Patch Protection" or "Patchguard" which aims to lock down the kernel so malicious software cannot get its hooks in there. However this new behaviour supposedly breaks a lot of security software like antivirus and firewall programs. As with Windows XP, 64 bit driver support is poor, worse in Vista because it's still quite new. This should improve over time.

First Boot:
Upon the first boot you are greeted with a desktop and sidebar with a couple of gadgets. By default the Windows "Welcome Center" also opens up which shows you some basic tasks you may want to do, like setting up a new user or configuring the network.



Vista did a very good job of driver installation on my notebook test machine. All drivers except one were installed out of the box and after a Windows update the last driver was installed. The correct display resolution was selected and the system was ready to be configured and used.

My desktop test machine required a bit more driver configuration before it was ready to use. Firstly the Realtek HD Audio was not detected, however Realtek have Vista drivers ready so this was easily solved by a quick visit to their website. My Dvico FusionHDTV tuner drivers were not available so I had to install the Vista drivers and TV application. Although my graphics card was detected and drivers were installed, I thought it would be a good idea to grab the latest Nvidia Vista drivers for my particular card rather than sticking with the Microsoft ones.

I have tried several different applications, with varying degrees of success from flawless to very poor. Some applications I like using are simply not compatible like Peerguardian while others like Dvico FusionHDTV have some funny little issues.

Overview of Features:

Windows Vista:
Windows Vista is Windows version 6.0. For comparison Windows XP was Windows version 5.1 and Windows 2000 was Windows version 5.0. At the moment the latest build of Vista is build 6000, the "Release To Market" or RTM build from November 2006. Expect this build number to increase as major updates come out like service packs which I am sure Microsoft are already working on.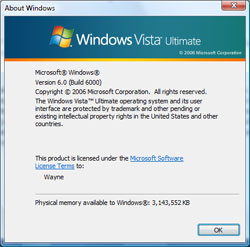 Windows Aero and Aero Glass:
There is a bit of discrepancy when it comes to Windows Aero. Aero describes the new theme Vista uses and it will not look the same on all PC's. There is the "standard" Aero which looks somewhat like Windows XP but with a different colour scheme (ie. no fancy transparency) and you will be forced to run with this if you have an older computer with an older graphics card.




Aero


If your computer is deemed fast enough by Microsoft you will get Aero "Glass" which has window transparency and looks a bit fancier.




Aero Glass


In Aero Glass you can see through parts of the window, to the desktop or whatever is behind it. Aero Glass ran on both of the test machines, even on the laptop with the Intel GMA 950 onboard video. If your PC doesn't have the capability to run Aero Glass or if you don't like the look of it, you can run in regular Aero mode. Also for notebook users you can set Windows to automatically run in regular Aero mode when on battery power to save power.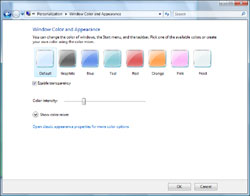 It is also a nice feature that you can change the tint colour of the glass depending on what you think looks good.


---
Advertisement:


All original content copyright James Rolfe.
All rights reserved. No reproduction allowed without written permission.
Interested in advertising on OCAU? Contact us for info.

---
Recent Content


Team Group C440 Cardea Ceramic M.2 NVMe SSD


Synology DS720+ NAS


Raspberry Pi 4 Model B 8GB


Retro Extreme!


Intel Core i9-10980XE


AMD Ryzen Threadripper 3960X


Team Group T-Force Vulcan 500GB SATA SSD