Advertisement:

Intel E8000 "Wolfdale" Dual-Core Processors
Join the community - in the OCAU Forums!


Introduction, What's New with Wolfdale

In November 2007, Intel started to replace their 65nm based processors with the "Penryn" family based on 45nm production technology. The quad-core Q6000 (Kentsfield) is being replaced with Q9000 (Yorkfield) and the dual-core E6000 (Conroe) with E8000 (Wolfdale). We reviewed the first 45nm quad-core product, the QX9650, when it was launched in November 2007. Since the end of January 2008 dual-core products based on 45n production technology are available as well: the E8500, E8400 and E8200 clocked at 3.16 GHz, 3.00 GHz and 2.66 GHz respectively. Additional models, such as a lower priced E8190 without virtualization technology, will follow in Q2 2008. All new products come at least with 1333 MHz front-side bus frequency. For some time Intel will continue producing 65nm dual-core products with a system bus frequency of 800 MHz. This is the E4000 series with 2 MB L2 cache and the E2000 series with 1 MB L2 cache. Eventually the entire processor line-up for server, desktop, and mobile usage will be moved to 45nm Penryn parts.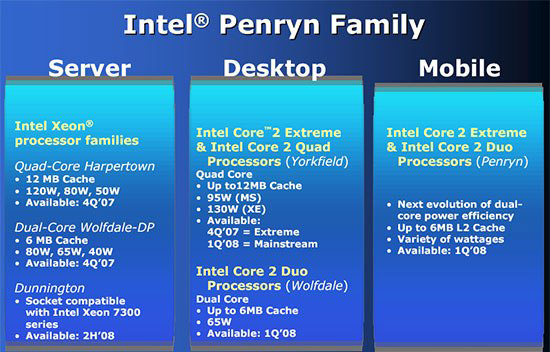 WOLFDALE - WHAT'S NEW?
Intel introduced the E6000 dual-core processor range in mid 2006. This new "Core" micro-architecture provided a leap in performance as well as power efficiency. It instantly became a success. What is new this time?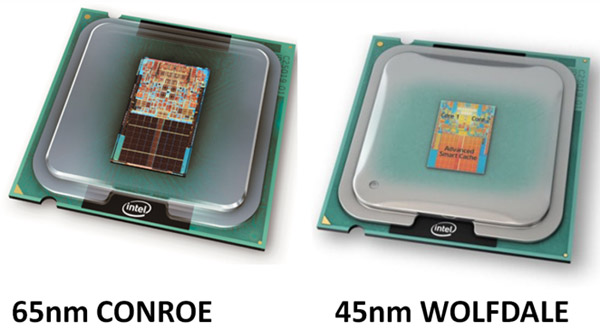 At first glance, from the outside, it seems nothing has changed at all. As before, we see a processor with LGA 775 packaging. The front side with the IHS (integrated heat spreader) doesn't look any different from an E6000 processor. The capacitors sitting below the die are arranged in a slightly different way from an E6000. But that is all that distinguishes it from its 65nm predecessor.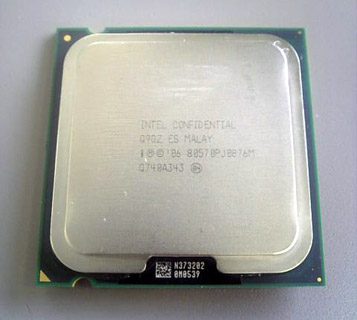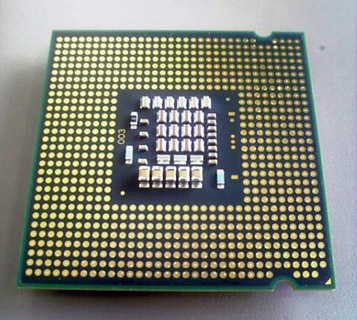 The CPU-Z read-out reveals however some significant changes under the hood of the E8000 series: 45nm production technology, SSE4.1 instructions, processor voltage of around 1.10 in idle and up to 1.25 under load, 6 MB 24-way set associative L2 cache. Another interesting, new detail is visible in the CPU-Z screenshot as well: Wolfdale processors support fractional multipliers. The E8500 for example comes with a 9.5 multiplier. Such half-steps allow to better fine-tune processor frequency.



Shrinking the transistor size from 65nm to 45nm offers various advantages. First of all, it allowed Intel to almost double transistor density and at the same time reduce the die size. The E8000 series is sporting 410 million transistors on only 107 mm². An E6000 processor has 291 million transistors, but measures 143 mm². The smaller die size, with at the same time increased transistor numbers, is even more amazing considering that the L2 cache was enlarged by 50%. Increasing L2 cache means that more data can be stored "on-die" and that the much slower system memory has to be referred to less often. To keep latency and hit rates in the now much larger L2 cache manageable, the E8000 series comes with a 24-way set-associative, while E6000 are sporting only a 16-way set-associative. Another advantage of 45nm technology is that it allows Intel to produce more dies from one wafer. This reduces production cost and should (theoretically) lead to lower retail prices.

Intel gives for the E8000 series a thermal design power (TDP) of 65 Watt. TDP is by Intel's definition referring to average or typical heat dissipation and not, like in AMD's case, for maximum heat dissipation. The E6000 series was specified with the same TDP of 65 Watt. The E8000 family is running with 1.225v core voltage, compared to 1.325v of the previous generation. As we will later see, it consumes significantly less power than the E6000 family. Intel is obviously very much convinced about the reduced heat dissipation of the new 45nm core. For the first time that we can remember they have actually reduced the size of the stock heatsink. The new standard heatsink that comes with the E8000 is not only substantially smaller in height than the E6000 sink, it also lacks the copper core previously seen. It weighs around 1/3 less now. For their Q9000 Yorkfield processors Intel went the other way: they substantially enlarged the sink compared with Kentsfield. The following pictures are courtesy of www.watch.impress.co.jp: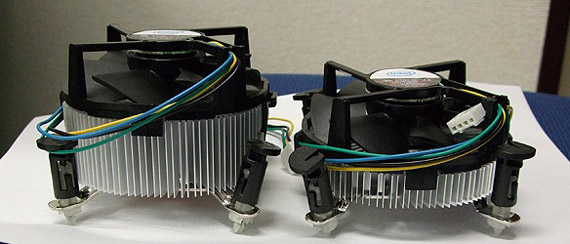 Conroe at left, Wolfdale at right

How is it possible that Wolfdale requires less voltage and consumes consequently less power, when at the same the time it has to "power" 40% more transistors and a 50% larger L2 cache? The magic is achieved by using new materials for the transistor gate. The new 45nm transistors have a high-capacitance gate insulator made of hafnium instead of silicon dioxide. The gate itself is now made of metal instead of silicon. According to Intel the new technology provides for 30% less switching power, 20% faster switching speed and ten times less current leakage in comparison to previously used materials. Intel is pointing out that it took them 10 years of research to develop this technology and calls the new design "the biggest advancement in transistor technology since the late 1960s".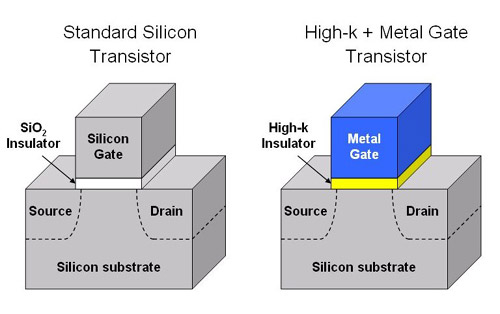 Let's have a look at the E8000 micro-architecture. The Penryn processor family is based on what Intel calls an "enhanced Core micro-architecture". This wording is indicating evolutionary improvements to the original Core micro-architecture from 2006 rather than dramatic changes. The most important one is the addition of 47 new SIMD (Single Instruction Multiple Data) instructions, called SSE4.1. It's the biggest addition since 2000. SSE4.1 will improve multi-media performance, media encoding, and image processing. Regardless all the other improvements we have discussed so far, SSE4.1 is providing the biggest performance boost, as we will see later. The entire SSE4 set has by the way 54 new instructions. The full set will be implemented as SSE4.2 at the end of 2008.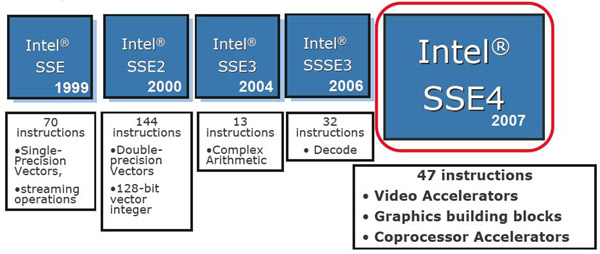 The Penryn processor family received in addition to SSE4.1 a few minor internal execution tweaks as well. This is mainly a radix-16 based divider for faster integer and floating point division and a new SSE algorithm that allows 128-bit instructions to be executed twice as fast as before. Furthermore Intel improved the "virtualization" of hard disk partitions so that the system can run separate operating systems in each partition to act as many virtual computers. Intel is claiming to have reduced the transition time (entry/exit) between virtual machines by up to 75 percent.



Intel is touting Penryn as "the industry's first lead-free" processor. "Lead-free" means less toxic waste. Being lead-free in combination with the currently lowest power consumption makes Penryn probably the most environmentally friendly desktop processor currently available. In a nutshell: The new E8000 processor series comes with a 25% smaller die, 40% more transistors, 6 MB L2 cache instead of 4 MB, a few internal execution tweaks, consumes less power and boasts 47 new SMID instructions.


---
Advertisement:


All original content copyright James Rolfe.
All rights reserved. No reproduction allowed without written permission.
Interested in advertising on OCAU? Contact us for info.

---
Recent Content


Team Group C440 Cardea Ceramic M.2 NVMe SSD


Synology DS720+ NAS


Raspberry Pi 4 Model B 8GB


Retro Extreme!


Intel Core i9-10980XE


AMD Ryzen Threadripper 3960X


Team Group T-Force Vulcan 500GB SATA SSD