Intel Skulltrail
Join the community - in the OCAU Forums!


Introduction, QX9775 CPU, Seaburg Chipset

SKULLTRAIL: DUAL QUADCORE COMPUTING FOR DESKTOPS

In March 2008 Intel launched a new platform for extreme performance home computing, with the exotic name "Skulltrail". The key point of the new platform is the combination of 2 quadcore processors based on Intel's currently fastest processors architecture "Penryn" with support for both ATI CrossFire and nVidia's SLI multi GPU configurations. Intel's Penryn processors are currently the unchallenged performance leaders for desktop computing. Skulltrail has 8 Penryn cores running in parallel. It does not take a lot of imagination to understand what kind of enormous processing power this platform is providing. Dual processor computing is of course not new. But it is usually used for workstations, and setting aside oddities like Abit's BP6 and modded slot adapter tricks, Skulltrail is Intel's first retail dual processor platform for the desktop. AMD by the way launched in 2006 a dual processor desktop platform as well. "Quad FX" allowed running two dual core processors at one motherboard. AMD abandoned the product after a short while due to a lack of performance.

Skulltrail comprises the Intel D5400XS mainboard and 2 Intel QX9775 processors. Two QX9775 will retail for a combined bill of at least $3,400 AUD, while Intel's dual socket motherboard goes for another $600 AUD. So, a complete Skulltrail system will set you back at least $4,000. In addition, a desktop user would have to purchase fully buffered FB-DIMM memory, because the 5400X chipset does not run with unbuffered memory that is usually used with desktop mainboards. With other words: Skulltrail is "hardcore" - for both the raw power it provides and the investment it requires. The question is obvious: Is the performance equivalent to the investment? After all, for around $600 to $800 it is possible to build a very powerful quadcore desktop system.

THE QX9775 CPU
QX9755 is an advanced "Core 2 Duo" architecture based quadcore processor from the Penryn family with a 771-pin socket. We have reviewed the Penryn based quadcore and dualcore versions earlier this year. The QX9775 comes with 12 MB L2 cache, the core runs at 8 x 400MHz = 3200 MHz and the system bus at 1600 MHz frequency.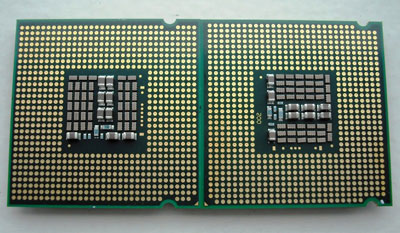 Left: LGA775 QX950 - Right: LGA771 QX9775


The "X" moniker is signifying the QX9775 as a member of Intel's high-end "extreme" processor family with an unlocked multiplier. Besides the pin count, the QX9775 is almost identical with the QX9770. Another small difference between them is the "Thermal Design Power" or TDP. The QX9770 runs at 130 Watt, whereas Intel is rating the QX9775 at 150 Watt. But why did Intel change the pin count when an identical processor is already available? Simple answer: In order to make 2 quadcore processors working together they used a workstation/server chipset designed to run with LGA 771 Xeon processors. The differences between the LGA771 quadcore Xeon processor called "Harpertown" and the LGA775 desktop version called "Yorkfield" are minor. The Xeons have a few features optimizing them for running in a server environment. The QX9775 is therefore a kind of hybrid; it has the Xeon pin count, but is working with a desktop board.




The QX9775 is shipping without a heatsink. It's an "exotic" processor and difficult to get, vendors are usually not stocking it. And we mentioned already the price: Around $1700 AUD - per unit.

THE 5400 CHIPSET
The 5400 "Seaburg" chipset is designed for use in workstation and high-performance computing systems. It supports two processors on dual independent point to point system buses operating at 1066 MHz, 1333 MHz, or 1600 MHz. The MCH provides four channels of fully buffered DIMM (FBD) memory. Each channel can support up to 4 dual ranked FBD DDR2 DIMMs. The MCH can support up to 16 DIMMs or a maximum memory size of 128 GB physical memory. The read bandwidth for each FB-DIMM channel is 4.25 GB/s for DDR2 533 FB-DIMM memory or 5.325 GB/s for DDR2 667 FB-DIMM memory. This gives a total read bandwidth of 21.3 GB/s for four FB-DIMM channels.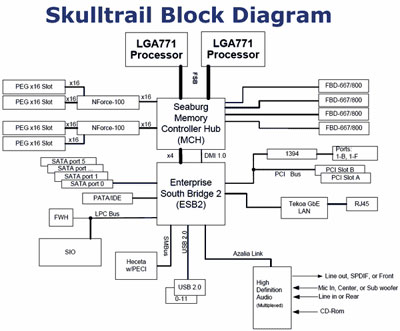 The MCH also offers nine x4 PCI 2.0 Express ports. These can be combined to form x8 or x16 ports. The ports have the added ability to operate up to speeds of 5 Gbps in x16 configuration. The 631/632 I/O Controller Hub integrates an Ultra ATA 100 controller, six Serial ATA host controller ports, and four UHCI host controllers supporting eight external USB 2.0 ports. Additionally it contains an Azalia / AC'97 digital audio controller and integrated LAN controller.

---

Enjoying this article? Feel free to Digg it!




---
Advertisement:


All original content copyright James Rolfe.
All rights reserved. No reproduction allowed without written permission.
Interested in advertising on OCAU? Contact us for info.

---
Recent Content


Team Group C440 Cardea Ceramic M.2 NVMe SSD


Synology DS720+ NAS


Raspberry Pi 4 Model B 8GB


Retro Extreme!


Intel Core i9-10980XE


AMD Ryzen Threadripper 3960X


Team Group T-Force Vulcan 500GB SATA SSD