Silicon Power 64GB 2.5" SATA SSD
Join the community - in the OCAU Forums!


Introduction, Package

What's this, I hear you say? A review by Agg? But.. it's been years since Agg reviewed anything. Surely his dual commitments of World Motorcycle Champion and Highly Successful Romance Novelist keep him far too busy for such frivolities? Not to mention single-handedly raising the next generation of mini-geeks..

Well, yes. All these things are true. But every now and then something comes along that makes you forget yourself for a moment and agree to do a review again, simply out of pure geeky techno-lust for the gadget in question. Or, to paraphrase Ghostbusters: When someone asks you if you'd like to play with an SSD.. you say.. YES!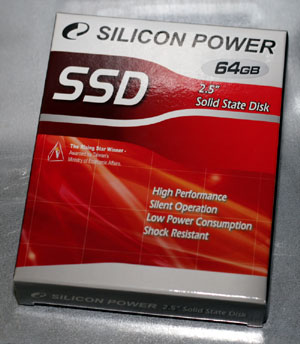 So here we are. Thanks to Silicon Power in Taiwan I now have my first chance to play with a Solid-State Disk, the long-anticipated technology that finally removes the last mechanical part of the performance equation of a PC, the spinning platters and seeking heads of a hard drive. Instead of those old clunky whirring bits, we now have the serene quiet of a pile of flash memory chips in a neat 2.5" package: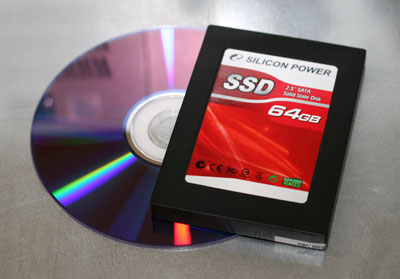 Speaking of packages, here's what you get: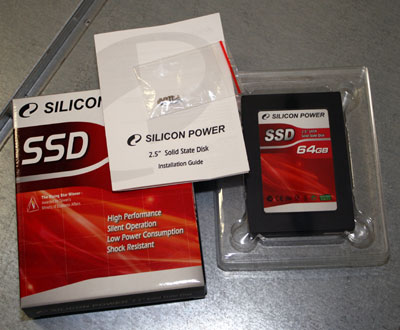 A box, some protective packaging, the drive, a small manual and a bag containing four mounting screws. Note the CD in the previous picture isn't included, it was just to show the size of the drive. No driver CD is needed of course, because this is, as far as the operating system is concerned, just another SATA drive.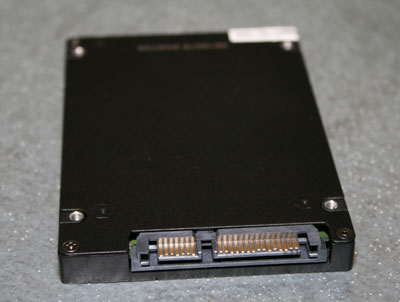 In fact it's a SATA-II drive, of 64GB capacity. When we plug it into the system, the BIOS treats it like any other hard disk. Although the drive identifies itself as solid-state, this is simply a text description from the drive and not indicative of any special treatment by the BIOS.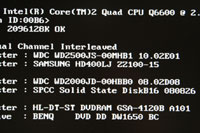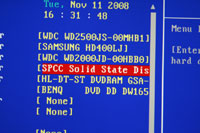 It's worth noting two things here. Firstly, the drive formats to 59.6GB, not the advertised 64GB. And yes, I know there's various reasons why that is, but I had kinda hoped that as the industry moved from one technology to a completely new one that we could all hold hands and agree to advertise formatted capacities. Oh well.

Secondly, this is an SLC drive rather than an MLC one. What's that? Well, read the linked definitions for more details, but in short, MLC is denser and therefore cheaper, while SLC is faster. SLC is also rated to a lot longer service life than MLC. So seeing SLC noted on the sticker on the back of the Silcon Power box is a good thing. If you're shopping around, it's worth noting the model numbers for SLC vs MLC.


---
Advertisement:


All original content copyright James Rolfe.
All rights reserved. No reproduction allowed without written permission.
Interested in advertising on OCAU? Contact us for info.

---
Recent Content


Team Group C440 Cardea Ceramic M.2 NVMe SSD


Synology DS720+ NAS


Raspberry Pi 4 Model B 8GB


Retro Extreme!


Intel Core i9-10980XE


AMD Ryzen Threadripper 3960X


Team Group T-Force Vulcan 500GB SATA SSD