Lynnfield i5 or i7 - This is the Question
Join the community - in the OCAU Forums!


Introduction, What's New with Lynnfield

"LYNNFIELD" – WHAT'S NEW?
In November 2008 Intel launched the "i7 900" processor series based on the "Bloomfield" core and a new micro-architecture called "Nehalem". The "i7" was another leap forward in terms of system performance and power efficiency. Features like the reincarnated Hyperthreading, "Turbo Boost", a new on-die memory controller, a highly efficient bus called QPI (Quick Path Interconnect) together with 3-channel DDR3 provided a boost in performance. Nehalem widened Intel's lead over the competition from AMD even further. For more details see our earlier Nehalem review here.

The "i7 900" series however never went mainstream. Although the entry model i7 920 comes for quite an affordable price of around $320, pricey X58 chipset based motherboards and 3-channel DDR3 kits kept many users away. Even 3rd party cooling devices for Bloomfield's socket 1366 were initially difficult to get. "i7" became the choice for enthusiasts, but the mainstream users stayed with the much more affordable and performance wise still very competitive previous generation Q9000 series processor.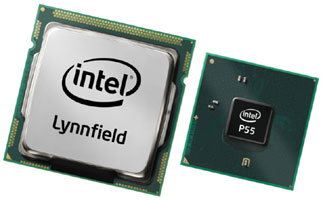 The release of the Lynnfield processor family and the P55 chipset in September 2009 has changed the situation quite a lot. Lynnfield is based on the same highly efficient Nehalem micro-architecture as the i7 9xx series. But Lynnfield processors as well as P55 chipset based main boards are considerably cheaper than Bloomfield parts. And right from the beginning plenty of P55 boards were available to accommodate the new processor family. Additionally Lynnfield requires only a 2 -channel DDR3 kit while a Nehalem processor requires a more expensive 3-channel DDR3 kit.

Intel will continue to offer socket Q9000 and Q8000 CPUs based on the previous generation "Penryn" core at least until mid 2010. This leaves the consumer with more choices than ever: 3 different processor families, each with a different socket, and 3 different chipset families. To make it even more complicated the Lynnfield processor family is labeled "i5 700" and "i7 800". This means, "i7" products are now available for both socket 1156 and socket 1366, and require accordingly different chipsets.

Therefore the question is, more than ever, which choice offers the best value for money, and which fits best for what purpose. The i5 750 is with a price tag of around $230 now the most affordable Nehalem processor. The i7 920 and the i7 860 are both around $100 more expensive, they come with additional features. The i7 870 is over $500 which is probably out of the range for most buyers. That leaves you with 3 choices if you want to build a system with Intel's latest Nehalem micro architecture: A "Lynnfield" i5 750 / i7 860 or a "Bloomfield" i7 920. We will test these 3 CPUs and throw in for good measure AMD's latest quad core product, the Phenom II 965, as well as a socket 775 Q9650.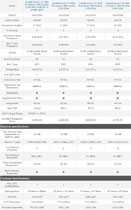 Detailed Specifications Comparison


The major external difference between a 700 / 800 series Lynnfield and a 900 series Bloomfield processor is the pin count: A Lynnfield processor comes with 1156 contact pads on the underside while a Bloomfield CPU has 1366 pads. Obviously, different sockets are required. As with Bloomfield, Lynnfield is a native quad core processor manufactured with Intel's 45nm lithographic process. Although the socket 1366 Bloomfield processor is apparently bigger in size to accommodate the higher number of contact pads, Lynnfield has with 296 mm² the bigger die and is also sporting more transistors: 774 million versus 731 million. More transistors would normally produce more heat. Not so with Lynnfield: While the i7 900 Bloomfield series has an average power consumption (Thermal Design Power = TDP) of 130 Watt, Lynnfield is down to a TDP of 95 Watt. Intel is not pointing at specific changes to the micro-architecture to explain the lower TDP. We assume therefore that small improvements and a better yield from the 45nm lithographic manufacturing process is reducing leakage current more than before. Intel gives a VID voltage range for Lynnfield of 0.65V-1.400V, while Bloomfield is specified with a tighter range of 0.80V-1.375V.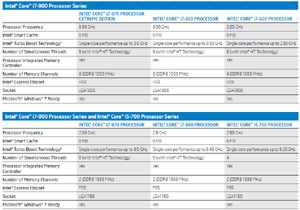 Nehalem Overview


Socket 1156 is not just a smaller version of socket 1366: Intel has also slightly changed the retention mechanism. It gives now a more "robust" feeling when mounting the CPU.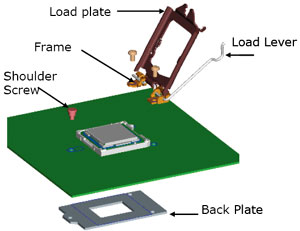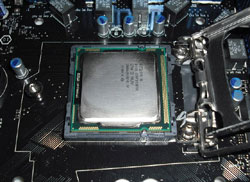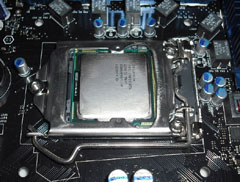 Left: LGA1156 open - Right: LGA1156 closed


Because of the smaller processor and socket size, Intel had to reduce the diameter of the heatsink as well. And apparently due to Lynnfield's lower power consumption and heat output, they also reduced the size of the heatsink. The 750 / 860 sink is almost dwarfed by the Q9650 socket 775 heatsink.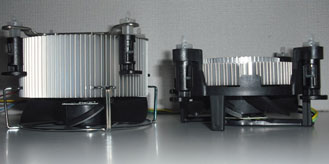 LGA775 (larger) and LGA1156 (smaller) stock coolers


Lynnfield is based on the Nehalem micro-architecture which in turn is an advanced "Core" derivate introduced with the "Conroe" core more than 3 years ago. But Intel has implemented some important changes with Lynnfield. Some of them look at first glance as a step backward: One major difference is the lack of the "Quick Path Interconnect", the much acclaimed, highly efficient connection between the cores and the on-die memory controller. Much of Nehalem's speed boost was credited to QPI. For Lynnfield, Intel reverted back to the previous generation bus solution, the slower DMI chip-to-chip interconnect. And instead of Bloomfield's triple 3-channel memory controller, Lynnfield is sporting only a dual channel controller. On the other hand Lynnfield's memory controller is officially validated for faster running memory. While Bloomfield is validated for DDR3 1066, Lynnfield is validated for DDR3 1333. The RAM voltage limitation of 1.65V, introduced with Bloomfield, remains unchanged for Lynnfield.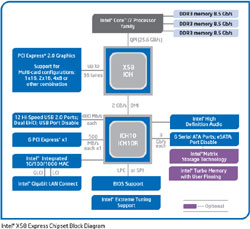 Bloomfield's QPI connects the processor to the Northbridge with an impressive bandwidth of up to 25.6GB/sec. Lynnfield's DMI bus delivers only about 2GB/sec. But there is nothing to worry about this because there isn't much data transfer between CPU and PCH. It would have been a problem for bandwidth hungry graphic card performance though, if Intel had kept the previous chipset design where the Northbridge connects to the GPU. Intel has solved this potential problem by integrating 16 PCI 2.0 lanes directly onto the Lynnfield die. The maximum throughput is 16GB/sec. By moving the PCI Express Graphics lanes on-die, a "Northbridge" becomes obsolete. The P55 chipset knows consequently only one chip, dubbed "Platform Controller Hub (PCH). The PCH handles all I/O functions like SATA, USB, LAN, HD sound and RAID. The new PCH chips are branded as P55/P57/H55/H57, and designed to replace the current P45 and G45.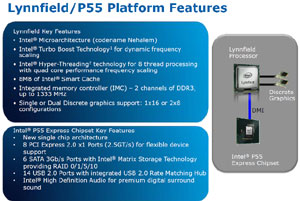 The Lynnfield/P55 platform supports ATI's Crossfire and NVIDIA's SLI. But due to the fact that only 16 lanes are available, Crossfire and SLI are supported only in a dual x8 configuration. Hardcore gamers will take notice of this. Single graphic card performance might even have an advantage when all 16 lanes are served through an on-die controller. But when using 2 graphic cards the P55 bandwidth limitation might reduce performance when compared with an X58 platform. We tested with one graphic card only and cannot show gaming results with multi-graphic cards. But according to the in-depth analysis here it seems the "real word" difference between P55 and X58 when running Crossfire or SLI is rather small.


---
Advertisement:


All original content copyright James Rolfe.
All rights reserved. No reproduction allowed without written permission.
Interested in advertising on OCAU? Contact us for info.

---
Recent Content


Team Group C440 Cardea Ceramic M.2 NVMe SSD


Synology DS720+ NAS


Raspberry Pi 4 Model B 8GB


Retro Extreme!


Intel Core i9-10980XE


AMD Ryzen Threadripper 3960X


Team Group T-Force Vulcan 500GB SATA SSD