PowerColor Radeon HD 6870
Join the community - in the OCAU Forums!


Introduction, Features, Package

With the release of AMD's Radeon HD 6870 and 6850, there has been a lot of confusion over the naming scheme and how these cards compare to the previous HD 5800-series. This article looks at where the fastest of the two, the HD 6870, fits in terms of performance. We'll also see what new features it brings to the table, and how overclocking can change its competitiveness against its 5800-series brothers.

To better illustrate where these new cards sit in comparison to their HD 5800-series counterparts, let's take a look at the chart below. As you can see there is quite a bit of overlap at where the HD 6870 and 6850 are positioned. We find the HD 6850 moving close to the performance of the HD 5850, while the HD 6870 sits right between the HD 5870 and HD 5850 parts, proving these cards are not even close to being a direct successor of the previous generation. This successor will come in the form of the HD 6950 and 6970 expected later this month, and then finally the dual GPU successor to HD 5970, the HD 6990, hopefully by the end of this year.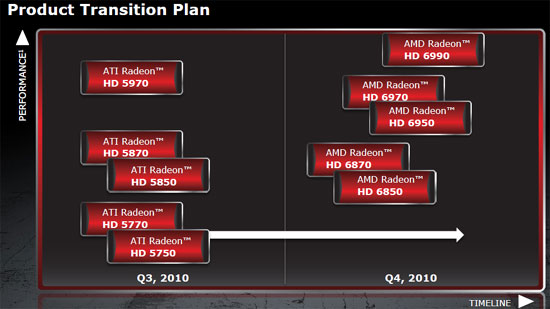 The first two cards to be released, the HD 6870 and 6850, don't feature a new architecture but more of a refinement of the previous HD 5800-series which has been popular for the past year. During this time AMD's engineers tweaked the existing architecture allowing for greater performance on a smaller die size which then reduced manufacturing costs, allowing AMD to sell these parts at price points that were not financially acceptable with HD 5850 and 5830 cards, particularly with the release of NVIDIA's GeForce GTX 460 variants.

With the HD 6800-series AMD have been able to increase Tessellation, Anti-Aliasing and Anisotropic Filter performance, while adding UVD3. This is an updated version of the video processing engine which provides acceleration for MPEG-2 bitstream, MPEG-4 part 2 ASP (also known as DivX/xVid) and Multi-View Codec (MVC) formats. MVC combines two stereo views encoded in H.264, adding tremendous processing requirements which the HD 6000-series can now handle, and with the addition of the HDMI 1.4a standard brings fully accelerated 3D Blu-Ray playback and AC-3, AAC, Dolby TrueHD and DTS Master Audio format support with the appropriate software.

Another feature pushed with HD 6800-series of cards is AMD's HD3D Gaming, which is their open source alternative to NVIDIA's 3D Vision. While this technology looks nice on paper, and 3D capabilities have been touted in previous generations of cards, exploring AMD's own website for the technology can be confusing to even the more enthusiast class of consumer wanting to get into 3D gaming. At present NVIDIA's 3D Vision looks to be a more simple and less confusing product; as it stands AMD's requirements and products compatible with HD3D need some work for users to really know what is required, and not be stuck with hardware that's not compatible or supported.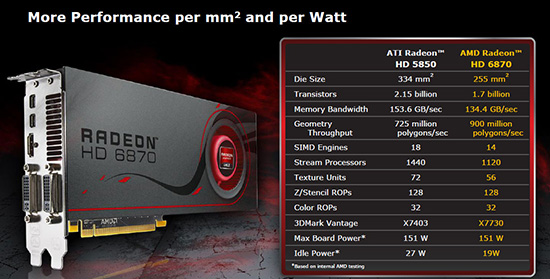 The Radeon HD 5000-series introduced AMD's EyeFinity technology - allowing three displays to be pushed with only one card. The HD 6000-series builds of top of the previous generation, removing the full-sized DisplayPort connector and adding two mini-DisplayPort 1.2 connectors. AMD have also upgraded its HDMI specifications to 1.4a which allow for full Blu-ray 3D playback and a variety of other audio/video features that the specification brings. And while they have updated most of their output options, they have reduced the capability of one of the DVI connectors to a Single-Link connection; this may be a problem for some, but the majority of screen's that sport a higher resolution than 1920x1200 feature a DisplayPort connection anyway.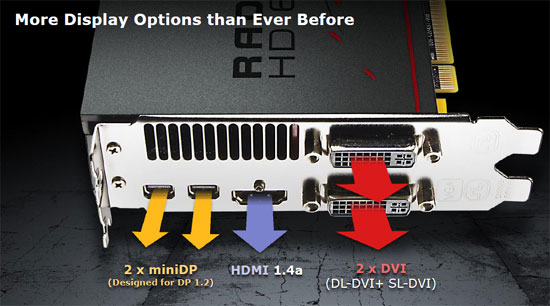 So why more DisplayPort connections? AMD have been a major supporter of DisplayPort and the release of the HD 6000-series is no exception. With the inclusion of the DisplayPort 1.2 specification and two DisplayPorts each card is able to drive up to six monitors with only two connectors. Thanks to the extra bandwidth of DP 1.2 supporting monitors can be daisy-chained or fed through a display hub allowing six monitors to be used with a single card.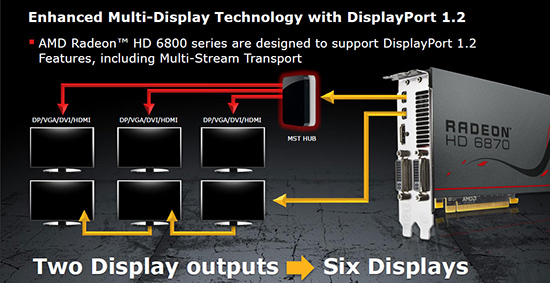 In the box we find a simple set of accessories and documentation. The package includes one mini-DisplayPort to DisplayPort (full size) connector, CrossFire bridge, DVI to VGA converter, driver CD and installation manual. While we would have liked to see a DisplayPort to HDMI adapter and maybe a free game, at this price point most manufacturers keep accessories to a minimum.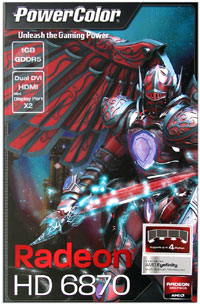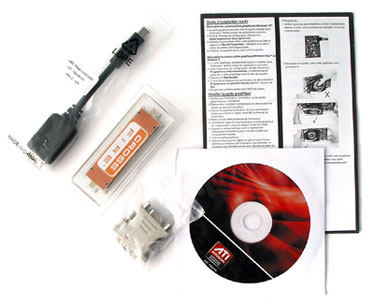 Now let's have a look at the card itself; as is common for initial cards at launch, PowerColor sticks to a reference design cooler and PCB design, and applies their own sticker and branding on the top of the card. If you don't like the design, the sticker seems easily removable after you get some heat into the card.

As for power, the card requires two PCI-Express 6-pin power connections for it to function properly. AMD recommends a 500W power supply or better, but you can probably get away with less, depending on the quality of your power supply and other system components.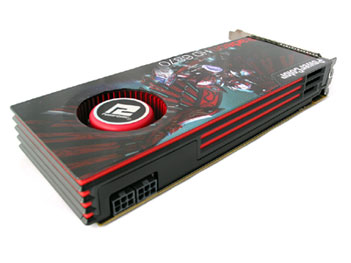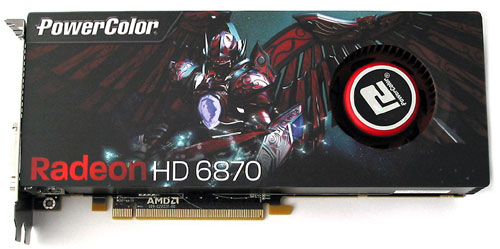 PowerColor's Radeon HD 6870 conforms to the AMD's reference design without any alterations to the display outputs on the back of the card. Two mini-DisplayPort, one HDMI and two DVI ports are featured by default. This configuration allows for up to four monitors to be used when two DVI and two mini-DisplayPort connectors are utilised, without the need of a second graphics card.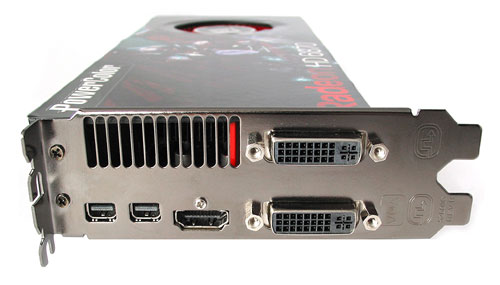 Following in NVIDIA's footsteps with the release of the GTX 460, AMD have limited the amount of cards that are able to be put in CrossfireX. The use of only one connector limits this card's scaling to up to two cards only, unlike previous mainstream HD 5000-series cards. This limitation is present on both the HD 6850 and 6870.


---
Advertisement:


All original content copyright James Rolfe.
All rights reserved. No reproduction allowed without written permission.
Interested in advertising on OCAU? Contact us for info.

---
Recent Content


Team Group C440 Cardea Ceramic M.2 NVMe SSD


Synology DS720+ NAS


Raspberry Pi 4 Model B 8GB


Retro Extreme!


Intel Core i9-10980XE


AMD Ryzen Threadripper 3960X


Team Group T-Force Vulcan 500GB SATA SSD