Inexpensive Greener File-Server Guide
Join the community - in the OCAU Forums!
Introduction, Choosing Components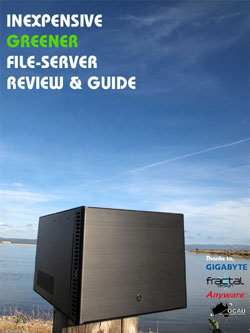 Back in 1998 I was like most PC users. I had one PC, one hard drive and I was happy. Through the following years internet speeds would increase, downloadable content would become the norm and the need for storage continues to grow. These days I have three desktops in the house: my gaming pc, the pc to keep the other half happy and the home theatre PC. My PC has somehow become the hub of our file sharing (games, apps, TV recordings and backups).

I had always had a fairly high electric bill, but I put that down to the old rickety fridge, but we got a new fridge and the power usage barely dropped. I was intrigued to find out where the power was going. A friend who was doing a course in Solar Energy alerted me to a Home Energy Audit Kit that was available to borrow at the local library.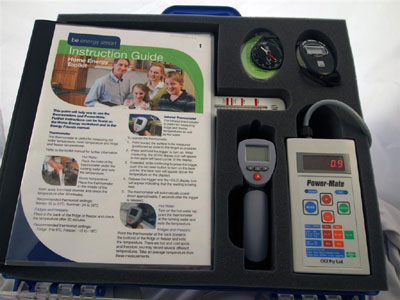 This kit includes an Australian Device called the Power-Mate. The Power Mate sits in-line with the device to be measured. This is great as you get to see the actual running cost of a device and you can even see if a device is faulty, by comparing expected draw vs. actual draw.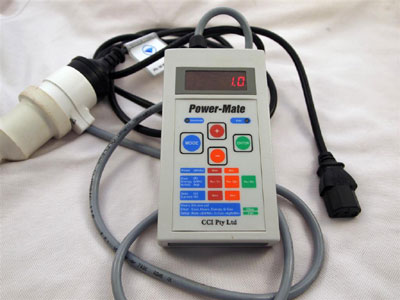 I slowly made my way around the house measuring devices one by one over 24hours. I tested everything from the toaster to the vacuum cleaner. Finally it came time to measure my PC. To my surprise it measured an average of 254Watts per hour which equates to approximately 6kWh a day, in monetary terms about $75 a quarter. Normally I would just turn a PC off when Iím not home or in bed. In this case however the fileserver (my PC) needs to be available for the other half accessing her files and to the HTPC recording shows at obscure hours. So I guess itís a necessary evil. Or is it?

The majority of my PC's power usage comes from the graphics card and high end CPU, both of which are not really needed in a file server. Iím also sure a few of the old hard drives would be exacerbating the power draw. I started thinking that I may be able to save a large amount of power and money by having a dedicated file server.

With a new server in mind I pulled out a few old boxes and gave them a go, but they still pulled in excess of 130 Watts at idle, as well as being noisy and lacking in space and looks. With the two test boxes not quite living up to my expectation I decided to look around at new hardware - but they had to fit within the following criteria:
Must be energy efficient - less than 100 Watts at idle, to make it worthwhile
Support large disks of 2TB and have some level of redundancy
Must be fairly quiet
Ideally I wouldnít like it to cost more than $1300 with new drives
Also some non-essential criteria, that it would be nice to have:
It should look nice
It would be nice to be able to use my TV card in it
It would be nice if it could run a low usage web server
Let the decision-making begin.

Motherboard Choice:
First step: the heart and brain of any PC build, the motherboard and CPU. A quick search revealed a Mini ITX wonderland of small, low power, high feature, ATOM processor based motherboards. I wanted a decent processor so I decided I would look for an Intel Atom D5xx series based motherboard, which is the highest-spec Atom CPU I could find released on a motherboard and available to buy in Australia. Ideally it needed more than 2 SATA ports, gigabit networking and a serial connection for my UPS. I ended up with two boards from reliable manufacturers that fit the requirements; the Gigabyte GA-D525TUD and the Asus AT5NM10-I. Both are priced similarly at $120 and $125 respectively. So letís take a closer look.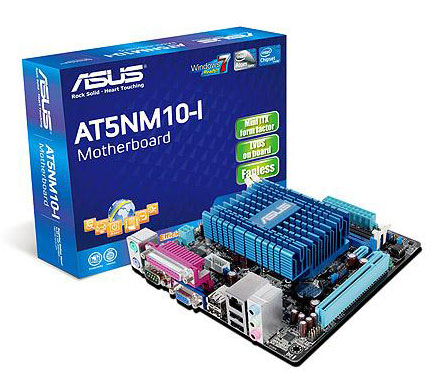 Positives:
Utilises DDR2 Memory (I have some I can recycle from a hardware upgrade)
Passive cooling (Silent)
PCI slot (Will allow me to use my TV Card)
Serial port (Will allow connecting to my UPS)
Negatives:
D510 Processor (A little slower than the new D525)
Passive cooled (I had had issues in the past with passive cooled devices and I am unconvinced that the airflow inside a Mini ITX case will be sufficient)
Two SATA Ports (I think I will need at least 3)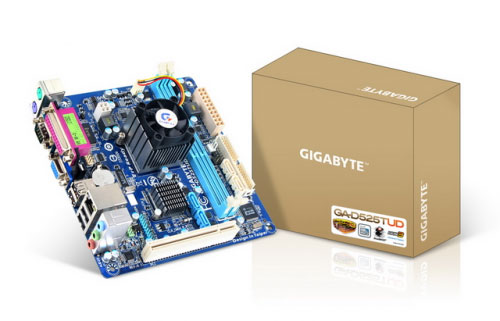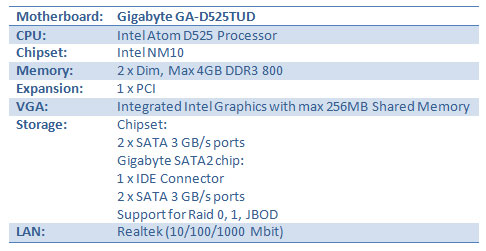 Positives:
Four SATA Ports (Now thatís more like it)
Fan Cooled (With a three pin standard plug allowing easy replacement if needed)
PCI port (Again to allow use of a TV card in the system)
Serial Port (Again to allow the connecting to the UPS
Negatives:
Utilises DDR3 Memory (Something I will need to buy)
25mm Fan (Bad experiences with fans like this getting noisy)
I decided to go with the Gigabyte GA-D525TUD board: the four SATA ports just canít be ignored and I like the sound of the faster processor, along with the fan forced cooling. Gigabyte is also a company I've had good experiences with in the past.

Case Choice:
The second step is the body of the system, and again there are oodles of choices in cases. But for this particular file server build we want something that can hold quite a few hard disk drives, a quiet and "green" power supply, ideally accept a standard PCI card and look good whilst doing it. Strangely enough, again I only came up with two candidates that fit the bill: the Fractal Design Array R2 NAS Case and the Lian Li PC-Q08. There is a considerable price difference between these two, $290 and $165 respectively. Letís take a closer look.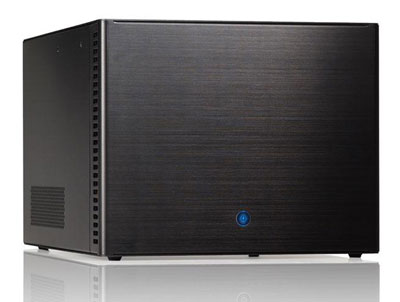 Positives:
Space for six 3.5Ē hard drives (plenty of space for storage)
Space for one 2.5Ē hard drive (good for SSD operating system drive)
300W 80Plus power supply included (no need to buy one)
Looks fantastic (it really does)
Two expansion slots (space for a PCI card or two.)
Negatives:
Non-standard ATX PSU mount (So if the PSU dies you need to mod or find correct PSU)
No Optical drive port (USB will have to do)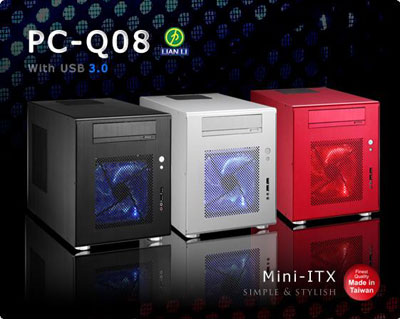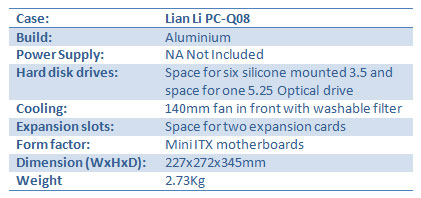 Positives:
Space for six 3.5Ē hard drives (plenty of space for storage)
Space for optical drive (not really required but nice)
Two expansion slots (space for a PCI card or two)
ATX Power supply (easy to replace)
Negatives
No space for 2.5Ē hard drive (not essential)
No power supply (would need to purchase one)
Ugly (obviously a personal choice)
The choice on this one was fairly hard for me. I chose the Fractal Design Array R2 NAS Case. At first you may not understand why, when this case costs $120 more - but with the combination of its great looks, the inclusion of a 300W 80 Plus certified power supply and space for a 2.5Ē hard drive, the price seemed justified to me.

Choosing Components:
Third step: the arms and legs of the PC build, being hard drives and other needed hardware. So we have the case that supports up to seven SATA devices, but a motherboard that supports four SATA devices and out of those four only two support RAID. The best solution for this is the Addonics SATA Multiplier this allows one SATA input to be expanded to five SATA devices. In addition to this multiplication it also allows RAID (Individual, JBOD/Large, 1,0,10,3,5) across the five devices. There are RAID controllers out there but the majority of the cheap ones (~$150) do not support over 2TB on a single span, and I want to use the free PCI port for my TV tuner. I will cover this item in more depth later in the review.



Hard drives are the next item on the list. All the major drive manufacturers have released a line of green drives targeted at the low power and low cost market. My personal choice is Western Digital they have a decent price point of ($120) and have been fairly reliable in my experience. I had originally planned doing a comparison of drives by Western Digital but unfortunately that didn't eventuate, so I will skip the individual drive review and will be using five WD green drives that I have purchased and collected over the past few years. Again I will cover these more in the RAID section later.



Software is an interesting one that is always a controversial topic. One option would be to use one of the open source Linux based NAS distributions like freeNAS and unRAID. While I understand how to use Linux I feel that it may be too complex and scary for a normal user - I also want to use a Windows application to share my TV tuner so Windows XP was my first choice. However, it became apparent that XP 32bit doesnít support the GPT partitions that the new drives 2TB and over require. Like a lot of people, I went out and purchased windows Vista only to get annoyed by it and go back to XP - hopefully I can make that orphaned copy of Vista useful again.

I am pretty sure that any DDR3 memory would have worked, but to be safe I made my decision based on the list of supported memory for this motherboard, as supplied on the Gigabyte website. I ended up with 2x 2GB Kingston DDR3 1333Mhz RAM. Unfortunately one was dead on arrival so the tests will have to proceed with a single 2GB stick.


---
Advertisement:


All original content copyright James Rolfe.
All rights reserved. No reproduction allowed without written permission.
Interested in advertising on OCAU? Contact us for info.

---
Recent Content


Team Group C440 Cardea Ceramic M.2 NVMe SSD


Synology DS720+ NAS


Raspberry Pi 4 Model B 8GB


Retro Extreme!


Intel Core i9-10980XE


AMD Ryzen Threadripper 3960X


Team Group T-Force Vulcan 500GB SATA SSD