Advertisement:

ASUS GeForce GTX 590 3GB
Join the community - in the OCAU Forums!


Introduction, Package, Features

Since the release of the first 500-series GPU, NVIDIA have steadily expanding the amount of choice available in the GeForce range. It now covers the performance hungry gamer wanting the best experience in the latest games, right down to the casual gamer still wanting a great experience but at a lower price point. But now comes a card for the true enthusiast who craves even more performance than the GTX 580 can provide - say hello to the GeForce GTX 590.



The GTX 590 harnesses the power of two fully-fledged GF110 GPUs on a single graphics card, for a combined total of 1024 CUDA cores, 32 powerful PolyMorph engines and 3GB of high-speed GDDR5 memory, making it one of the fastest graphics cards NVIDIA has made to date.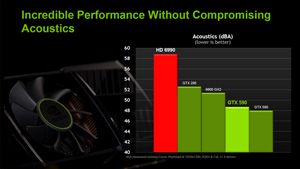 For today's launch day review ASUS have graciously provided a sample of their own GeForce GTX 590 3GB product. The card measures in just under 11 inches, reducing its footprint by more than an inch compared to AMD's Radeon HD 6990 (our review here). It requires a minimum of 700W or greater system power supply, while a quality 1200W one is recommended for a Quad SLI setup with two cards.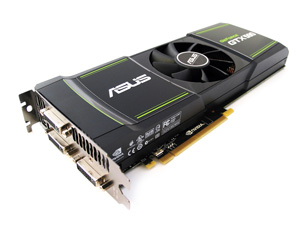 Cooling is provided by a blower style fan (similar to a GTX 295) in combination with two large vapour chambers, all enclosed in a compact housing to direct air over the two GF110 graphics processors, and out the vents located at each end of the card.



Like all GeForce graphics cards, the GeForce GTX 590 boasts specific features like CUDA, PhysX, NVIDIA 3D Vision, and NVIDIA 3D Vision Surround, that you can't get anywhere else. Full Microsoft DirectX 11 game support is of course present, as well as a variety of video enhancement technologies under the NVIDIA PureVideo HD umbrella for smooth Blu-ray and video decoding and acceleration. More information about these technologies can be found here.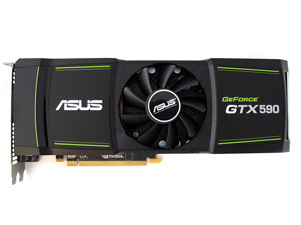 In the box we find an ASUS driver/software CD and installation manual, a pair of DVI adapters, with one converting DVI to VGA, while the other is a DVI to HDMI adapter. There is a dual 6-pin to 8-pin adapter included just in case, however it's best if your power supply has enough connectors by default. Overall a fairly good set of accessories, however we would have liked a mini-DisplayPort to DisplayPort cable to be included for those making use of a DisplayPort enabled monitor.



On the provided disc ASUS include their own Smart Doctor/Voltage Tweak, Gamer OSD and Splendid Video Technology software. Smart Doctor allows for full overclocking control of your video card, while Gamer OSD in simple terms is comparable to the popular program FRAPS, and Splendid Video Technology allows you to optimise the colour and contrast control. While a lot of people will have their own overclocking software handy, it's nice to see ASUS make the effort themselves.



As previously mentioned ASUS's GeForce GTX 590 features two physical GTX 580s on a single PCB, and while some may think that shouldn't be possible, NVIDIA's engineers have made it happen without reducing any CUDA cores or physical aspects of the GF110 GPU already present with the GTX 580. However, they did substantially lower the core clock and memory speeds as evident in the specifications below. While unfortunate, it was a necessary sacrifice to balance the GTX 590's performance against maintaining a realistic power and thermal specification. Of course, this may leave the door open to a company like ASUS to engineer a fully-fledged dual GTX 580 card in the future, as they have with the ASUS MARS with previous generations.



The ASUS GeForce GTX 590 conforms to the NVIDIA reference design without any alterations to the display outputs on the back of the card. Four connectors are present with three being Dual-Link DVI-I and the fourth a mini DisplayPort adapter. But what makes this implementation unique is the ability to run NVIDIA Surround and NVIDIA 3D Surround multi-display configurations without the need for second card, not to mention the fact that costly and sometimes troublesome adapters are not required for a triple screen setup.




On the edge of the card you will see a single SLI connector, which is a common sight on any cards that feature two physical GPUs. When pairing two GTX 590 the total GPU count will jump to four, which is pretty much the maximum GPU configuration available, and anything more would result in minimum amounts of scaling even with the most demanding games.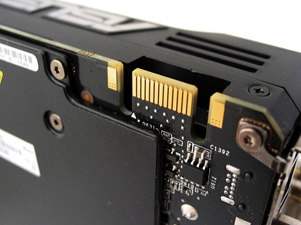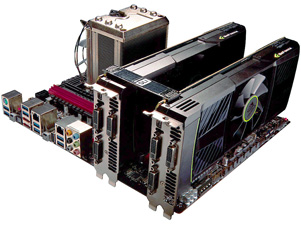 At the opposite end of the card we find a pair of 8-pin PCI-Express power connectors, which is no surprise for such an enthusiast level product packing dual GPUs. Just below that is an innocent looking GeForce logo, and while at first it seems a fairly standard decal, to our surprise when first powering the card we were greeted with a sleek illuminated GeForce logo. This is also used to indicate any issues with the power connections. This illuminated logo was something that was photographed last year before the GTX 580 launch, and while the card displayed was uncertain, and speculated to be the GTX 580, it didn't ship with such a decal, so we love that this distinct detail was finally included in a production card.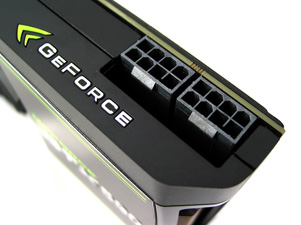 NVIDIA are quick to learn from user feedback as originally seen with the improvements made with the GTX 580 (successor to the GTX 480). Therefore NVIDIA have continued to rely on custom vapour chamber heatsinks when designing the GTX 590. The GTX 590 employs two vapour chambers that pull heat off each GPU and allow for a more compact profile and efficient heat transfer and dissipation. But as with AMD's dual GPU card the GTX 590 dumps heat both inside and outside the case. So, it's imperative that users make sure they have adequate case airflow, even more so when running two of these cards in Quad SLI.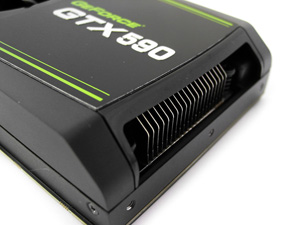 Not content with just improving the GPU heatsinks, NVIDIA have utilised a full PCB base plate that covers all the memory and power circuitry with one large aluminium heatsink, only leaving holes for the GPUs to make contact with each vapour chamber heatsink. On the back side of the card the PCB isn't completely covered, instead two plates cover the back of the PCB where the GPUs sit while also providing some added heat dissipation for the memory modules present on the back of the PCB, as well as protecting them from any user damage during handling and installation.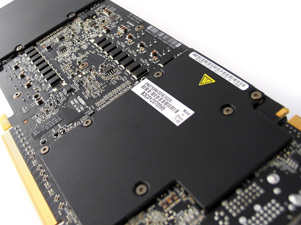 With the card laid bare and the intricate 12-layer PCB exposed, you can really see how much engineering has gone into designing such a card. No longer do we have multiple Display Output Logic Chips seen in the previous GTX 295 dual GPU; this thanks to the logic being integrated onto the GPU itself (first implemented in the GTX 480), leaving only one NF200-P-SLI-A3 bridge chip to take care of communication between the two GPUs.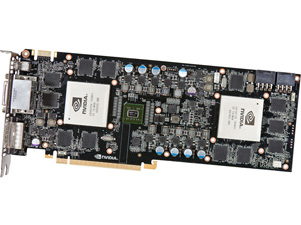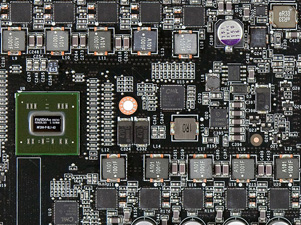 Powering the twin GPUs is a 10-phase digital power design with over-voltage capabilities; while two dual-phase controllers provide power for the board's 24 GDDR5 memory chips (12 for each GPU). This is a slight downgrade from the 6-phase design we saw with the GTX 580, but this is mainly due to space and a different set of power requirements each GPU now utilises thanks to the reduced clock speeds.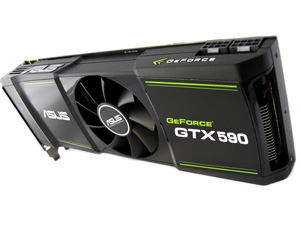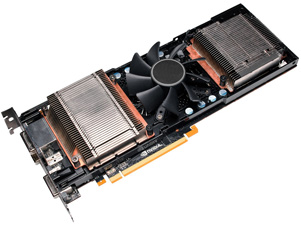 In addition, NVIDIA have made it a lot easier to perform maintenance on the cooling system once dust starts building up over time. No longer do you risk voiding your warranty by having to remove the whole cooler, thermal interface pads and compounds like with previous cards. Now it only takes a couple of screws on the IO bracket and the sides of the cooler, and the top comes off allowing easy access to the vapour chamber heatsinks and fans without disturbing the factory installation.


---
Advertisement:


All original content copyright James Rolfe.
All rights reserved. No reproduction allowed without written permission.
Interested in advertising on OCAU? Contact us for info.

---
Recent Content


Team Group C440 Cardea Ceramic M.2 NVMe SSD


Synology DS720+ NAS


Raspberry Pi 4 Model B 8GB


Retro Extreme!


Intel Core i9-10980XE


AMD Ryzen Threadripper 3960X


Team Group T-Force Vulcan 500GB SATA SSD