GoPro HD HERO Camera
Join the community - in the OCAU Forums!


Introduction, Package

Today I'm taking a look at the GoPro HD Hero video camera. This has been out for a little while now so this review is not exactly cutting edge, but it's a current product and quite neat so worth a look. As mentioned it's an HD video camera, but not like most of them out there. For a start, it's tiny:



Also, it comes with a rugged little housing, to protect it when you have it stuck to the side of your rally car doing 200km/h through the forest, or strapped to your chest while you skydive. That's right, the GoPro HD HERO is an onboard or helmet camera for use in sports, wet or dry. It's the real deal too - once you are aware of these tiny cameras, you start seeing them everywhere, in top-level motorsports and extreme sports, right through to shows like Mythbusters and Top Gear. Even footage of the Chilean Mine Rescue was shot with one, and at 0:39 in this video you can see one mounted in Google's self-driving car. But before we get too carried away with what it is, and what it isn't, let's check out the package and options.



On the GoPro website you'll see there are various packs and a zillion optional accessories, but they all centre on the same camera unit. You can buy the camera "naked", without much in the way of accessories, if you like. I chose the "HD Helmet Hero" because, as a motorcyclist and occasional pedal-cyclist, I thought the helmet strap system would be more useful than, say, a surfboard mount. I should note that the helmet strap is for a helmet with vents like a pushbike or skateboard helmet, and you'd use a normal adhesive mount for a motorcycle helmet. Of course if you want any additional goodies you can just just add them to the order. But be aware most of the kits come with an assortment of mounting options anyway, and here's what came in mine: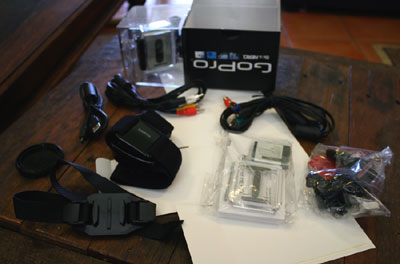 From left to right we have the lens cap off my other camera which you can ignore :) then the helmet strap, head strap, USB cable, A/V cables, a bag with the battery and housing back panel (more on that later), plus a bag full of assorted mounts.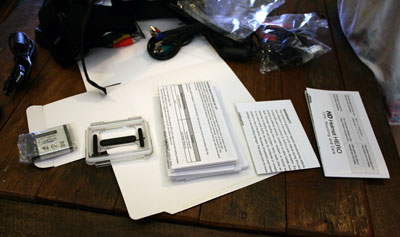 Opening up the first bag we find the tiny Li-Ion battery (1100mAh, 3.7V), a non-waterproof spare housing back panel, manuals in various languages, a warranty sheet and a mounting/care tips sheet. I actually found the instructions a little lacking. Don't get me wrong, I got up to speed quickly enough and the menus etc are all explained, but there's no real "start here" or quickstart type guide. It's also not made super clear how to open the housing, or remove the back panel of the housing, etc. Still, I worked it all out eventually.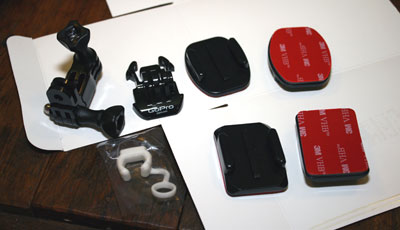 Moving on to the bag of connectors included with this kit, we have a three-way adjustable pivot/extension arm, a mounting clip (2 included), then the adhesive bases that the clip clips onto, and a mysterious white rubbery object. The top two adhesive bases are the same, with round corners and flat in profile - I just turned one over to show the adhesive pad beneath. Ditto the square-corner ones, but these are curved to attach to curved surfaces more easily. The adhesive pad has some give in it, so you don't have to perfectly match the curve, but it'll work better than a flat one. Speaking of flat, there's a large flat base thing used to hold the camera in the display case, which can be quite handy as a desk mount.

The adhesive in question is 3M's VHB, specifically VHB Tape 4991, which is an all-purpose outdoor adhesive. Note: this is an extremely strong adhesive. Pretty much, once it's on, it's on for good. I had one of these mounts stuck to the front of my old van, and when I sold the van recently, I tried to remove the mount, but gave up when it started to look like I couldn't get the mount off without damaging the van's paint. I imagine you could try a solvent and a hair dryer or something extreme if you're really keen, but again that won't be great for the mount itself, the adhesive, or whatever you've stuck it to. But you get a few in the pack and replacements aren't too costly.



Here's a closer look at one of the round-cornered, flat mounts. The corresponding clip fits into the mount very snugly, like a harness clip, and from there you attach the extension arm or the camera itself. Long finger-turnable screws secure the various joints and they have multiple prongs meshing together for maximum friction, to avoid the camera moving or falling off during use. You can use a large-ish Philips-head screwdriver to really tighten them up if you're paranoid.

Speaking of which, the mysterious white rubbery object (orange in some kits, apparently) was, as you may have guessed, something of a mystery at first. It's not mentioned in the instructions, but a quick Google reveals it fits into the clip mechanism once the camera is clipped in. This might be simply additional reassurance that the clip won't unclip under extreme load (because the rubber thing is in the way) or it might be to do with sound dampening. I haven't tested recording with it in place yet, but I'm keen to see if it eliminates the occasional rattle I heard from the housing in some recordings.

One last note about accessories - the camera does not come with any "film", by default. It uses SDHC cards, which are the High-Capacity version of SD cards. GoPro had a 32GB Kingston Class 4 on their site, which is their recommended card, for $99 USD - so I chucked it into my order. I literally did zero shopping around and this was back in December, so you will probably find them cheaper if you look around. But make sure you get one somewhere, unless you're intending to just use the video-out option, otherwise your camera will be useless!


---
Advertisement:


All original content copyright James Rolfe.
All rights reserved. No reproduction allowed without written permission.
Interested in advertising on OCAU? Contact us for info.

---
Recent Content


Team Group C440 Cardea Ceramic M.2 NVMe SSD


Synology DS720+ NAS


Raspberry Pi 4 Model B 8GB


Retro Extreme!


Intel Core i9-10980XE


AMD Ryzen Threadripper 3960X


Team Group T-Force Vulcan 500GB SATA SSD