MSI MOA 2011 APAC Final Post-Event Report
Join the community - in the OCAU Forums!


With the liquid nitrogen long evaporated, after an intense day of overclocking competition at the MSI Masters Overclocking Arena 2011 APAC Final, two things are clear.

Firstly, despite some fierce competition and see-sawing fortunes for all involved, Team Katana Japan put on an impressive display to win the event by a clear margin.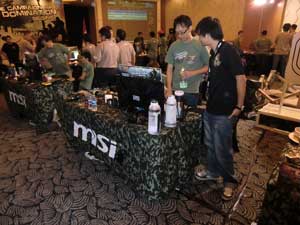 Team Malaysia looked competitive at the start of the competition before struggling later on.


In the SuperPi 32M competition, Team Malaysia set the early pace with a 6:31.202 (Minutes:Seconds.Milliseconds). Team_MBPK from Korea momentarily hit the lead, followed by Team China, but the Malaysians then streaked 2 seconds clear at the front with a 6:26.32. Shortly after, Team Coolaler from Taiwan took second spot just ahead of the Chinese with a 6:27.146.

With half an hour to go OverclockZone Team Thailand jumped into second with a 6:26.562, nipping at the heels of the Malaysians. In the last 10 minutes, Taiwan posted a 6:26.225 to win a tightly contested SuperPi 32M round; the top three were covered by just over 3 tenths of a second.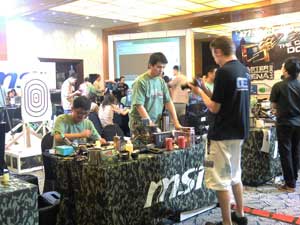 Team Coolaler from Taiwan also sparkled early but faded in 3DMark 11.


Australia's own TeamAU struggled with a mediocre CPU, something Uncle.Fester told OCAU he was fearing prior to the event. Compounding the issue was an unlucky set of circumstances involving the backup BIOS and memory dividers that wasn't discovered until about half an hour into the 3DMark 11 contest. Having to bench at 'stock' 5GHz, their first score was well off the pace at 6:54, though they quickly improved to 6:46.069 and then 6:40.874. This left them 11th at the halfway mark of the competition, hoping their MSI N580GTX Lightning would be a good one.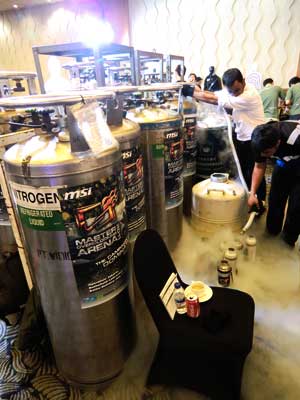 The liquid nitrogen techs helped keep all the hardware suitably chilly.


Team_MPBK from Korea started off the 3DMark 11 competition with a bang, posting a pretty handy score of 9837 to give others a measure to aspire to. Team Malaysia was next to post a competitive effort with 9049, which they shortly bettered with 9302. Hometown heroes Team Indonesia popped up with 9307 to jump up to a tentative 3rd overall, and later on posted a great run of 9933, which almost got them through to the next round.

China hit the ground running with a 9838 run, a single point better than the Koreans, and thanks to their better SuperPi time they were in the lead. At this point the Japanese jumped into contention with 9695 to move into third, then a 9931 put them into first, while a 10k run would have stretched their lead even further but the system crashed before they could submit. They fixed the gremlin and posted a 10004, a 10147, and then finally a monster 10214, which proved unassailable and cemented first position.



TeamAU's Deanzo keeps the MSI Lightning N580GTX at the target sub-zero temperature.


TeamAU did us proud in the second session with a number of runs that progressively ramped up until they ended up with the day's second best 3DMark 11 score, tantalisingly shy of their 10k target with 9994. All the more impressive when you consider they had a fairly average CPU.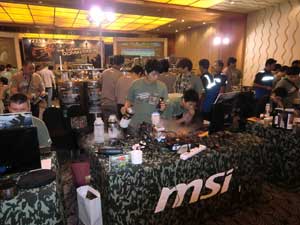 A miniscule oversight during the 3DMark 11 session cost Team China a place in the global final.


After the time had run out, there was a final twist: Team China's 3DMark 11 submission had to be ruled out because they failed to use the correct MSI MOA wallpaper for the screenshot of their result. Heartbreaking for them, and everyone at the event was sympathetic, but the rules had to be enforced. This minor oversight gifted 3rd place (and USD$500) to TeamAU and 4th place to OverclockZone Team Thailand.



Final results for MSI Masters Overclocking Arena 2011 APAC Final.


The day after the discussion, those that survived the partying attended a panel discussion put on by MSI. This was a chance for the competitors to air their grievances constructively and suggest areas for MSI to improve their boards.



MSI showed off the world's first PCI-Express 3.0 motherboard.


Another thing that's clear from MSI MOA 2011 is that overclocking is truly a global phenomenon, with not only fierce competition, but also great sportsmanship. Throughout the proceedings, competitors were often chatting with other teams and sharing information, and this camaraderie was also evident at the pre-event and post-event functions.

Thanks to large manufacturers like MSI providing fantastic support of these events, guys who put in the countless hours and dollars testing at home like our own Uncle.Fester and Deanzo, are given the chance to shine on a global stage. I'm sure all of OCAU will be behind the guys when they tackle Taipei, Taiwan later in the year at the MSI Masters Overclocking Arena Global Final.
---
Advertisement:


All original content copyright James Rolfe.
All rights reserved. No reproduction allowed without written permission.
Interested in advertising on OCAU? Contact us for info.

---
Recent Content


Team Group C440 Cardea Ceramic M.2 NVMe SSD


Synology DS720+ NAS


Raspberry Pi 4 Model B 8GB


Retro Extreme!


Intel Core i9-10980XE


AMD Ryzen Threadripper 3960X


Team Group T-Force Vulcan 500GB SATA SSD