Noctua NH-C14 CPU Cooler
Join the community - in the OCAU Forums!


Introduction, Package, Installation

Noctua has become synonymous with build quality, excellent customer service and class leading performance over the years, continually growing and expanding its presence to over 30 countries across the globe. Today we have the opportunity to test Noctua's compact and versatile NH-C14 CPU cooler, and observe how it will handle our overclocked AMD Phenom II X6 Black Edition with multiple fan configurations. So let's get this box cracked open!




Inside the box we find Noctua's own SecuFirm2 multi-socket mounting system providing support for Intel LGA1366, LGA1156, LGA1155 and LGA775 sockets, as well as AMD's FM1, AM2, AM2+, AM3 and AM3+ socket processors. A tube of Noctua NT-H1 thermal compound is also included along with two pairs of optional Ultra-Low-Noise Adaptors with varying voltages for the included 140mm NF-P14 fans. A Y-splitter power cable, four case fan screws, four anti-vibration fan mounts, optional heatsink support bracket (due to its non-tower design), a Noctua metal case badge and instruction set for Intel and AMD installation round out one of the best accessory packages on the market.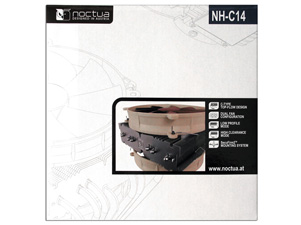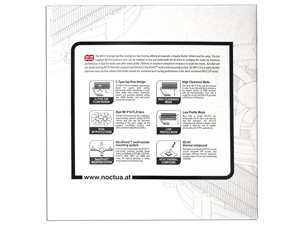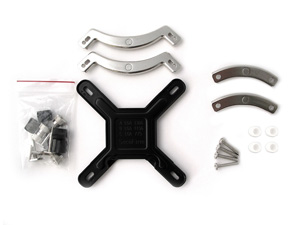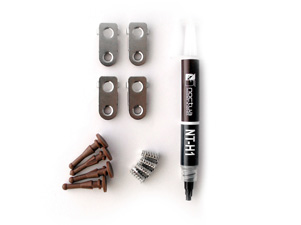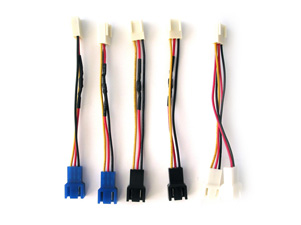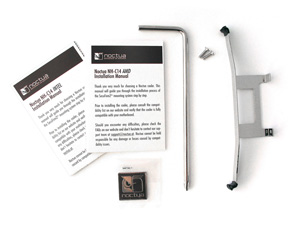 On to the cooler itself. The NH-C14 comes preinstalled with two fans by default, and unlike its bigger bother the NH-D14, it has a matched pair of 140mm NF-P14 fans included for above and below the fin array. Being a non-tower design allows the cooler to be installed into cases with much tighter space restrictions than conventional tower solutions; this rings especially true with cases that have been designed for HTPC applications.

In addition to the C14's smaller form factor, the ability to remove either fan also improves its space saving capabilities. Both fans can be removed so the user can adjust its profile based on ram height restrictions or case requirements without replacing the cooler. When both fans are installed the cooler has a height of 130mm and provides approximately 38mm of clearance - suitable for any ram that doesn't feature extravagant cooling fin designs, but if you fancy more exotic memory configurations, then removing the bottom fan provides up to 65mm of clearance space. Removing the top fan reduces the cooler's height to 105mm.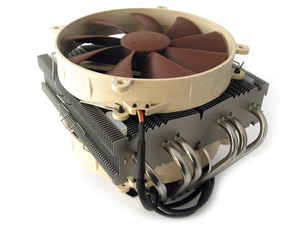 Installation was fairly simple and detailed extremely well within the included manuals for both Intel and AMD processors. Each CPU installation kit was packaged individually to reduce any confusion, and Noctua even included a l-shaped Phillips-head screwdriver for installation, as well as their own quality thermal compound. During installation we didn't encounter any clearance issues with the surrounding RAM, heatsinks and video cards, but as each motherboard has slightly different locations for memory and power circuitry it's highly recommended you check Noctua's list of motherboards that are compatible with this cooler as well as detailed list of frequently asked questions here.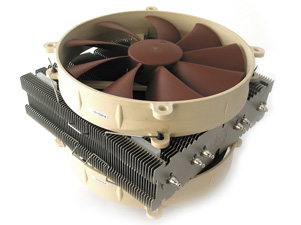 The mounting base of the cooler is where the heart of the design is. Noctua have included no less than six nickel-plated copper heatpipes that help carry all that heat to the aluminium fin array for quick dissipation. The contact area is not mirror finish as found with some coolers, and while some may find a mirror finish visually appealing, it does little if any extra for heat transfer compared to a well machined and even contact surface.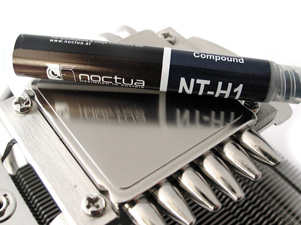 Removing the fans from the heatsink body reveals multiple anti-vibration mounts that act as a buffer between the fan and the heatsink fin array to reduce any vibrations, helping keep it quiet. Each fan has its own rubber grommets that the metal clips attach to for even more noise prevention. In addition, Noctua include a bar that can provide extra support to the core heatsink if larger (heavier) fans are utilised; this does not impede the ability to use the bottom fan.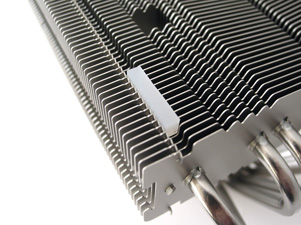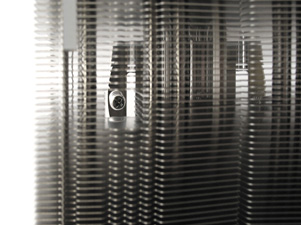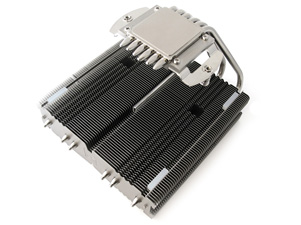 Noctua choose to include their own distinctly coloured 140mm NF-P14 fans in the package. They feature Vortex-Control notches, SCD technology and SSO bearings, helping maintain your system's quietness as well as airflow performance. Both fans present a sub-20dBA acoustic noise rating, and a maximum rotational speed of 1200RPM pushing 64.9CFM of air. But if at full speed they're too loud for your specific application, Noctua include two pairs of adapters that can be used to reduced noise level even further into sub ~13dBA without the need for a fan controller.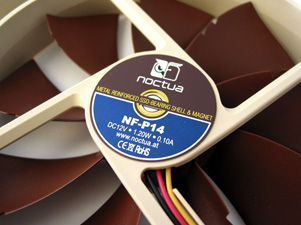 So how big really is this cooler? Well the Noctua NH-C14 weighs in at ~1000 grams (1.0KG) and measures in at 130mm (H) x 166mm (D) x 140mm (W) with both fans attached. However if numbers aren't your game, in the right photo below we've compared it to a genuine AMD Phenom II X4 heatsink you may find alongside your newly purchased processor.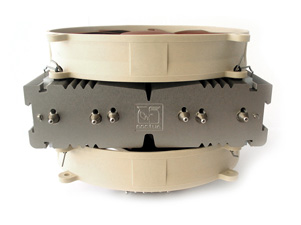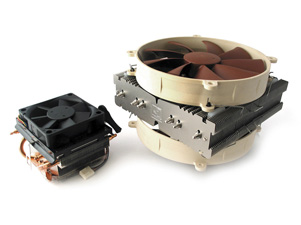 ---
Advertisement:


All original content copyright James Rolfe.
All rights reserved. No reproduction allowed without written permission.
Interested in advertising on OCAU? Contact us for info.

---
Recent Content


Team Group C440 Cardea Ceramic M.2 NVMe SSD


Synology DS720+ NAS


Raspberry Pi 4 Model B 8GB


Retro Extreme!


Intel Core i9-10980XE


AMD Ryzen Threadripper 3960X


Team Group T-Force Vulcan 500GB SATA SSD