Advertisement:

GIGABYTE GTX 570 Super Overclock SOC
Join the community - in the OCAU Forums!


Introduction, Features, Package

GIGABYTE's Super Overclock series of products is well known for pushing the envelope of overclocker-friendly features and high factory-shipped clock speeds. After reviewing their GTX 580 SOC, we thought it would be worth benchmarking its more affordable brother, the GTX 570 SOC. At first look we noticed that it was, like its big brother the GTX 580, a complete redesign - from the cooling, PCB design, power circuitry and amped up clock speeds. The GTX 570 SOC maintains a dual slot design and familiar form factor seen with the GTX 580 SOC. So how does this perform against NVIDIA's pricier GTX 580, and what features does it bring to the table? Let's fire up our test bench and find out!



The GIGABYTE GTX 570 Super Overclock (SOC for short) measures in at approximately 278 millimetres in length (~10.90 inches) slightly longer than a reference GTX 570, and requires a minimum of 650W or greater system power supply. Cooling is provided by a custom WINDFORCE X3 solution that combines a large vapour chamber, multiple heatpipes and large aluminium fin array allowing for efficient heat transfer from the 3.0 billion transistor GF110 graphics processor core.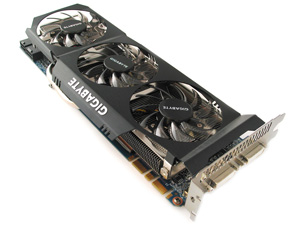 As with the majority of mainstream NVIDIA graphics cards it features support for NVIDIA's SLI multi-GPU technology, 3D Vision, 3D Vision Surround (two cards required), CUDA technology, PhysX acceleration and Microsoft DirectX 11 game support, as well as a variety of video enhancement technologies under the NVIDIA PureVideo HD umbrella to assist in media playback. More information about these technologies can be found here.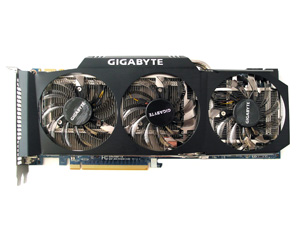 Inside the box we find a user manual detailing installation, product features and general requirements of the video card, a software and driver disc for installation, and two PCI-Express to Molex power converters, as well as a DVI to VGA converter and gold plated HDMI cable. Accessories may vary based on region, but this is a good package covering all the areas and outputs the card features.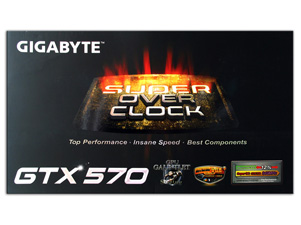 In terms of the display outputs on the back of the card, GIGABYTE's GTX 570 SOC maintains the same set of connectors as NVIDIA's reference GTX 570. These include a pair of dual-link DVI outputs along with a mini-HDMI (version 1.4a) output header. Unfortunately bitstreaming support for Dolby True HD and DTS-HD Master Audio over HDMI is not present unlike GTX 560 and lower GPU variants.



A unique technology featured on GIGABYTE's motherboards has come to graphics cards in the form of the Ultra Durable VGA Plus+ technology banner. This includes a 2oz copper design for a lower working temperature and a reduction of hotspots, better overclocking and better power efficiency. Also featured are Japanese solid capacitors, Tier 1 memory from Samsung and Hynix, NEC Proadlizers also known as film capacitors, that provide extra current capacity and low ESL/ESR, as well as quality Ferrite Core chokes and MOSFETs adding to the benefits of the 2oz copper design.

Combine this upgraded circuitry with their GPU GAUNTLET sorting program that focuses on cherry picking GPUs that offer the highest power efficiency, lowest power consumption and overclocking potential, you end with a card that runs cooler and uses less power than a comparable reference design, especially when overclocking and pushing higher voltages.



On the edge of the card we find a set of SLI connectors, and unlike mainstream video cards like the GTX 560, the GTX 570 allows 3-way SLI and up to 4-way SLI with supporting motherboards, just like we find on NVIDIA's reference design. On the other end of the card we have a pair of PCI-Express power connectors, one 6-pin and 8-pin, an upgrade over the dual 6-pin connectors featured on reference designs.



On the back side of the card we find a busy array of power delivery components, lined with twelve green LEDs each representing one of the twelve power phases for the GPU's power delivery system. The card itself has a total of fourteen power phases, twelve for the GPU itself and the remaining two for the memory. Once the OC Guru software is installed, the card automatically powers down each phase when idle and increases the phase count while gaming. This activity can be seen as the array of LEDs turns off and on.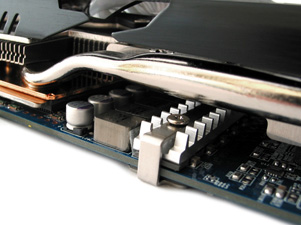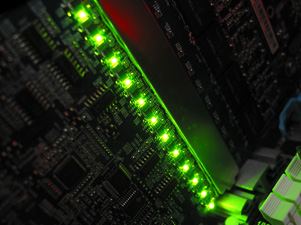 Part of the Ultra Durable VGA Plus+ implementation is a row of five NEC/Tokin Proadlizer film capacitors (Model: 0E907). The capacitors are rated at 2.5v and 900uF and are used to provide a higher current capacity, higher switching frequency and excellent electrical noise absorption properties especially when upping the voltages and clock speeds of the GPU and memory.

In the second image, and on the opposite edge of the PCB we find a set of five voltage read points for monitoring of the GPU-core, GPU-I/O, memory, PCI-E voltages, with the last being the ground. These can be especially helpful for extreme overclockers and voltage modifications.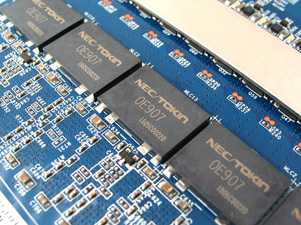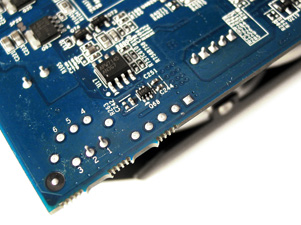 One of the most obvious ways that GIGABYTE's card differs from the original reference design, apart from the PCB and improved power circuitry, is the cooling system. The card sports GIGABYTE's own WINDFORCE X3 thermal cooling solution with a large 140mm x 86mm vapour chamber and dual heatipes to transfer the GPU's heat to an aluminium heatsink spanning the whole PCB, which is then cooled by three 80mm PWM controlled fans.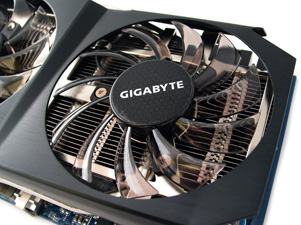 Three-quarters of the cooling solution is a large vapour chamber with an aluminium fan array, about 14% larger than NVIDIA's original vapour chamber design. The last quarter of the card is linked to this vapour chamber by two large nickel plated heatpipes, further moving heat to a separate heatsink at the far end of the card, directly underneath the third cooling fan near the power connectors. GIGABYTE have covered the MOSFETs with an aluminium heatsink that is cooled by the multiple WINDFORCE cooling fans to make sure the card is kept cool at all times, and reduce the chance of heat spots and components failing during long periods of load.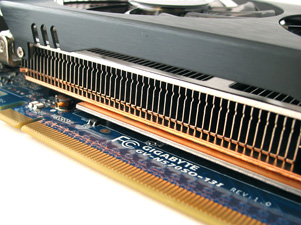 What hardware is complete without a good software package? Thankfully GIGABYTE have included their own OC Guru software to complement the hardware implemented. OC Guru allows the adjustment of both GPU and memory voltages, as well as the usual clock speeds and fan control. Alongside these controls are three key profiles in the software: OC, Gaming and Green. The OC area provides complete access to all the overclocking adjustments, while the Gaming profile focuses itself on GPU and memory clocks, as well as display colour adjustments and a OSD (on screen display) for monitoring while in-game. The third called "Green" is for those looking to reduce the power usage and clocks of the video card, similar to what can be found with their Dynamic Energy Saver software for motherboards.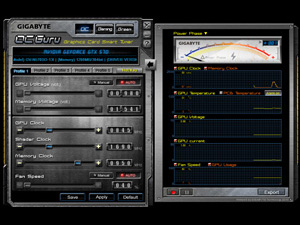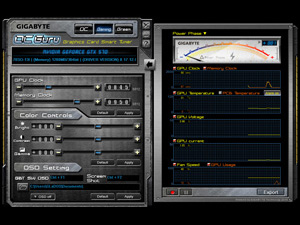 ---
Advertisement:


All original content copyright James Rolfe.
All rights reserved. No reproduction allowed without written permission.
Interested in advertising on OCAU? Contact us for info.

---
Recent Content


Team Group C440 Cardea Ceramic M.2 NVMe SSD


Synology DS720+ NAS


Raspberry Pi 4 Model B 8GB


Retro Extreme!


Intel Core i9-10980XE


AMD Ryzen Threadripper 3960X


Team Group T-Force Vulcan 500GB SATA SSD