Everglide Optical Mouse Pads


Destructive Testing.. and Conclusions.

The only other possible concern about the Everglide Optical Pads is the material that they are made from. Everglide's FAQ seems to enjoy pointing out that "the pad is a piece of compressed, extruded, thermoform, high density, polyethylene resin" and that "All EverGlide Mousing Surface are constructed of a Polyestyrene thermoplastic compound. A material containing a polymerized organic substance of large molecular weight." What they really mean is that the Optical Pads are made of clear polystyrene – the same stuff that jewel CD cases are made from, and I doubt there are too many people reading this review who have not broken, cracked or shattered a jewel CD case or two.

Given that the Everglide Optical Pads are about 6mm thick, this makes the mouse mats very rigid. It is almost impossible to bend the Everglide Optical, considerable effort is required to bend them even a little, and I can see no reason why anyone would ever bend one enough to break it – at least under remotely normal usage conditions. But being so hard, I was interested to see if the Everglide Optical would shatter or break.

Obviously there would be no practical reason to hit a mouse mat with hammer, throw it at a brick wall, or run over it with a car. But it may be possible to drop a mouse mat onto a hard floor – perhaps when carrying your computer to a LAN. So I constructed a 'worse case scenario' – dropping the mouse mat from head hight – end on – onto a hard tile floor. The Everglide Optical's are so hard, that I would not expect any damage from dropping it onto a carpet floor, or dropping it 'flat', I was even worried that the mouse mat may break the tiles that I dropped it onto.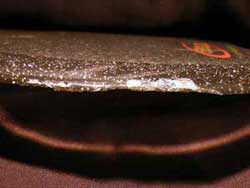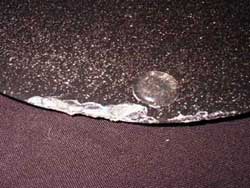 The Everglide Optical only suffered a few minor chips when dropped end-on onto a hard surface.


As you can see in the pictures above, dropping the Attack Pad Optical Smoke – end on, onto a hard tile floor, from about head height – resulted in only a few minor chips in the side. Quite impressive really, the chips would not have any effect on the functionality of the mousing surface. Feeling quite confident about the strength of the tough little Attack Pad, I decided to drop it again, unfortunately this time it didn't fare quite so well. While I had proved that the Everglide Optical's are not indestructible, it would be quite hard to accidentally break one in this manner.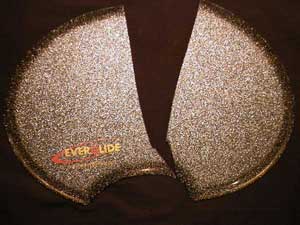 Oops.


Another possible drawback related to the hardness of the polystyrene surface could be that it is easy to damage by scratching, or it may be subject to early wearing. While it would be impossible to judge how quickly the mousing surface will wear after using the Everglide Optical for only a week or so, I will be very interested to see how it goes after several months constant usage. On the other hand, it was fairly easy to test how easy the pad is to scratch – a simple key-test. As you can see in the picture below, a deliberate attempt to damage the mousing surface by scratching it with a key caused very little damage.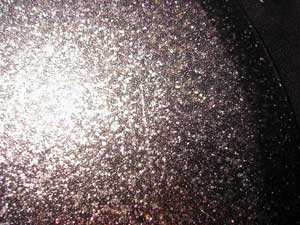 It took a sustained effort to key-damage the mouse pad in any way. Below you can see the result of about 20 deliberate key-scratches. There is no way that a mouse mat should be damaged in this way under normal working conditions.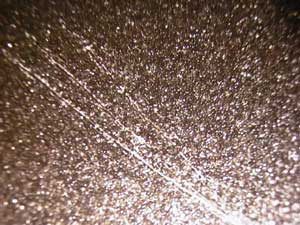 While it is possible to damage or even break an Everglide Optical Attack Pad, these conditions would be near impossible to encounter under normal usage. If the mousing surface does not determinate too quickly, I would expect the mouse mat to last many years.

After getting used to the seemingly-rough surface of the Everglide Giganta Optical, I found that the increased friction promoted accurate mousing. The FineCell® texture provides just enough resistance so the mouse slides smoothly over the pad, but also stops where you want it. The Everglide Giganta Optical clear, has found a home on my desk for three main reasons; it is comfortable and accurate to use, my Everglide wrist rest fits snugly into the convex base (when used with the Ratpadz, I'd often accidentally move the wrist rest, or knock it onto the floor) and last-but-not-least, the Everglide Giganta Optical clear looks cool!



As you may have noticed, my two major complaints about the Everglide Optical is that they are noisy, and the feet were not attached properly. Apart from these fairly pedantic observations, these high-tech mousepads are otherwise highly recommended.


---
Advertisement:


All original content copyright James Rolfe.
All rights reserved. No reproduction allowed without written permission.
Interested in advertising on OCAU? Contact us for info.

---
Recent Content


Raspberry Pi 4 Model B 8GB


Retro Extreme!


Intel Core i9-10980XE


AMD Ryzen Threadripper 3960X


Team Group T-Force Vulcan 500GB SATA SSD


Team Group T-Force Vulcan SO-DIMM DDR4


G.SKILL Trident Z RGB DC Series