Silicon Power USB Gift Pack
Join the community - in the OCAU Forums!


Silicon Power sent over a "gift pack" for review, containing a 1TB external HDD and an 8GB USB thumbdrive. You might remember Silicon Power from a couple of SSD reviews we did back in 2011 and 2008. So, at the risk of looking a gift pack horse in the mouth, let's check it out.



The outer packaging is a suitably festive box with the larger drive visible and a picture of the smaller drive. As indicated, the specific models are Silicon Power's "Diamond D06 1TB" external 2.5" drive and "Blaze B20 8GB" thumbdrive. Both support USB 3.0 but are of course compatible with 2.0.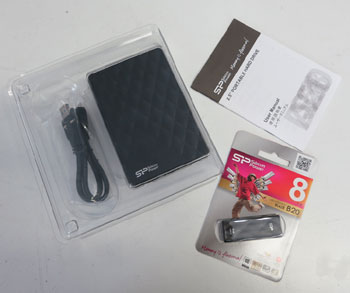 Inside the box in a no-cutting-required clamshell we find the 2.5" HDD and a USB 3.0 cable with the wider Micro-B connector on the drive end, and a blue USB 3.0 connector on the host end. This cable, and indeed this drive, is also compatible with a USB 2.0 port, but naturally you wouldn't then get the benefits of USB 3.0. There's also a User Manual in case you've never encountered a USB drive before. Finally, the 8GB thumbdrive is also tucked away inside the box, in what is presumably its normal individual retail packaging. Let's take a look at the larger drive first.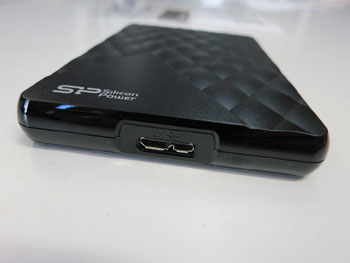 It's in a plastic case with a nicely textured top, curved glossy sides and a matte base with small moulded feet. The overall effect is that it doesn't feel as cheap as you might expect from a plastic case. It's got a little weight to it and the, to quote the box, "classic diamond check pattern" on the top surface smartens it up a bit.



Like most 2.5" external drives it's powered by the same cable as the data connection, so it only has the one connector - the wider USB 3.0 Micro-B socket. In use there is a faint blue activity LED on one side of this port, but it's not annoyingly bright as some blue LEDs can be. There's no obvious way to open this case and I strongly suspect it's assembled using one-way clips so probably can't be opened non-destructively. Windows 7's Disk Management and Device Manager identify the drive simply as "Silicon Power PHD U3" rather than identifying any other manufacturer of the actual drive hardware inside. CrystalDiskInfo 5.6.2 on the other hand identifies it as Seagate's ST1000LM024 HN-M101MBB 5400rpm drive with 16MB buffer. I offer this info only in case of you having to do a firmware update or similar, but there's no guarantee your unit will contain the exact same model of drive - although you'd hope they would stick to roughly the same spec for the same Silicon Power model.

It comes preformatted to 931GB according to Windows, for reasons we are all surely familiar with by now. The ADATA 1TB we compare it with later is formatted to the same capacity. This Silicon Power drive also ships with some software onboard to help you register your product for warranty etc.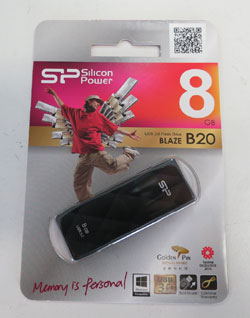 On to the thumb drive. This is an 8GB drive which, it has to be said, is not exactly stretching the bounds of available capacity nowadays. In a world where 1TB thumb drives now exist, and there are bargain bin sales of 16GB ones fairly regularly at my local big-name retailer, 8GB isn't going to impress too much. But still, it's a handy thing to have for those moments when you need to carry a few documents, images or media files around.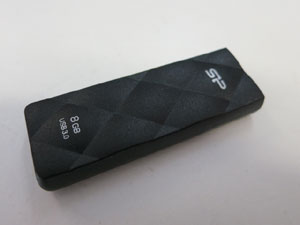 This packaging you DO have to destroy to get into, and contains simply the drive by itself. It's got the same texture on the top as the larger drive, which is a nice touch. The USB 3.0 connector slides out with the use of a thumb-slider on the bottom of the drive. I suppose this offers the connector some protection from wear and tear, but at the expense of making the unit slightly longer than it could be otherwise. I only notice this kind of thing because I often use USB drives in the stereo of my car and a long USB stick poking out of the dash is asking to be snapped off. Also, when testing this drive in my desktop PC, it seemed that the slightly tighter USB ports on that machine would occasionally make the slider mechanism unclick, meaning the case slid down over the connector before the connector fully engaged. It didn't do it every time and didn't do it at all on the laptop, but it was a little irritating when it did occur.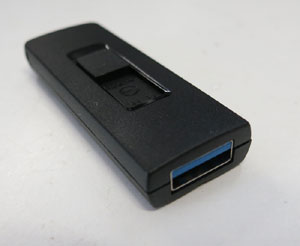 But I digress. There's a red activity LED on the top which is very visible but not bright enough to be annoying. The only other notable physical feature of this drive is that one corner has holes for attaching it to a cord or lanyard, which is not provided. It's preformatted to 7.4GB according to Windows and has the same registration software as the larger drive, but also an empty USB_FIXED directory which is a little mysterious.

Performance:
I wasn't intending to get too carried away with performance testing of these two drives, as they're not generally used in a way that will benefit from being marginally faster than any competing device. If we can establish that they are in the same ballpark as other USB 3.0 devices, we can be content. To that end I have tested them with CrystalDiskMark 3.0.3 x64 and compared them to two other USB 3.0 drives, an ADATA HD710 1TB "rugged" external 2.5" drive and a Verbatim 16GB Store'n'Go V3 thumb drive. This testing was performed on my Samsung 900X notebook which has a 8GB of RAM, a USB 3.0 port with a Renesas controller and runs Windows 7 Pro x64.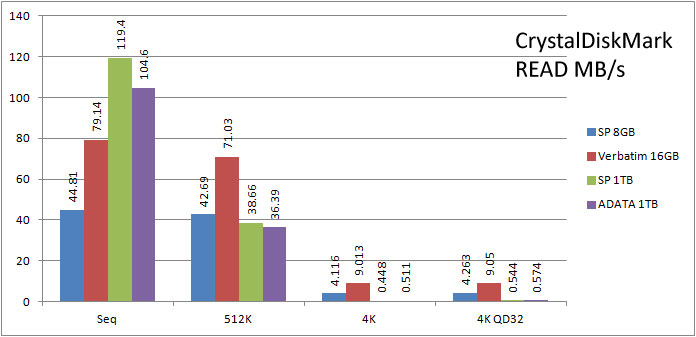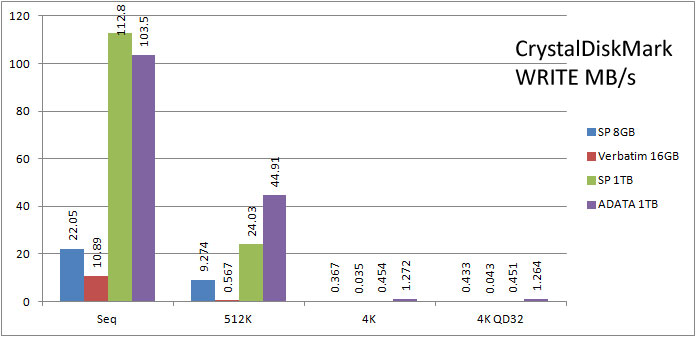 For a real-world performance test I moved to my desktop PC which has a USB 3.0 4-port PCI-E card with a VIA controller. I simply copied a 670MB MKV file from the local SSD to each drive and then deleted it, three times in a row, timing it with a stopwatch each time and also observing what Windows was reporting as a transfer speed. It's worth pointing out that Windows 7 puts USB devices into "Quick removal" mode by default, which disables write caching. You can confirm this in the properties and policies for each device.

In this test the Silicon Power 1TB and the ADATA 1TB were almost identical, taking just over 9 seconds to transfer the data and reporting just over 90MB/s while doing so. This correlates with the figures from CrystalDiskMark, where there was a slight variance from test to test but overall the figures were very close. We can definitely say these two 1TB drives are going to offer almost identical performance in the field.

The thumbdrives showed an interesting difference though, with the Silicon Power one being roughly twice as fast at writing as the Verbatim. The Silicon Power took around 33 seconds and sat quite consistently on 20MB/s, while the Verbatim took 63 seconds and started at 28MB/s but dropped down to 10MB/s as the file transfer progressed. These results were completely reproduceable and again correlate with the CrystalDiskMark write results we saw earlier. But more importantly, neither of these thumb drives are particularly fast for USB 3.0 devices. Doesn't it seem counter-intuitive that a solid-state thumb drive should be slower than a spindle-based external HDD?

For interest's sake I also tested a USB 2.0 Corsair Voyager GT 16GB thumb drive. This was a high-end thumb drive in its day, but should be noticeably slower than the newer USB 3.0 devices. Strangely, it held its own, compared on the notebook and the desktop - and even when I plugged it into a USB 2.0 port on the desktop! But on the other hand, I tried again with an ancient USB 2.0 4GB drive and got tired of waiting for it to complete the benchmark. So, it seems that when it comes to thumb drives, some USB 3.0 drives are not substantially quicker than decent USB 2.0 drives. If I had to guess, I would say the underlying flash and controller infrastructure hasn't changed, with the "USB 3.0" upgrade only really covering the USB controller and connector. From a quick Google this seems to be a common complaint, so I am not pointing a finger specifically at Silicon Power (or indeed Verbatim) here, just pointing out what seems to be a quirk of the industry at the moment. One other oddity - the Verbatim gets very warm during benchmarking, while the Silicon Power stays nice and cool.

So, it has to be said that the Silicon Power 8GB thumb drive is not going to win any performance awards. It is perfectly usable - remember in the real world test it took 33 seconds to copy 670MB to it. With only 8GB to fill you will be finished in only a few minutes even if you're trying to fill it completely. But you're not really getting the advantage of USB 3.0 on this unit.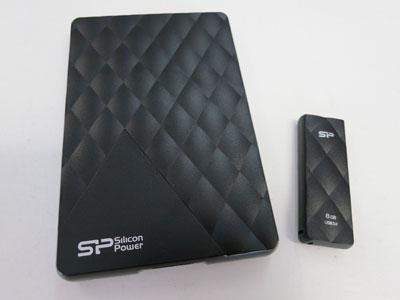 Conclusions:
This gift pack is an interesting idea from Silicon Power and the end result is quite good overall. Cosmetically the two drives are attractive and go well together. They seem to perform on a par with other USB 3.0 devices in their respective classes, although there are certainly quicker and larger options elsewhere if you are specifically after speed or capacity. Unfortunately Silicon Power are unable to give me an indication of pricing at the moment, but keep an eye out. If it's priced competitively then this seems like a good stocking-stuffer for the storage-hungry person in your life. Thanks to Silicon Power for the opportunity to check it out!

Feel free to discuss this review in this thread.
---
Advertisement:


All original content copyright James Rolfe.
All rights reserved. No reproduction allowed without written permission.
Interested in advertising on OCAU? Contact us for info.

---
Recent Content


Team Group C440 Cardea Ceramic M.2 NVMe SSD


Synology DS720+ NAS


Raspberry Pi 4 Model B 8GB


Retro Extreme!


Intel Core i9-10980XE


AMD Ryzen Threadripper 3960X


Team Group T-Force Vulcan 500GB SATA SSD