Silicon Power V20 Series 120GB SSD
Join the community - in the OCAU Forums!


Introduction, Features, Package

Today we have an opportunity to review an SSD that has yet to hit the Australian market, from a manufacturer called Silicon Power. Founded in 2003 by a group of enthusiastic specialists in International Business, Global Marketing, and Technical Engineers from the flash data storage industry, it's since become a well recognized brand, accepted by millions of end-users in more than 100 countries. They claim to be one of the world's leading manufacturers of flash memory cards, USB flash drives, card readers, DRAM modules, solid state disks, and portable hard drives in countries such as the Netherlands, Japan, Russia, Mainland China and other emerging markets. In fact, OCAU's first SSD review was of one of their early 64GB models, but that was way back in 2008 and since then it seems we've heard a lot more about other brands instead.

So why should you be interested in a brand you may never have heard of? Well, Silicon Power's V20 series SSDs boast identical read (285 MB/s) and write (275 MB/s) specifications to a popular competitor, the OCZ Vertex 2. The hook is that we're told this Silicon Power unit will be priced locally at under $200, presumably with "street" prices cheaper still. Interested now? Then read on!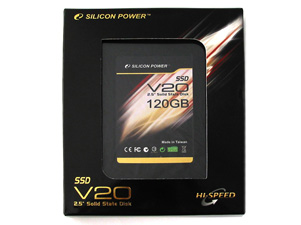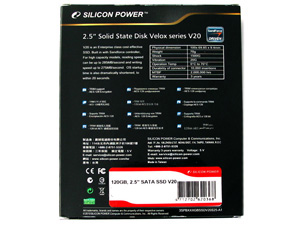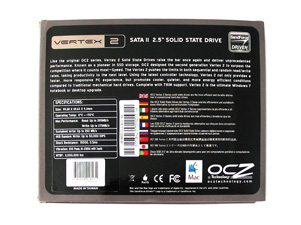 Inside their respective boxes we find both SSDs packed reasonably well, while the OCZ drive is further protected for any bumps and shocks during transport thanks to a foam cut-out for the drive to sit in. Both products include a simple user manual, mounting screws, and 2.5 inch to 3.5-inch mounting brackets for easy installation for desktop users. No software is included or required for generic installation of these drives, but obviously if you intend on running AHCI or multiple drives in RAID you will need to utilise specific drivers for your operating system install.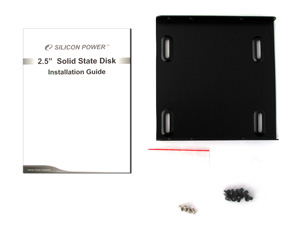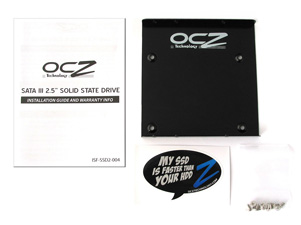 Externally the SSDs are very similar in design, with standard SATA power and data connections. They both conform to the standard 2.5" drive design making them suitable for laptop or docking bay use, and the most significant difference is simply the branding and information stickers.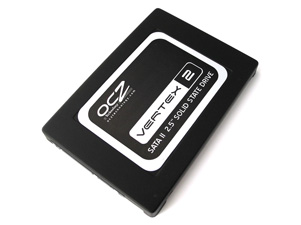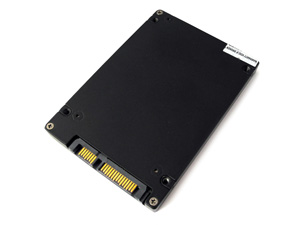 On the controller front both products from OCZ and Silicon Power include SandForce's SF-1200 series processor. This features their proprietary DuraClass technology that helps with data block management and wear levelling, advanced space management and recycling of unused blocks, as well as RAISE (Redundant Array of Independent Silicon Elements) which improves data integrity beyond the advanced ECC already present. In addition, the controller supports both SLC and MLC flash, 128-bit AES data encryption, a mean time to failure (MTTF) of 2,000,000 operating hours, and is one of the most popular controllers used on the market today thanks to its balance of performance and cost to manufacturers of these SSDs.



Cracking open the Silicon Power V20 series SSD, we find a SF-1222TA3-SBH controller, the same controller utilised in OCZ's Vertex 2 SSD's. While for storage Silicon Power have included Micron-branded 29F64G08CFABA MLC based 34nm Flash NAND modules. This is the same NAND module utilised for the majority of Vertex 2 E SSD's, apart some of the late few that have moved to a smaller NAND process. So the only real difference between the two SSD's should be firmware deep.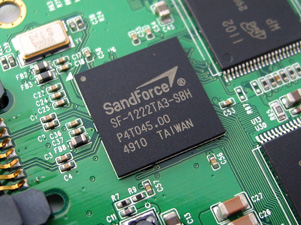 Below we have a couple shots of the power circuitry and details about the PCB version and PCB build date.



Inspecting the front and back of the PCB there are a total of sixteen Micron-branded 29F64G08CFABA MLC based 34nm Flash NAND modules. Each module is 8GB in density, and once formatted in Windows the SSD has a total usable capacity of 111.7GB.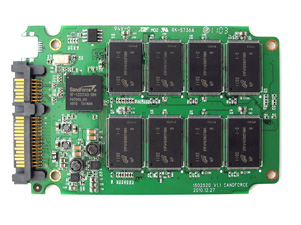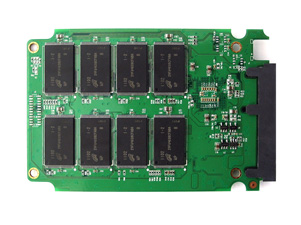 ---
Advertisement:


All original content copyright James Rolfe.
All rights reserved. No reproduction allowed without written permission.
Interested in advertising on OCAU? Contact us for info.