A-DATA PC4000 DDR500 Memory
Join the community - in the OCAU Forums!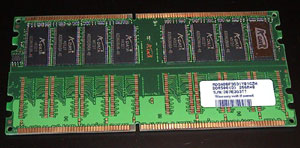 The Taiwanese electronic manufacturer A-DATA has recently released PC4000 or DDR 500 DRAM in 256 and 512 MB varieties. DDR 500 is currently the highest rated DRAM in the market. We have a look at this new product to see if it indeed is good for 250 MHz (DDR 500) as advertised, its latencies and bandwidth and of course also how well it overclocks. We pointed out already in our TwinMOS PC 3200 /DDR 400 test report that it does make little sense to test just 1 or 2 modulus of a DRAM variety. RAM modules have quality fluctuation of up to 10% and drawing conclusions from only 1 or 2 modules is difficult. Even more caution is necessary when the manufacturer or its distributor provided the test modules. It's not too far fetched to assume they are the handpicked best out of a lot. Thanks to generous support from OCAU members we were in the position to purchase 12 modules of the 256 MB variety.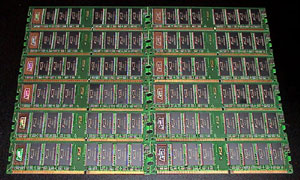 We think such a large sample size allows for a solid evaluation of the tested product and minimizes the chance of random results.

PRODUCT DESCRIPTION AND TEST SET-UP
The 256 MB modules come with 8 x 32 MB RAM chips all placed on one side of the PCB. Contrary to other high performance memory modules A-DATA PC 4000 comes without a heat spreader. We don't think this is a disadvantage. We have never come across DDR 1 modules that became so hot that they would have benefitted from a heat spreader and regard them as marketing cosmetics.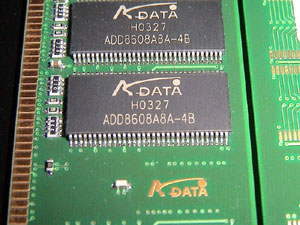 At the time when this article was written there was no reference to this new PC 4000 / DDR 500 product on the A-DATA website. We don't have therefore any manufacturer specification and don't even know whether the RAM chips are produced by A-DATA or a third party chip manufacturer. The chips are marked ADD8608A8A-4B. "4B" is obviously indicating a speed of 4 ns and revision "B". PC Wizard 2003 revealed the following SPD defaults for our Intel 8654/875 test boards: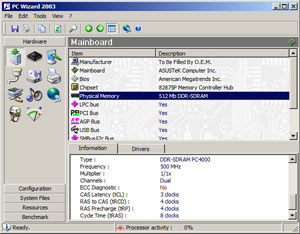 CAS Latency (tCL): 3 clocks
RAS to CAS (tRCD): 4 clocks
RAS Precharge (tRP): 4 clocks
Cycle Time (tRAS): 8 clocks

3-4-4-8 are the most conservative memory timings possible for Intel 865/875 chipsets. It is not surprising to see such conservative SPD defaults, because manufactures want to ensure that their product is working under all circumstances. We also found that Sandra 2003 and CPU-Z 1.18 are recognizing this A-DATA PC 4000 as PC 3200.

For our test we used 3 motherboards with 2 different Intel chipsets:
ABIT IC7-G Rev 1.0 based on the Intel 875P chipset
ASUS P4C800-E Deluxe based on the Intel 875P chipset
ASUS P4P800 Deluxe based on the Intel 865PE chipset
In order to exploit the hopefully existing frequency headroom of this PC 4000 as much as possible we choose a P4 2.6GHz "C" for our test. This CPU had already been tested to run air-cooled at above 3.7GHz and has a relatively low multiplier of x 13. That should allow us to test high RAM frequencies running FSB and frequency linear at 1:1. To push this P4 2.6GHz to the aircooled limits we used the massive Swiftech MCX 4000 heatsink with an adaptor mounted 120 mm dual blade fan from DELTA delivering 190 CFM.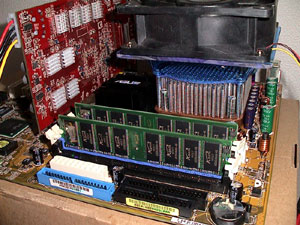 ---
Advertisement:


All original content copyright James Rolfe.
All rights reserved. No reproduction allowed without written permission.
Interested in advertising on OCAU? Contact us for info.