Advertisement:

Antec Super Lanboy Mini Tower Case
Join the community - in the OCAU Forums!


Introduction, Features, Details

Having built a system in the original Lanboy, I had fairly high expectations for this new case from Antec. My original aim was to have a system that was transportable, quiet and cool looking. I could not have looked elsewhere for a better case. It would seem many of the original kinks of the original Lanboy have been ironed out by Antec.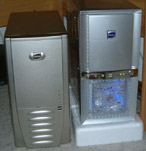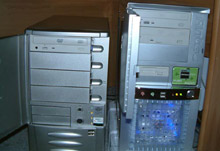 Original at left, Super at right


Before we look at the case in detail, here's some specifications:

Features:
Durable anodized aluminium finish
Clear side window
Drive Bays

External: 3 x 5.25", 2x 3.5"
Internal: 4 x 3.5" individual drive trays with rubber grommets to absorb vibration

Motherboards: up to Standard ATX
Compatible with any ATX12V power supply
Built-in Extras:
USB 2.0 x2
Mic Input x 1
Headphone Output x 1
Ventilation:
Front Intake: Antec 120mm Blue LED fan (Included)
Rear Exhaust: Antec 120mm transparent fan (Included)
Fan Specifications
RPM: 1200
CFM: 38.94
Db(A): 24.85
Extras:
Included: Antec Lanpal case-carrying strap
Optional: Antec SmartBlue 350W PSU
The case was packaged in a funky looking acid-green box with sufficient foam and padding for postal transportation. While the original Lanboy had more sedate packaging, the Super Lanboy's packaging practically screams for gamer attention with a 3D rendered muscular guy you'd likely find in a Capcom beat-em-up.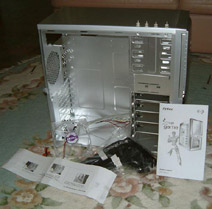 While taking the case out of the package, I noticed that while it was light, it was also a little flimsy. Nothing compared to the Coolermaster Wavemaster case I reviewed previously. In order to make the case light and transportable, I believe Antec had to use thinner aluminium in its Lanboy cases. The amount of flex in the Super Lanboy hasn't changed from the original Lanboy. The finish of the case was excellent as well as the large side window. This has been enlarged to about double the viewing size of the original Lanboy allowing more components to be seen. The front bezel is plastic, with a door that was a little hard to open, to hide ugly beige coloured drives.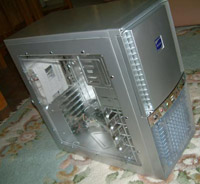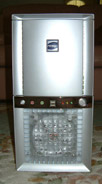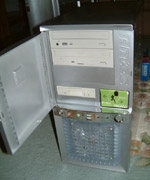 I had opted not to obtain the optional Smartblue 350 PSU as I intended to fit my own Truepower 430 to power the system. Antec does state that this case is compatible with all makes of ATX12V power supplies.

Behind the door are 5 drive bays, 3x5.25" and 2x3.5". There is also little compartmental box that allows you to store little screws and screwdrivers. This is significantly more useful than the compartment provided by the original Lanboy. The image on the front of the compartment is supposed to be removable however I wasn't able to remove mine as part of the paper was stuck in the grooves of the box design.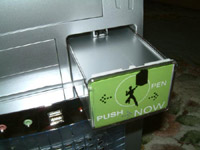 Facing the case, the most interesting thing would have to be the semi-transparent "filter" that takes up practically half the front half of the case bezel. As a filter it is practically useless, but it does provide an interesting pattern and break up of light from the front 120mm LED intake fan.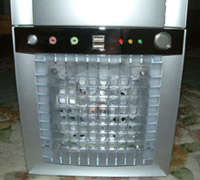 ---
Advertisement:


All original content copyright James Rolfe.
All rights reserved. No reproduction allowed without written permission.
Interested in advertising on OCAU? Contact us for info.

---
Recent Content


Team Group C440 Cardea Ceramic M.2 NVMe SSD


Synology DS720+ NAS


Raspberry Pi 4 Model B 8GB


Retro Extreme!


Intel Core i9-10980XE


AMD Ryzen Threadripper 3960X


Team Group T-Force Vulcan 500GB SATA SSD