Water-Cooling Experiment
Join the community - in the OCAU Forums!


Introduction, Parts, Mounting

Basically, after playing with the peltier, I've decided that there's no point using it with passive (heatsink) cooling. It will heat up any heatsink to lockup after only a few minutes. I could install monster case cooling but my other PC is too loud from fans already - so I thought I'd look into water cooling. If the pump is quiet the machine should be almost silent except for hard disk access, and still provide much lower temps and higher speeds than passive cooling...

First up, the peltier itself. It's a FROST-74 unit which cost me $45.00 ish. It's 40x40mm and 40W. I run it off the power-supply (250W) inside my case and haven't noticed any ill effects power-wise from that setup. Some people have said I would get better efficiency from it if I used a separate power supply, or even ran it at 17V instead of 12. For a bit more info about my previous experiments with this peltier check here.

Next, the water-cooling jacket. It's not really a proper jacket, in that it doesn't enclose the thing it's cooling, but I don't know what else to call it. :) Basically it's a hollow copper block that presses up against the slug of the CPU (or in my case, the peltier). Here are some pictures of the unit (not taken by me):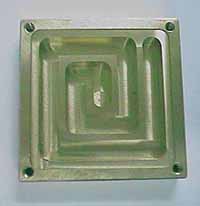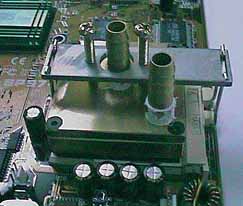 The mounting clip is kinda neat, in that it lets you vary the height of the unit - so you can mount it straight on the processor or slide a peltier underneath it. If you overtighten the screws the little clips on the side tend to slide into the plate and come apart from the unit. I guess this is a Good Thing as it stops you snapping the lugs off the socket. Before you ask, no, I don't know where to get these waterblocks in Australia. I got this from a friend who got it from somewhere in Taiwan (but is being obscure and not telling me exactly where). If anyone knows, give me a yell - I need another for my BP6, and I've had a lot of emails from people after them too.

Now for the pump. I used to be somewhat into fishkeeping (had a 4-foot marine tank with corals and all kinds of stuff, you think computers are an expensive hobby, try that one :) ) so my first thought was to get a water pump as used in fishtanks. I went to the local aquarium shop and had a look around. A few problems with the fishtank pump became immediately obvious. Firstly, any small pump you get for a fishtank is going to need to be immersed in water to keep cool. That means you need to have a reservoir of water large enough to fit the pump with hoses attached. Second, most of the big pumps are actually filters which is not what you need. Some people have suggested going to a landscaping or gardening store for a pump, or even to an auto-supply place and looking for inline fuel pumps as they have an in-line and an out-line.. but a unit like that would be pretty loud and draw a fair bit of power, I think. For now, the best compromise I can think of is a small aquarium pump, immersed in reservoir of water.

I ended up getting the "Rio 800 Aqua Pump / Powerhead" for just under $50.00 - there were some smaller ones in the range, going down to about $30, I think. I'd rather be safe than sorry. I also bought this because I was concerned about the "head height" - how high the pump has to pump the water above itself. However, I've since been corrected (thanks to Brad Wilson!) in this regard - the head height is from the input to the output, which in this case, is at the same height (in the reservoir). It doesn't matter how high the pump has to pump in between, apparently.. but I guess if you were pumping higher than the pump's rating, you may have to help it (filling the tubing with water first) to get it going. This unit moves about 750 litres/hour. Anyway, I wanted to get a reasonably high flow-rate, but not heaps of pressure - don't want the hoses to blow off the water-jacket - that would be Bad. This unit seems very suitable. Tubing cost me $5.50 for 1.6 metres at the aquarium shop - it would be cheaper at a hardware store.

The box for this pump says "silent operation" on the side.. must be some strange new meaning for the word "silent" I'm not familiar with. It's loud enough to be irritating. Sound insulating the kit is on the "To Do" list now..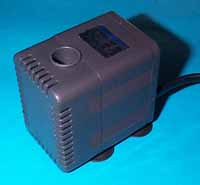 For the water reservoir I bought a very high-tech device - a white plastic 4-litre bucket for $4.00. I wanted something with a lid so I could avoid pets drinking out of it, stuff falling into it, the exhaust line spraying water out of the bucket etc. The lid cost an extra $1.50. After having experimented a bit, the plastic bucket is a bad idea as it insulates the water from the surrounding air, so the water can only lose heat through the top (and not even that with the lid on). A metal one would let it radiate heat from the sides too. I didn't see a small-capacity metal bucket at the hardware store, though. And, I guess, if the water is below room temp, insulating it is a good thing. Hmm.

The cpu is a week 14 Malay C366 sanded to full copper, mounted on an MSI 6905 v1.1 slocket in an AOpen AX6BC-Pro motherboard. I have 1x 128MB PC100 DIMM (mounted in the farthest slot from the CPU). This has proven itself to be a very stable system. The only problem I have is a dodgy Maxtor 6.4GB hard drive that has shown it doesn't like the PCI bus to be overclocked very much. Also, due to the limited FSB selections on the AOpen board, I am forced to try for 616MHz (because the next speed below that is 567MHz, which I can do with the retail fan - no fun there :) ). Using the peltier by itself, I could get to 616 for a few minutes of Sports Car GT, but would lock up eventually, and in something like Unreal it would die immediately.

Here's what the assembly looks like mounted on the slocket. The screw-type hose clamps were supplied with the water jacket. I did them up VERY tightly. :)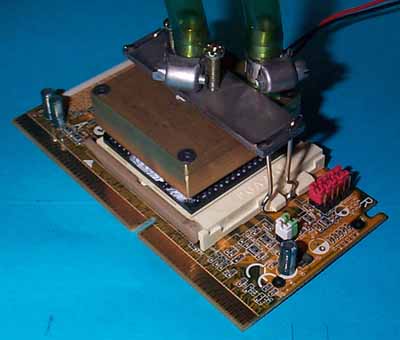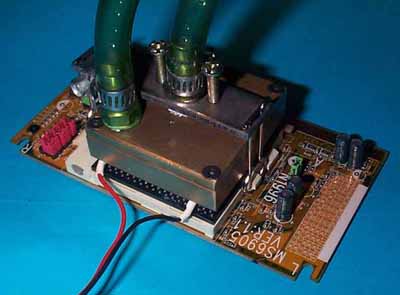 ---
Advertisement:


All original content copyright James Rolfe.
All rights reserved. No reproduction allowed without written permission.
Interested in advertising on OCAU? Contact us for info.

---
Recent Content


Team Group C440 Cardea Ceramic M.2 NVMe SSD


Synology DS720+ NAS


Raspberry Pi 4 Model B 8GB


Retro Extreme!


Intel Core i9-10980XE


AMD Ryzen Threadripper 3960X


Team Group T-Force Vulcan 500GB SATA SSD