Advertisement:

Intel QX6700 Quad-Core CPU
Join the community - in the OCAU Forums!


Introduction, Features

QUAD-CORE: "CORE 2 DUO" TIMES TWO:
In July 2006 Intel revealed a new x86 processor micro-architecture and launched a range of dual core desktop processors with the name "Core 2 Duo". A few weeks later a similar line-up was launched for servers and notebooks. The new CPUs based on the "Core" micro-architecture have been a huge success since then. They consume far less power and perform much better than the preceding "Pentium 4" and are outrunning competing products from AMD by a healthy margin. You can read our article on "Core 2 Duo" here. Now, just 4 months later, Intel strikes again. Based on the "Core" micro-architecture they will soon launch a quad-core desktop processor, being the first manufacturer to offer such a product.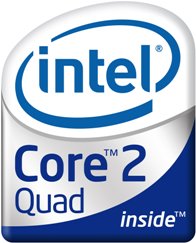 Intel's quad-core processor has 2 dies in a single package with each die being a dual-core unit. This means that Intel has combined 2 "Core 2 Duo" cores instead of designing a single die with 4 cores.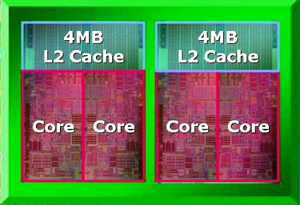 Intel is arguing that combining 2 dual-core dies, as opposed to a package with 4 cores on 1 die, allowed them to reduce development time and production cost. They are going to launch an entire quad-core processor product range with different frequencies and derivatives for desktop and sever usage. Initially available is the top-of-the-line "Core 2 Quad" version clocked at 2.66 GHz. This is the same frequency a dual-core E6700 CPU is running and consequently Intel is calling the 2.66 GHz quad-core version "QX6700". The "X" moniker stands traditionally for the top-of-the-line version and comes by default with an unlocked multiplier. The "Q6600", a lower clocked and more affordable "Core 2 Quad" derivate running at 2.40 GHz will be available in Q1 2007. For servers, a quad-core Xeon processor 5300 series for dual processor servers will be shipped this year, and a new low-power 50-watt Quad-Core Xeon processor L5310 for blade servers will be shipped in the first quarter of 2007.



"Core 2 Quad" is based on the same acclaimed "Core" micro-architecture that is already used for the dual-core "Core 2 Duo" processor line. We have covered "Core" in much detail in our "Core 2 Duo" article in July 2006. It is mainly driven by the following 3 features:
Wide Dynamic Execution
Advanced Smart Cache
Smart Memory Access
"Wide Dynamic Execution" improves execution efficiency by delivering more instructions per clock cycle. Each core can complete now up to four full instructions simultaneously. A Pentium 4 could handle only 2 instructions simultaneously.

"Advanced Smart Cache" is dynamically allocating L2 cache to each processor core based on workload. This can significantly reduce latency to frequently used data and improve performance. The shared L2 cached allows each core to dynamically utilize up to 100% of the available 4 MB. When 1 core has no or minimal cache requirements, other core(s) are allowed to increase their percentage of L2 cache, reducing cache misses and increasing performance.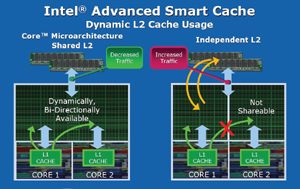 "Smart Memory Access" optimizes the use of data bandwidth from the memory subsystem by accelerating out-of-order execution. Data can be moved from system memory into fast L2 cache in advance of execution. This keeps the pipeline more "filled", which improves instruction throughput and performance.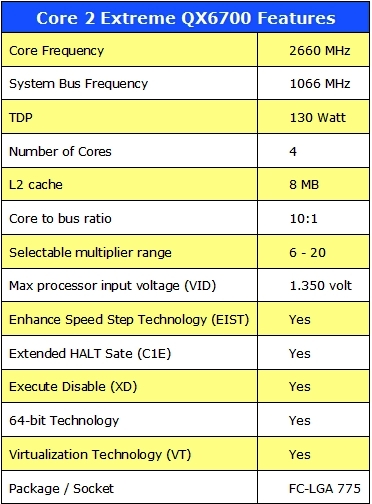 With the micro-architecture being identical, the "only" difference between Intel's dual-core and quad-core CPU is that the latter has 4 cores and a total amount of 8 MB of L2 cache. Intel is sticking for the time being to the front-side-bus design with an off-die memory controller, as opposed to AMD's approach with an on-die memory controller. The front-side-bus design works well with Intel's dual-core processors. Obviously Intel is confident that it can efficiently handle the even higher data traffic between a quad-core CPU and the system memory. "Core 2 Quad" CPUs are packaged in the present LGA775 form factor and work with the existing 975X and 965 chipsets. This is good news or consumers, because "Core 2 Quad" CPUs should therefore work with all or most motherboards that are "Core 2 Duo" capable.

If you're a Digg member and you're enjoying this review, please Digg it!


---
Advertisement:


All original content copyright James Rolfe.
All rights reserved. No reproduction allowed without written permission.
Interested in advertising on OCAU? Contact us for info.

---
Recent Content


Team Group C440 Cardea Ceramic M.2 NVMe SSD


Synology DS720+ NAS


Raspberry Pi 4 Model B 8GB


Retro Extreme!


Intel Core i9-10980XE


AMD Ryzen Threadripper 3960X


Team Group T-Force Vulcan 500GB SATA SSD