Advertisement:

ASUS GTX 560 DirectCU II TOP
Join the community - in the OCAU Forums!


Introduction, Features, Package

The second GeForce GTX 560 to come across our test bench is from ASUS. Rather than a minor overclock and simple cooling solution, they have moved straight to the popular and efficient DirectCU II cooling solution, a slick black PCB design and some of the fastest core and memory clock speeds shipping today. So, how much faster is it compared to a stock GTX 560, and what does ASUS bring to the table with this DirectCU II TOP edition? Let's get going and find out!



The ASUS GTX 560 DirectCU II TOP measures in at 247 millimetres in length (9.72 inches) including the fan shroud that extends past the PCB (PCB length 230mm), and requires a minimum of 500W or greater system power supply. Cooling is provided by a dual 7.5cm PWM fans and heatsink combination, with three heat pipes and an aluminium fin array that allows for efficient heat transfer and dissipation from the core heatsink. And while it does conform to a dual slot design with vents above the display connections, the majority of the heat will be dumped into the case.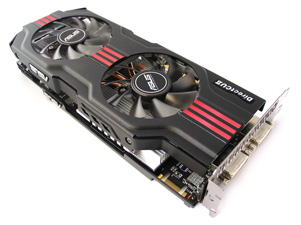 As with the majority of mainstream NVIDIA graphics cards it features support for NVIDIA's SLI multi-GPU technology, 3D Vision, 3D Vision Surround (two cards required), CUDA technology, PhysX acceleration and Microsoft DirectX 11 game support, as well as a variety of video enhancement technologies under the NVIDIA PureVideo HD umbrella to assist in media playback. More information about these technologies can be found here.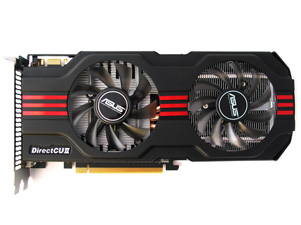 Inside the box we find a quick install manual, graphics card software and driver DVD, along with two PCI-Express 6-pin to Molex power connectors just in case, as well as a DVI to VGA converter and a mini-HDMI to HDMI converter. Overall it's a well executed package and more than enough for anyone to get started. The only concern is the included mini-HDMI to HDMI converter. We would have preferred a flexible extension cable rather than what was offered, reducing the risk of the mini-HDMI plug snapping off with a heavy HDMI cable.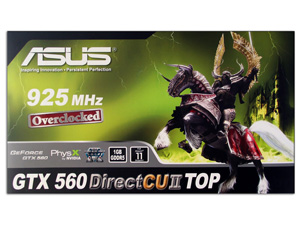 The ASUS GTX 560 DirectCU II TOP has maintained NVIDIA's default display connector configuration, as per the reference GeForce GTX 560. As with the GTX 550 Ti and 560 Ti it features bit streaming support for both Dolby True HD and DTS-HD Master Audio, which is especially handy for home theatre PCs.



On the edge of the card we find a single SLI connector. Due to the mainstream nature of this card NVIDIA has limited its scaling abilities to two cards. Only the GTX 465, 470, 480, 570 and 580 allow for more than two cards in SLI. At the back edge of the card there's a pair of PCI-Express 6-pin power connectors, which is a pretty standard configuration for a GTX 560 video card, not straying from the NVIDIA reference design location.



The cooling solution implemented with this ASUS GTX 560 is a more compact version than seen in the previously reviewed ASUS GeForce GTX 580 DirectCU II. It features an aluminium base and triple heatpipe design to transfer the heat directly from the GPU with maximum efficiency, while the two 7.5cm PWM controlled fans push cool air over the main aluminium heatsink and connecting triple heatpipe array.



On the memory side, the ASUS GTX 560 DirectCU II TOP features Samsung 6th generation K4G10325FE-HC04 GDDR5 memory specified to run at 1250 MHz (5000 MHz GDDR5 effective) with 1.5V. No heatsinks are provided to keep the memory cool apart from the airflow from the main heatsink; however critical power circuitry is covered by a black heatsink matching the rest of card's colour scheme.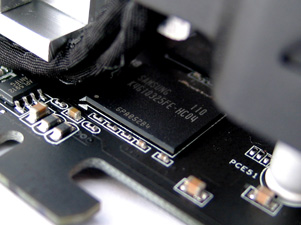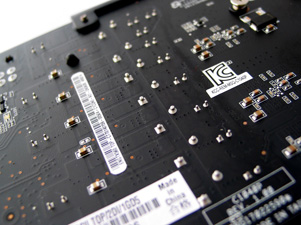 In addition, this card features 'Super Alloy Power' technology (as branded by ASUS) that utilises a special alloy formula in power components like chokes, capacitors and MOSFETs for better power delivery, and a cooler running product compared with generic components. The card also includes support for ASUS's own Voltage Tweak overvolting software included in the package without the need for third party alternatives.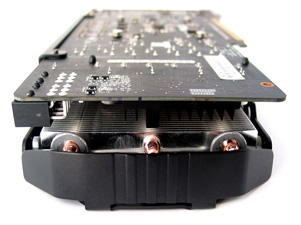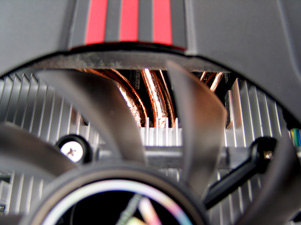 ---
Advertisement:


All original content copyright James Rolfe.
All rights reserved. No reproduction allowed without written permission.
Interested in advertising on OCAU? Contact us for info.