News Archives
Our news archive search is now powered by Google. You can search the main site or the guest-viewable forums. To search the entire forums, log in and use the forum search engine.

Search the main OCAU site with Google: Search OCAU Forums with Google:

View News : Last 7 Days, Last 14 Days, Last 30 Days.

View Monthly Archives.



Sunday Morning Reviews (0 Comments) (link)
Sunday, 22-April-2018 07:46:51 (GMT +10) - by booj


Motherboards & CPUs:
ASUS ROG STRIX X470-F GAMING on Vortez.
MSI X470 GAMING M7 AC on Vortez.
MSI X470 Gaming M7 AC on Guru3D.
MSI X470 Gaming M7 AC on LanOC Reviews.
ASUS ROG Crosshair VII HERO (Wifi) on Guru3D.
Gigabyte Aorus X470 Gaming 7 Wifi on Guru3D.
Aorus X470 Gaming 7 Wifi on Hexus.
AMD Ryzen 7 2700X Processor on Legit Reviews.
AMD Ryzen 7 2700X Octa-Core Processor on TechARP.
AMD Ryzen 5 2600X + Ryzen 7 2700X Linux Benchmarks on Phoronix.

Input etc:
HyperX Alloy Elite RGB Mechanical on APH Networks.
CORSAIR K68 RGB Mechanical Gaming Keyboard on NikKTech.
GAMDIAS Hermes P2 RGB Mechanical Keyboard Video Review on APH Networks.

Misc:
Dune HD PRO 4K Premium Compact Media Player on NikKTech.
ADATA Premier Memory Cards on TweakTown.
Sonnet eGFX Breakaway Puck RX570 on TweakTown.
Akitio Thunder3 10G Network Adapter on TweakTown.
Jabra Elite 65t Wireless Earbuds on Funky Kit.
Corsair Carbide 275R Mid-Tower Case on Benchmark Reviews.



Thanks to mpot and Steve this week! Also, kombiman sent in the Moral Machine timewaster, which I think we have linked previously but is still fun and interesting. Welcome to the Moral Machine! A platform for gathering a human perspective on moral decisions made by machine intelligence, such as self-driving cars.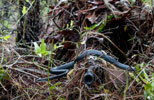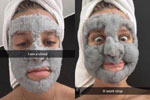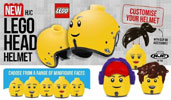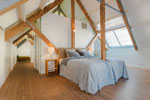 AMD Ryzen 2000 series CPU Reviews (0 Comments) (link)
Friday, 20-April-2018 04:35:10 (GMT +10) - by booj


Ryzen 7 2700X:

TechPowerUp
Guru3D
Vortez
Toms Hardware

Ryzen 5 2600X:

Guru3D
TechPowerUp
TechARP

Ryzen 7 2700X & Ryzen 5 2600X:

Modders-Inc
LanOC Reviews
Neoseeker
TechGage
TweakTown
TechReport
Hot Hardware
Techspot
Anandtech
Hexus
Bit-tech
PC Perspective




Thursday Evening (2 Comments) (link)
Thursday, 19-April-2018 18:12:07 (GMT +10) - by Agg


Apparently Russian hackers have been targeting Australian businesses, according to the Defence Minister. In Australia, hundreds of businesses were affected in 2017, but Cyber Security Minister Angus Taylor said there was no indication their information had been compromised.

Meanwhile on the CeBIT blog there's an article about cyber security and Australian small businesses. While some small business owners may not think of their business as being a target for cybercriminals – according to Manta, 87% of small business owners surveyed said they didn't feel they were at risk of experiencing a data breach – a new report by Norton has revealed that not only are Australian SMBs more vulnerable to cyber threats, but they also stand to lose a lot more in a cyber attack than ever before.

OCClub have a GTX 1070 Ti Overclocking Guide. In this article, I will talk about how to achieve a stable overclock, along with NVIDIA Boost 3.0 technology. While this guide is dedicated towards the GTX 1070 Ti, the concepts and basic overclocking principles can be applied to the whole Pascal series, including the GTX 1060, 1070, and 1080 series and the Titan X/XP.

Tweaktown wonder if M.2 heatsinks are worth it. Its safe to say m.2 SSDs have taken over as the preferred form factor for those building a PC in the current generation. Both Intel and AMD motherboards have support for the form factor and vendors have been producing these drives going on five years now. That said without the enclosure encompassing the drives acting as a heat sink, heat itself has seemingly been more of an issue with the m.2 form factor than ever before.

Roy reminds us not to give our WiFi hotspots silly names. A Michigan gym patron looking for a WiFi connection found one named "remote detonator," prompting an evacuation and precautionary search of the facility by a bomb-sniffing dog.




Thursday Afternoon Reviews (0 Comments) (link)
Thursday, 19-April-2018 13:26:04 (GMT +10) - by Agg


Motherboard & CPU:
Best Value Intel B360 Motherboards on TechSpot.
AMD's second-generation Ryzen CPUs Revealed on TechReport.
AMD Unveils Faster, Optimized 2nd Gen Ryzen 7 And Ryzen 5 Zen+ Processors on HotHardware.

Storage:
Kingston A1000 480 GB NVMe SSD on BabelTechReviews.
HP SSD EX920 1TB M.2 Drive on LegitReviews.

Audio Visual:
ERL Wireless Sports Earbuds on NikKTech.
EIZO FlexScan EV2785 monitor on TechPowerUp.

Portable & Prebuilt:
Dell XPS 15 2-In-1 Teardown Exposes Massive Battery, Upgradable SSD on HotHardware.
Samsung Galaxy S9 Plus on PCPerspective.

Cases:
Phanteks Eclipse P300 on OCAholic.
FSP CMT510 RGB Mid-Tower on Tweaktown.
Phanteks Eclipse P300 Tempered Glass Case on FunkyKit.

Misc:
Ballistix Tactical Tracer RGB DDR4 memory on Vortez.
ASUS ROG Gladius II Origin mouse on TechPowerUp.
Enermax Liqtech TR4 280 AIO cooler on Modders-Inc.




Wednesday Morning Reviews (2 Comments) (link)
Wednesday, 18-April-2018 05:28:25 (GMT +10) - by booj


Storage:
Crucial MX500 500 GB on TechPowerUp.
WD My Cloud Pro PR4100 40TB on TweakTown.
NORCO RPC-3216 3U rackmount 16 bay hot swap server chassis on Missing Remote.

Cases:
SilverStone Redline RL07 Computer Case on APH Networks.
Corsair Carbide Spec-Omega Mid-Tower Case on Legit Reviews.
Lian Li PC-O11 Dynamic on TechPowerUp.
Thermaltake View 28 RGB Mid-Tower on Funky Kit.
[SIZE=4]Deepcool Gamer Storm New Ark 90[/SIZE] on Hexus.

Input etc:
HyperX Alloy Elite RGB Mechanical Gaming Keyboard on TweakTown.
i-Rocks K70E Capacitive Keyboard on TechPowerUp.

NUC:
Intel NUC8i7HVK "Hades Canyon" gaming PC on The Tech Report.
Intel NUC7i7DNHE (Dawson Canyon) on PC Perspective.

Cooling:
Aerocool P7-L240 closed-loop liquid CPU cooler on The Tech Report.
NZXT Kraken X72 on Guru3D.

Audio:
Logitech G560 RGB PC Gaming Speakers on Vortez.
HyperX Cloud Revolver Gunmetal on Benchmark Reviews.

Misc:
ASUS ROG Strix RX Vega 64 OC Edition 8GB on Madshrimps.
Gigabyte Z370N WIFI on Modders-Inc.
Samsung Galaxy S9+ on Techspot.




Itsy Bitsy Teenie Weenie Little Raven Ridge Machiney (0 Comments) (link)
Monday, 16-April-2018 15:09:49 (GMT +10) - by Agg


I've always had a fondness for well-assembled mini-PCs. Sgt Bilko has a very tidy little HTPC project, named "Itsy Bitsy Teenie Weenie Little Raven Ridge Machiney":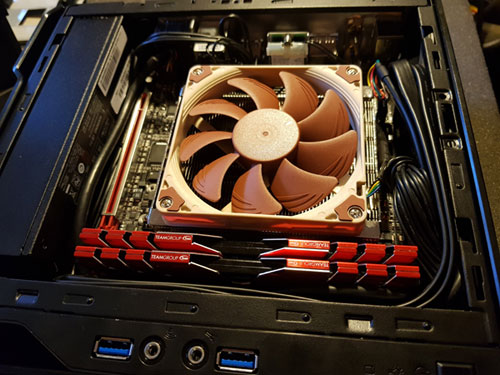 click for the worklog!





Storage:
Toshiba X300 5TB SATA III HDD on NikKTech
TerraMaster F4-220 NAS on PC Review
HP EX900 500GB M.2. SSD on Guru3D
HP EX900 500GB M.2 PCIe NVMe SSD on Legit Reviews

Cooling:
Phanteks Glacier R160 Reservoir on TechPowerUp
ID-Cooling Dashflow 240 Liquid CPU Cooler on Benchmark Reviews
Reeven Ouranos RC-1401 CPU Air Cooler on HardOCP

Motherboard:
Gigabyte AB350N-Gaming WIFI (AMD B350) Motherboard on TweakTown
Colorful C.B360M-HD Deluxe V20 on TechPowerUp

Case:
Fractal Design Focus G on TechPowerUp
Corsair Carbide 275R Mid-Tower Gaming Chassis on TweakTown

Laptop:
MSI GT75 Titan 8RG Gaming Laptop on TechARP
MSI GS65 Stealth Thin Gaming Laptop Preview on TechARP

Misc:
Fitbit Aria 2 Wi-Fi Smart Scale on TweakTown
Genius Pen (GP-B200) Premium Capacitive Stylus on TechARP
God of War (2018) (PS4) on Gaming Nexus
Cougar Phontum Gaming Headset on TechPowerUp
ASUS ROG Strix RX Vega 64 OC Edition 8GB Video Card Preview on Madshrimps
Bloody B930 Light Strike Optical Gaming Keyboard on ThinkComputers.org
TP-Link Archer C2300 Wireless Router on APH Networks



Oooh, Friday the 13th.. thanks to CJ and Simon this week!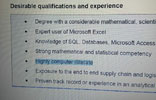 Thursday Afternoon (7 Comments) (link)
Thursday, 12-April-2018 17:31:22 (GMT +10) - by Agg


NBNCo are planning to shift some future installs to Fibre to the Curb. The FTTC connections (previously called fibre-to-the-distribution point) run fibre closer to the home and therefore uses less old copper wiring to make the final connection. As a result, the connection performs better than those more reliant on copper such as FTTN connections which have, for some users, failed to achieve the top speeds they were theoretically designed to deliver.

Australia's Hunter Valley could become a hotbed for blockchain. An Australian first energy and blockchain deal could help make the NSW Hunter Valley the next Silicon Valley. IOT Group has signed an agreement with Hunter Energy to build a blockchain centre inside the Redbank coal-fired power station to provide cheap electricity for blockchain applications.

LegitReviews looked at game load times. Solid-State Drive (SSD) prices are continuing to drop and capacities are increasing, so more and more gamers are looking to install games on an SSD over a traditional spinning hard drive. One of the first things that a gamer will notice when moving from a hard drive to an SSD are reduced loading time in games between menus and cut scenes. Read on to see what happens when we take a look at game load times on seven drives!

AMD CPU users can now get Spectre protection thanks to some Windows updates. AMD announced that it has made mitigations available for Spectre Variant 2 through a combination of microcode and software updates. The new patches will protect all of AMD's products dating back to Bulldozer, provided they are paired with the latest version of the Windows 10 operating system. AMD has already addressed Spectre Variant 1 with operating system patches that it distributed via Windows updates. AMD had no exposure to Variant 3 (otherwise known as Meltdown) due to its processor architecture, so no patches are needed.




Wednesday Night Reviews (0 Comments) (link)
Wednesday, 11-April-2018 23:57:12 (GMT +10) - by Agg


Cooling:
Be Quiet! Dark Rock 4 & Dark Rock Pro 4 CPU Coolers on NikKTech.
be quiet! Dark Rock PRO 4 on Guru3D.
be quiet! Dark Rock 4 on Guru3D.
be quiet! Dark Rock Pro 4 on TechPowerUp.
be quiet! Dark Rock 4 on Vortez.
be quiet! Dark Rock Pro 4 on Vortez.

Input Etc:
Rapoo VPRO V500S keyboard on OCinside.
MSI Vigor GK80 Gaming Keyboard on NeoSeeker.
Kinesis Gaming Freestyle Edge Keyboard on TechPowerUp.
Thermaltake Premium X1 RGB Mechanical Gaming Keyboard on Tweaktown.

Memory:
G.Skill Sniper X 16GB DDR4-3600 Memory Kit on FunkyKit.
Team Group Night Hawk RGB DDR 3200 MHz 16 GB Kit on BabelTech.

Portable & Prebuilt:
Dell Latitude 7390 2-In-1 Review: A Convertible Built For Business on HotHardware.
HP Envy x2 Review: The First Snapdragon 835 Windows Device on TechSpot.

Storage:
Asus Hyper M.2 x16 Card on FunkyKit.
Promise Technology Apollo Cloud 2 Duo 8TB NAS Server on NikKTech.

Misc:
SteelSeries Arctis 3 Bluetooth Gaming Headset on MadShrimps.
Oneadaptr EVRI 80W USB C charging station on Bjorn3D.
Kolink Rocket case on Vortez.
LA NOIRE:The VR Case Files PC game on GamingNexus.
MSI B360M MORTAR (Intel B360) Motherboard on Tweaktown.




Monday Night Reviews (0 Comments) (link)
Monday, 9-April-2018 22:50:09 (GMT +10) - by Agg


Motherboard & CPU:
ASUS ROG STRIX B360-F Gaming on Guru3D.
Intel Core i5-8400 (B360) vs. AMD Ryzen 5 1600 (B350) on TechSpot.

Audio Visual:
Yantouch EyE Lifestyle Bluetooth Speaker on NikKTech.
Sony a7 III Full-Frame Mirrorless Camera on TechARP.
AOC AGON AG322QCX: 32-inch 1440p 144Hz FreeSync on Tweaktown.
Galaxy S9+ vs Pixel 2 XL Camera on TechSpot.

Storage:
SanDisk Ultra Fit 256GB USB 3.1 Flash Drive on APHNetworks.
ADATA XPG Gammix S10 512GB M.2 NVMe PCIe SSD on Tweaktown.
HP EX920 1 TB M.2. SSD - Excruciating TLC perf with the new SM2262 controller on Guru3D.

Misc:
Sumo Gamer Corduroy Beanbag Chair on APHNetworks.
ASRock DeskMini GTX1060 (Z370) prebuilt PC on TechPowerUp.
PC Building Simulator Review (Early Access Phase) on OCClub.
Corsair Hydro Series H60 Liquid CPU Cooler on FunkyKit.




Verticality by Duality92 (0 Comments) (link)
Monday, 9-April-2018 13:33:07 (GMT +10) - by Agg


Duality92 has finished his "Verticality" custom PC, and the end result is very impressive: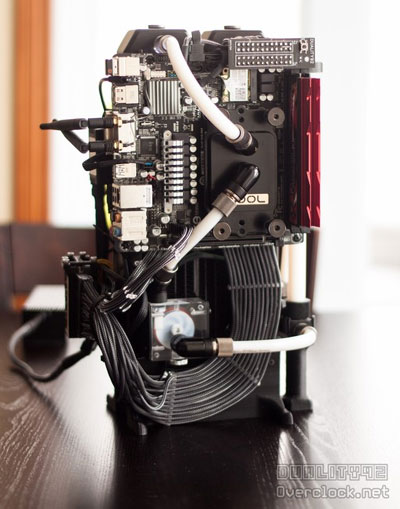 click for the worklog!
All original content copyright James Rolfe.
All rights reserved. No reproduction allowed without written permission.
Interested in advertising on OCAU? Contact us for info.

Recent Content


Getting Started with Arduino


ADATA Ultimate SU800 256GB SSD


FSP Hydro 700W and Hydro G 850W PSUs


Crucial BX200 SSD


ADATA SP550 240GB SSD


Lexar Jumpdrive M20i Flash Drive


Lexar Jumpdrive M20c Flash Drive