News Archives
Our news archive search is now powered by Google. You can search the main site or the guest-viewable forums. To search the entire forums, log in and use the forum search engine.

Search the main OCAU site with Google: Search OCAU Forums with Google:

View News : Last 7 Days, Last 14 Days, Last 30 Days.

View Monthly Archives.


Friday again! Thanks to t1mbot this week, and another person whose name I lost when I accidentally deleted their email from my spam folder. I blame the antihistamines. :)





































Thursday Night (9 Comments) (link)
Thursday, 6-March-2014 11:47:06 (GMT +10) - by Agg


Leech bites! That'll teach me to go outside.

A few people have pointed out this handy Can You Get NBN website. Verryyyy handy.

A few more people sent in this futurist hoverboard idea, which also looks too good to be true.. What began as a summer project in 2010 at the MIT Physics Graduate Program has evolved into one of the most exciting independent products to be developed out of MIT since the high-powered lithium-ion batteries developed by Yet-Ming Chiang in 2001. Our team consists of materials science, electricity & magnetism experts who've solved an important part of one of science's mysteries: the key to antigravity. Or not!

DirectX 12 is officially on the way. The announcement of DirectX 12 has been given a date and time via a blog post on the Microsoft Developer Network (MSDN) blogs. On March 20th at 10:00am (I assume PDT), a few days into the 2014 Game Developers Conference in San Francisco, California, the upcoming specification should be detailed for attendees. Apparently, four GPU manufacturers will also be involved with the announcement: AMD, Intel, NVIDIA, and Qualcomm.

Meanwhile Windows XP will tell you it's out of date soon. Anyone still running Windows XP won't be able to argue they weren't warned that support is stopping soon. From later this week, machines running XP will start displaying pop-up notifications that support and patches for the operating system ends in April.

Aftahours spotted this cool undersea cable map. The information age is powered by thin fiber-optic cables buried in the sea bed, spreading between continents to connect the most remote corners of the planet. These great arteries account for practically all of our international web traffic, and each one has been logged by Washington research firm Telegeography in its interactive Submarine Cable Map 2014.



Storage:
OCZ Vector 150 240GB on Vortez
Toshiba 1TB (MQ01ABD100H) 2.5" SSHD on Madshrimps
Mach Xtreme SATA DOM MX-DIY on TweakTown
Plextor M6e PCIe M.2 SSD on The SSD Review
Transcend StoreJet 35T3 2TB External HDD on TweakTown
Western Digital My Cloud EX2 on PC Perspective
WD My Cloud EX2 2-Bay Personal Cloud NAS on Legit Reviews

Videocard:
AMD Radeon R9 290X & NVIDIA GeForce GTX 780 Ti on Techgage
MSI GeForce GTX 750 Gaming 1GB on Tweak.dk
PowerColor R9 290X PCS+ 4 GB on Tech Powerup

Audio:
Plantronics RIG Stereo Headset + Mixer on Nikktech
FUNC HS-260 Gaming Headset on Hardware Heaven
SilverStone Ensemble EB03 Headphone Amplifier on Benchmark Reviews
Bitfenix Flo Gaming Headset on Bjorn3D
Speedlink Jugger 2.1 Speaker System on eTeknix
Attitude One Almaz Stylish Headphones on Nikktech
Logitech G430 on LanOC

RAM:
Avexir Blitz Series 1.1 4GB 1600MHz Memory on eTeknix
G.Skill TridentX 32 GB CAS7 F3-1600C7Q-32GTX Tech Powerup

Cooling:
Thermalright HR-22 Passive CPU Cooler on Nikktech
GamerStorm Dracula 7970 VGA Cooler on TweakTown
Enermax Liqtech 120X Liquid CPU Cooler on Madshrimps
ASUS R9 290X DirectCU II - Watercooling EK FC-R9-290X vs. Aircooling on Ocaholic

Motherboard:
ASUS Z87 WS Motherboard on PureOverclock
Gigabyte G1.Sniper Z87 Motherboard on APH Networks
ASUS Z9PE-D8 WS Workstation (Intel C602) Motherboard on Tweaktown

Gaming PC:
PC Specialist 'Vanquish 230XT' Gaming System on eTeknix
CyberPowerPC Zeus Mini-I 780 SFF Gaming PC on Hot Hardware

Keyboard:
Corsair Raptor K40 Gaming Keyboard on Hardware Heaven
Tt eSPORTS MEKA G-Unit Illuminated Keyboard on Think Computers
Cherry MX-Board 3.0 Mechanical Keyboard on Tweaktown

Games/Software:
Donkey Kong Country: Tropical Freeze Nintendo Wii U on Tweaktown
Warlords (2014) (360) on Gaming Nexus

Misc:
Typo Keyboard Case on Technologyx
EVGA Hadron Air on Guru3D



If you've used Yahoo chat for racy webcam sessions, the British spy agency GCHQ may have been watching along. In one six-month period in 2008 alone, the agency collected webcam imagery—including substantial quantities of sexually explicit communications—from more than 1.8 million Yahoo user accounts globally.

If that bothers you, maybe a Blackphone is what you need. With a heavy emphasis on encryption and strong controls over all data from your phone, Blackphone launches amid intense interest at Mobile World Congress.

Anandtech checked out a new 480GB Intel SSD. Adopting the platform from the DC S3500/S3700, the SSD 730 is Intel's first fully in-house designed client drive since the SSD 320. The SSD 730 is not just a rebranded enterprise drive, though, as both the controller and NAND interface are running at higher frequencies for increased peak performance. While the branding suggests that this is an enterprise drive like the SSD 710, Intel is marketing the SSD 730 directly to consumers and the DC S3xxx along with the 900 series remain as Intel's enterprise lineups.

A Harvard student has been reprimanded for using one of their supercomputing clusters to mine dogecoin. Dogecoin, a virtual currency which functions similarly to Bitcoin, is a decentralized digital currency that can be "mined" with sophisticated computer algorithms. The individual in question allegedly utilized the high-powered network that Harvard calls the "Odyssey cluster" to collect the coins.

Bitcoin exchange Mt Gox has pretty much imploded in the wake of a huge heist. Once the world's premier Bitcoin exchange, Mt. Gox closed its digital doors last week and later filed for bankruptcy after information leaked that it had lost about 750,000 bitcoins — worth about $420 million by current exchange rates — belonging to customers and another 100,000 of its own bitcoins.



Networking:
NETGEAR D6200 WiFi Modem Router on Hardware Heaven
Netis Systems High Power 802.11n Wireless USB Adapter on TweakTown
TP-Link 8-port Power over Ethernet Gigabit Switches on Hardware Heaven
Netis Systems WF2710 AC750 Wireless Router on TweakTown

CPU/APU:
AMD A10-7850K Kaveri APU on Guru3D
Intel Core i7-3960X SLI Gaming Performance Scaling on Ocaholic

Videocard:
PowerColor LCS R9 290X Watercooled on Ocaholic
eVGA GeForce GTX 750 "Maxwell" On Ubuntu Linux on Phoronix

Tablet/AIO:
Toshiba Encore Windows 8 Tablet on Techspot
Gigabyte Brix Pro – GB-BXi7-4770R on Legit Reviews

Cooling:
ThermoLab ITX30 30mm CPU Cooler on HCW
Kiss Quiet I-Bat 120mm Cooling Fan on Funky-Kit
Kit watercooling AIO Corsair Hydro H75 on Cowcotland

Storage:
SSD Endurance Diary with OCZ Vector 256 GB on Ocaholic
Intel 730 SSD on TechnologyX
Kingston DataTraveler Mini 3.0 16GB Flash Drive on Legit Reviews
Intel SSD 730 Series on SSD Review
Intel SSD 730 Series on Tech Report
Intel 730 Series 480GB SSD on TweakTown
Intel SSD 730 480GB SSD on PC Perspective
Intel SSD 730 480GB SSD on Hot Hardware
Thecus N2310 NAS Server on OC Club
ADATA DashDrive Air AE800 500GB Wireless HDD and Power Bank on eTeknix
CalDigit T3 Thunderbolt RAID Enclosure on TweakTown

Case:
Enermax Fulmo ST on Ocaholic
Sharkoon Mask ATX Case on Tweak.dk
SilverStone Fortress FT04 Full-Tower Chassis on TweakTown

Audio:
Sennheiser Momentum On-Ear HeadphoneSennheiser Momentum On-Ear Headphone on ModSynergy
SteelSeries Siberia Elite on Vortez

PSU:
Antec High Current Gamer M 750W Power Supply on APH Networks
Super Flower Leadex Gold 750 W on Tech Powerup

Games/Software:
Thief on Techspot
Skylanders: Swap Force Expansion Packs on Gaming Nexus
iolo Technologies System Mechanic PC Tune-Up Software on TechnologyX

Misc:
Kaveri Hybrid CrossFire: The A10-7850K & A10-7700K With R7 240 & 250 on eTeknix
Nomad ChargeKey Lightning Cable on Think Computers
Sandberg Solar PowerBank 6000 mAh on Nikktech
ASUS Maximus VI Formula Motherboard on PC Perspective
Philips 231C5 SmoothTouch 23″ IPS Touch Screen Monitor on eTeknix
CM Storm Reaper Mouse on Benchmark Reviews



Thanks to spectrekt and MV this week!































Thursday Evening (28 Comments) (link)
Thursday, 27-February-2014 09:10:02 (GMT +10) - by Agg


NSW has become the first Australian state to make lane-splitting legal for motorcyclists - up to 30km/h. Lane filtering has been common practice for motorcycle riders across the country and overseas for decades. The benefits of Lane Filtering have been internationally recognised as a solution to traffic congestion in built up areas and will assist in relieving congestion issues on NSW's major and minor routes thereby assisting drivers with their daily commutes. More info here.

Sandisk have announced the first 128GB microSDXC card. Compared to when the microSD card format was first launched in 2004 with 128MB of capacity, SanDisk has increased storage capacity of microSD cards 1,000 times over in less than a decade with the 128GB SanDisk Ultra microSDXC card. To enable 128GB of storage on a removable microSD card, SanDisk developed an innovative proprietary technique that allows for 16 memory die to be vertically stacked, each shaved to be thinner than a strand of hair.

WD meanwhile have a new range of purple hard drives, especially intended for surveillance. Designed specifically for video surveillance units, WD Purple hard drives excel in new and existing home and small business security environments with up to eight hard drives and up to 32 high-definition (HD) video cameras. Shipping today, WD Purple hard drives are available in capacities from 1 TB up to 4 TB. Expect a large order from Fort Meade any day now.

Tech Report continue their SSD endurance test, with the drives having crossed the 600TB threshhold. Tweaktown meanwhile compared 18 SSDs for real-world performance. With a new test in hand via Futuremark, we look at worst case and recovery performance to find real differences in SSD performance.

HowToGeek reassures us that the PC is not dead. In reality, there are more different types of hardware and software than ever. Not everyone is forced to use a beige tower running Windows. But PCs aren't dying just because people have more choice. Some people will always need large screens, multiple windows, mice, keyboards, and all that other good stuff. Not everyone will be done on a 10-inch or smaller touch screen.

ThinkComputers take a look back at 10 rare and unreleased video cards. Many times we get the chance to check out new graphics cards and technology before they are released at trade shows like the Consumer Electronics show. It is often that many of these products do not make it to market for one reason or another. Here we have compiled a list of 10 Rare and Unreleased graphics cards. Strangely, no mention of the Bitchin'fast!3D 2000 or the Voodoo 59000 AGP!




Thursday Afternoon Reviews (0 Comments) (link)
Thursday, 27-February-2014 02:32:04 (GMT +10) - by Agg


Audio Visual:
A.M.P Pulse Bluetooth Wireless Headset on FunkyKit.
Tt eSPORTS CRONOS Headset on FunkyKit.
Sennheiser G4ME SERIES G4ME ZERO Gaming Headset on TechnologyX.
QPAD QH-85 headset on Vortez.
Diamond Xtreme Sound 7.1 HD Sound Card on HWAsylum.
Gamdias Hephaestus headset on OCaholic.

Cases:
Antec ISK-600 mITX on eTeknix.
BitFenix Colossus Mini-ITX on TechPowerUp.
Cooler Master Elite 130 SFF on Tweaktown.

Portable & Prebuilt:
Android Curveball: LG G Flex on HotHardware.
Verizon Ellipsis 7 4G LTE Tablet on LegitReviews.
Lenovo ThinkPad X240 Ultrabook on PCPerspective.

Input Etc:
SteelSeries Rival Gaming Mouse on LegitReviews.
Tesoro Lobera keyboard on OCaholic.
Ozone Neon mouse on Vortez.
Thermaltake Tt eSPORTS POSEIDON Illuminated Keyboard on TechWareLabs.

Storage:
Silverstone SST-EP02 USB3.0 to SATA Adaptor & SST-MS07 HDD/SSD Case on eTeknix.
Intel's 3rd Generation SSD Controller Manufactured By LSI on TheSSDReview.
Synology DiskStation Manager 5.0 Preview on LegionHW.
Crucial M500 480GB SSD on NikKTech.
Toshiba MG03SCA300 6Gb/s SAS HDD RAID Performance Analysis on Tweaktown.
Seagate Desktop SSHD 2 TB Hard Drive on HWSecrets.

Power Supply:
RAVPower Bolt RP-UC07 Four-Port USB Wall Charger on Tweaktown.
Mobee Magic Feet wireless charging on TechnologyX.

Misc:
Kingston HyperX Predator 8GB DDR3-2800 CL12 on FunkyKit.
Antec KUHLER H20 1250 All-in-One Liquid Cooler on PCPerspective.
The Ultimate AMD Kaveri Review: A10-7850K, A10-7700K and A8-7600 on eTeknix.




Win a Netgear Nighthawk! (2 Comments) (link)
Tuesday, 25-February-2014 14:36:03 (GMT +10) - by Agg


Here's another contest - this time you can win a Netgear Nighthawk router, thanks to OCAU Major Sponsor Scorptec: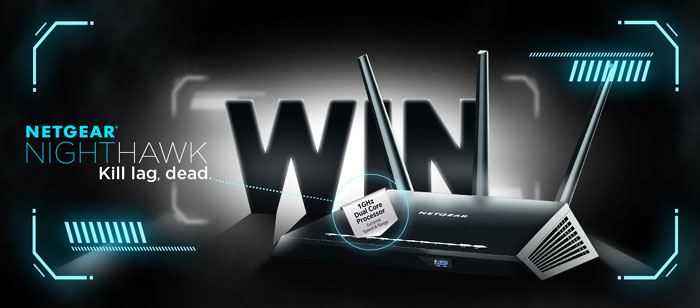 click for more info!






Wednesday Morning Reviews (0 Comments) (link)
Tuesday, 25-February-2014 14:13:49 (GMT +10) - by Agg


Motherboard & CPU:
Supermicro X9DR7-TF+ (Intel C602J) Server Motherboard on Tweaktown.
ASRock Fatal1ty 990FX Killer on HWSecrets.

Video Cards:
PowerColor Radeon R9-290X PCS+ on Guru3D.
NVIDIA GeForce Power Efficiency: From The 6600GT To The GTX 750 Ti on Phoronix.
MSI Radeon R9 290X Gaming 4 GB on TechPowerUp.
Gigabyte GTX 780 GHz Edition on PureOC.

Storage:
MyDigitalSSD Super Cache 2 128GB M.2 SATA 6G SSD on TheSSDReview.
SanDisk Connect 64GB Wireless Flash Drive on LegitReviews.
Thecus N5550 NAS Server on NikKTech.

Audio Visual:
Microlab S325 Soundbar on HWHeaven.
Hands-on with the Lightpack TV Lighting System on Tweaktown.
Antec AMP Pulse Wireless Mobile Headphones on ThinkComputers.
GAMDIAS EROS Headset and ZEUS Esport Edition Gaming Mouse on HWHeaven.
Datacolor Spyder4PRO Monitor Calibration Tool on APHNetworks.
Samsung UN60F8000 60? Smart HDTV on TechnologyX.

Cases:
BitFenix Shadow ATX case on Modders-Inc.
Thermaltake Water 3.0 Pro Water Cooling System on ThinkComputers.
Razer DeathAdder 4G (2013) Ergonomic Gaming Mouse on MadShrimps.




Monday Morning (0 Comments) (link)
Sunday, 23-February-2014 14:46:37 (GMT +10) - by Agg


Apple are a little red-faced in the wake of an update which revealed SSL has not been working for a while in some versions of iOS 6 and 7. More info here. A single line in the program and an omitted bracket meant that those certificates were not authenticated at all, so that hackers can impersonate the website being sought and capture all the electronic traffic before passing it along to the real site. So, time to update. Discussion in the iOS Forum.

Here's an online magazine of old computers from the 70's to the early 90's. Plenty I haven't heard of. The Kenbak-1 is considered by the Computer History Museum and the American Computer Museum to be the world's first "personal computer". Only 40 machines were ever built and sold, and only around 10 are now known to exist worldwide. Discussion here.

In case you're wondering what's going on with the whole Toshiba/OCZ thing, HotHardware have the scoop. To say OCZ has had a tumultuous year would be putting it mildly, to say the least. The company took a brutal beating and was knocked down, but not out. Now, thanks to an acquisition by Toshiba, the newly formed and revitalized OCZ Storage Solutions, is poised and ready to make another run at enthusiasts and the enterprise. In an effort to clear up some of the rumors and hear what Toshiba's OCZ Storage Solutions has in store, we reached out to OCZ's CMO, Alex Mei.

If this story is to be believed, Microsoft are slashing the price of Windows, thanks mpot. Microsoft Corp. (MSFT) is cutting the price of Windows 8.1 by 70 percent for makers of low-cost computers and tablets as they try to fend off cheaper rivals like Google Inc. (GOOG)'s Chromebooks, people familiar with the program said.

Here's a very cool 360-degree video onboard an F1 car. You can scroll around as it drives around, or pause the action and look around. Neato!




Monday Morning Reviews (0 Comments) (link)
Sunday, 23-February-2014 13:20:17 (GMT +10) - by Agg


Motherboard & CPU:
Intel Core i7-4960X SLI Gaming Scaling on OCaholic.
Gigabyte mITX Z87N-WIFI on MadShrimps.

Cases:
Fractal Design Arc XL Full Tower on eTeknix.
Xigmatek Aquila SFF on Tweaktown.
InWin R400-03 4U Rackmount Chassis on Tweaktown.

Storage:
Sandisk X210 240GB Business Class Solid State Drive on eTeknix.
AKiTiO Thunder Dock Review - eSATA and Firewire for your MacBook Pro on Tweaktown.
ASUSTOR AS-204TE NAS on HWHeaven.
SanDisk Extreme Pro 128GB USB 3.0 Flash Drive on LegitReviews.
Seagate Desktop HDD 4 TB vs. Western Digital WD Black 4 TB on HWSecrets.

Cooling:
Corsair Hydro Series H105 on Vortez.
Antec KUHLER H2O 950 Liquid CPU Cooling System on NikKTech.

Video Cards:
NVIDIA GeForce GTX 750 Ti "Maxwell" On Linux on Phoronix.
The NVIDIA GTX 750 Ti Maxwell Continues Running Great On Linux on Phoronix.
Nvidia GTX 750 Ti 2GB "Maxwell" Graphics Card on eTeknix.
MSI Radeon R9 290 Gaming 4G on CustomPCReview.
NVIDIA GeForce GTX 750 Ti on BenchmarkReviews.
NVIDIA GeForce GTX 750 Ti 2GB on LegitReviews.
ASUS GTX 750 OC 1 GB on TechPowerUp.
NVIDIA GTX 750Ti & MSI GTX 750 Gaming on OCClub.
NVIDIA GeForce GTX 750 Ti Maxwell GPU on HotHardware.
MSI GTX 750 Ti Gaming 2 GB on TechPowerUp.
Nvidia GTX 750 Ti on LanOC.
Palit GTX 750 Ti StormX Dual 2 GB on TechPowerUp.
NVIDIA GeForce GTX 750 Ti on PCPerspective.
NVIDIA GeForce GTX 750 Ti 2GB on Tweaktown.
Nvidia GeForce GTX 750 Ti vs. AMD Radeon R7 265 on LegionHW.
NVIDIA GTX 750 Ti 'Maxwell' on Vortez.
Multiple GeForce GTX 750 / 750 Ti Reviews on Guru3D.
Nvidia GeForce GTX 750 Ti vs. AMD Radeon R7 265 on TechSpot.

Input Etc:
Mionix Naos 7000 Gaming Mouse on eTeknix.
Mionix Naos 7000 Gaming Mouse on MadShrimps.
CM Storm Quick Fire TK Stealth keyboard on OCaholic.
Mionix NAOS 7000 Optical Gaming Mouse on NikKTech.
Gamdias Hermes keyboard on OCaholic.

Software:
Banished PC game on LanOC.
System Mechanic on HWSecrets.

Audio Visual:
Dropcam: Socialize Your Home Security on OCModShop.
Microlab H30 BT & H50 BT speakers on Vortez.
SteelSeries Siberia Elite Gaming Headset on MadShrimps.
BitFenix Flo Headset on PureOC.

Misc:
Buffalo BS-G2124U 24 Port Business Gigabit Switch on Tweaktown.
Patriot Viper 3 Series Black Mamba PC3-19200 16GB (2x8GB) memory on OCClub.
LUXA2 P-MEGA 41600mAh Portable USB Power Station on MegaTechNews.
Samsung Galaxy Note 10.1 2014 Edition smartphone on OCaholic.



All original content copyright James Rolfe.
All rights reserved. No reproduction allowed without written permission.
Interested in advertising on OCAU? Contact us for info.


Recent Content


MyGica ATV510B Enjoy TV


Thecus N5550


SiliconDust HDHomeRun Dual


Intel Haswell on MSI Z87 MPOWER


Corsair AX860i PSU


Bauhn AMiD-9743G Android Tablet (3G, GPS)


AMD Trinity A10-5800K & GIGABYTE F2A85X-UP4