News Archives
Our news archive search is now powered by Google. You can search the main site or the guest-viewable forums. To search the entire forums, log in and use the forum search engine.

Search the main OCAU site with Google: Search OCAU Forums with Google:

View News : Last 7 Days, Last 14 Days, Last 30 Days.

View Monthly Archives.


Mouse/Keyboard:
Fnatic Gear Flick G1 Optical Mouse on APH Networks
Corsair K70 RGB RAPIDFIRE Keyboard on Benchmark Reviews
Corsair Gaming K70 Rapidfire RGB Gaming Keyboard on eTeknix
Corsair Gaming K70 RGB RAPIDFIRE Mechanical Keyboard on Legit Reviews
Corsair K70 RGB RAPIDFIRE Mechanical Gaming Keyboard on TweakTown

Videocard:
XFX R9 Fury Triple Dissipation on OCC
AMD A10-7890K APU on Neoseeker
AMD Radeon Pro Duo on PC Perspective
Asus GTX 950 2 GB (no power connector) on Tech Powerup

Cooling:
Noctua NH-C14S CPU Cooler on OCC
Silverstone Argon AR06 CPU Cooler on Modders-Inc
Cryorig A40 Ultimate on Vortez
Thermalright Macho 120 SBM CPU Cooler on NikKTech
Cryorig M9i CPU Cooler on ThinkComputers.org

Audio:
Creative SoundBlaster X Pro-Gaming H5 Headset on eTeknix
Kingston HyperX Cloud Revolver Headset on Modders-Inc
Razer Leviathan Mini on Vortez
Tesoro Kuven A1 Pro Real 5.1 Surround Sound Gaming Headset on NikKTech
1MORE Swarovski Crystal Piston Earphones on TweakTown
Creative Sound Blaster Roar Pro Bluetooth Portable Speaker on TweakTown

Case:
InWin 909 E-ATX Aluminium & Tempered Glass Chassis on eTeknix
Phanteks Enthoo EVOLV ATX Tempered Glass Edition Case on Hardware Asylum
Lian Li PC-J60 on Ocaholic
Riotoro CR1280 Prism Full Tower Case on Neoseeker
NZXT Manta Mini-ITX Enclosure on PC Perspective
Thermaltake Versa N21 Case on ThinkComputers.org

Gaming PC/Laptop:
Cyberpower Infinity X55 Pro Gaming PC on eTeknix
Intel NUC Kit NUC5PGYH Braswell Mini PC on Missing Remote
MSI GL62 6QF-628 Gaming Notebook (GTX 960M) on Tech Powerup

Motherboard:
Gigabyte X170 Extreme ECC and Intel Xeon E3-1230 v5 Motherboard on Guru3D
Gigabyte X99P-SLI (Intel X99) Motherboard on TweakTown
Biostar Racing Z170GT7 (Intel LGA-1151) on Tech Powerup

Storage:
Asustor AS3204T NAS on Guru3D
Patriot SuperSonic Magnum 2 256GB USB 3.1 Gen 1 Flash Drive on NikKTech
ADATA i-Memory UE710 64GB Lightning OTG Flash Drive on TweakTown
Thecus N5810 Consumer NAS on TweakTown
Crucial MX200 250 GB SSD on OC Inside

PSU:
Antec High Current Gamer M 750 W (HCG-750M) PSU on Hardware Insights
SilverStone Strider Titanium ST80F-TI 800W Power Supply on APH Networks

Misc:
Blackbird VX-2SSD USB 3.1 Type-C Media Dock on Legit Reviews
Fitbit Blaze Smart Fitness Watch on TweakTown
Elgato Eve Energy Wireless Power Sensor & Switch on TechnologyX
LG V10 SmartPhone on LanOC
G.SKILL TridentZ 32GB 3200MHz DDR4 (F4-3200C15D-32GTZ) Memory Kit on Madshrimps
ASUS MG24UQ and MG28UQ IPS 4K FreeSync Monitor on eTeknix
Linksys LGS116P 16-Port Business Desktop Gigabit PoE+ Switch on NikKTech
Dark Souls III PC on TweakTown



Thanks to KonMan and t1mbot this week!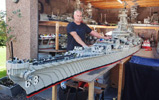 Friday Afternoon (0 Comments) (link)
Friday, 29-April-2016 14:56:39 (GMT +10) - by Agg


We joke about Windows 10 upgrades getting in the way, but one did so very noticeably this week. If you're in Iowa you might have seen KCCI 8 News Meteorologist Metinka Slater's thunderstorm update and warning of 12 hours of heavy rainfall interrupted by an unwelcome upgrade message covering up much of the radar screen. ... "Microsoft recommends upgrade to Windows 10, what should I do?" a surprised Slater asked.

Game of Thrones restarted recently, and Australia once again tops the list of countries pirating it. One Kotaku writer says he feels no guilt for downloading it. I am going to say something very publically. And I would like to preface this by stating the following: I am a person who likes to pay for things. I still buy Blu-Rays. I buy video games. I rent movies on the PlayStation Store. I am currently a paying subscriber to Netflix, Spotify, PlayStation Plus, Xbox LIVE and UFC Fight Pass. But, given that Foxtel Play is the only avenue I have for watching, I have no problem admitting that, for the foreseeable future, I will be illegally downloading Game of Thrones season 6.

The push towards driverless cars continues. This week in the US, Google - which is also at the forefront of the driverless car revolution - joined forces with Volvo and Ford, as well as taxi-hailing firms Uber and Lyft, to form a coalition to promote the benefits of self-driving cars and help push through the necessary legislation to make fully autonomous vehicles a reality.

Ever wondered who does all the Google Doodles? Turns out it's (mostly) this guy. Germick's audience has grown as well, from just his parents and four siblings to the millions of people who visit the Google homepage. Germick is the Google Doodle guy. As the chief doodler, he leads a team of about a dozen, serving as the creative and technical force behind the changing Google logos, better known as "doodles," that inhabit Google's otherwise static search homepage. For Germick, it was a winding route from sketching into the world of technology. "I had no clear path to Google," he said. "It never crossed my mind that I would work on Doodles."

There's a new "360 Experience" of the Sydney Opera House on YouTube.




Wednesday Evening (7 Comments) (link)
Wednesday, 27-April-2016 17:35:21 (GMT +10) - by Agg


AMD have formed a joint venture in China. Basically, China wants their "own" hardware and software for government-funded institutions. This was driven by the Snowden revelations and the cooling of the China economy. For software, it means submitting source code to inspect for things like back doors, but also having Chinese institutions buy software from Chinese software vendors. It's a bit more complex on the hardware side. The stock market has responded favourably to the news.

After much speculation they have also released their Radeon Pro Duo video card. The Radeon Pro Duo is essentially and effectively two Radeon R9 Nanos together on a single PCB. At a high level, the Pro Duo should give us up to twice the performance at twice the power consumption (plus a bit extra for PCIe switches). To remove heat, the card comes with a closed loop cooler similar to that found on AMD's Radeon R9 Fury X. This cooler, unlike the one found on the R9 295X2, provides a complete liquid cooling solution covering the VRMs on both GPUs along with the GPUs themselves. For reference, the pipes on this one are 540 mm long, and the double-thick radiator with fan comes in at 63 mm.

Logitech made a cool giant display using light-up keyboards. Logitech's installation at PAX East at least caught the eye. It's made of 160 keyboard, with every key thenlaser-etched for more (multi-colored) light to bleed through. Each key acts as a pixel, treating you to a short Earthbound-ish bullet-hell cross-over... thing in glowing primary color joy.

Microsoft are ending Xbox360 production after ten years. Xbox 360 means a lot to everyone in Microsoft. And while we've had an amazing run, the realities of manufacturing a product over a decade old are starting to creep up on us. Which is why we have made the decision to stop manufacturing new Xbox 360 consoles. We will continue to sell existing inventory of Xbox 360 consoles, with availability varying by country.

Still on the console side, PC Perspective checked out console gaming on the PC. Both Microsoft and Sony now offer streaming from their respective current generation consoles to the PC, but via quite different approaches. For PC owners contemplating console streaming, we set out to discover how each platform works and compares, what level of quality discerning PC gamers can expect, and what limitations and caveats console streaming brings. Read on for our comparison of Xbox One Streaming in Windows 10 and PS4 Remote Play for the PC and Mac.

Australian vlogger Blunty visited the NVIDIA Failure Lab. What do Nvidia do when one of their chips fails? They send it to Howard Marks, Director of Technology operations, Silicon Failure Analysis lab, where they use millions and millions of dollars worth of insane equipment to find the single transistor that failed!

Had to check this one wasn't posted on April 1st, but apparently Australia Post are testing drone deliveries. Following the example set by Amazon, Google, and Danish shipping giant Maersk, Australia's national postal service is planning to use drones to make deliveries. Australia Post is currently in the midst of a two-week test — with the blessing of the country's Civil Aviation Safety Authority — that, if successful, could see some customers receiving their packages from the skies later this year as part of a consumer trial.

NVIDIA have a contest for AU/NZ readers: NVIDIA is hosting our first VR showcase in Melbourne and Sydney where our expert will share with you how NVIDIA technology powers VR to deliver a richer, more immersive VR experience. More than just hearing, you will also get to see and experience first-hand our latest VR technology.. Some tickets up for grabs, so for entries and more info, see here.




Tuesday Midday Reviews (0 Comments) (link)
Tuesday, 26-April-2016 12:21:34 (GMT +10) - by Agg


Motherboard & CPU:
ASUS B150i Pro Gaming Aura on HWHeaven.
AMD FX 8350 CPU with Wraith Cooler on Modders-Inc.
ASRock E3V5 WS (Intel C232) Super Alloy on eTeknix.

Input Etc:
Azio MGK 1 RGB Mechanical Keyboard on Modders-Inc.
Corsair M65 Pro RGB FPS Optical Gaming Mouse on Tweaktown.

Storage:
WD Red 8TB Helium-Filled WD80EFZX NAS HDD on Tweaktown.
Zotac Sonix SSD on HWHeaven.

Power Supply:
be quiet! Pure Power 9 600W on PCPerspective.
TYLT ENERGI Five-Port Charging Station with Detachable Battery on Tweaktown.
Enermax Revolution XtII 750W PSU Unboxing & Overview on TechnologyX.

Cases:
Fractal Design Core 500 on ThinkComputers.
Silverstone Raven RVX01 on HWAsylum.
Corsair Carbide SPEC-ALPHA on Vortez.

Audio Visual:
Sound BlasterX H7 headset on HWHeaven.
Edifier M1370BT 2.1 Bluetooth Speaker System on MadShrimps.
JBL Pulse 2 LED Bluetooth Portable Speaker on Tweaktown.

Misc:
Gladiator Computers BATTALION 800 Gaming PC on eTeknix.
TP-LINK AC1900 Wi-Fi Range Extender Review RE580D on HWHeaven.
G.Skill Ripjaws V F4-2400C15D-32GVR 2x16GB DDR4 RAM on APHNetworks.





They shall grow not old
As we who are left grow old
Age shall not weary them
Nor the years condemn
At the going down of the sun
And in the morning
We will remember them

Lest We Forget






Sunday Night Reviews (0 Comments) (link)
Sunday, 24-April-2016 20:31:09 (GMT +10) - by Agg


Audio Visual:
Creative Sound BlasterX G5 External USB 7.1 Sound Card on Tweaktown.
Creative Sound BlasterX G5 7.1 HD Audio Portable Sound Card on MadShrimps.

Motherboard & CPU:
Gigabyte GA-Z170N-Gaming 5 Z170 mITX on APHNetworks.
Gigabyte X170 Extreme ECC and Intel Xeon E3-1230 v5 on Guru3D.
AMD Athlon X4 880K CPU on NeoSeeker.

Memory:
Crucial Ballistix Sport LT 32 GB 2400 MHz DDR4 on TechPowerUp.

Input Etc:
EpicGear DeFiant Mechanical Gaming Keyboard on Tweaktown.
QPAD DX-20 Pro Gaming Optical Mouse on NikKTech.
Tesoro Ascalon Spectrum Optical Gaming Mouse on eTeknix.
Corsair K70 RGB RAPIDFIRE keyboard on Vortez.
ROCCAT KIRO Gaming Mouse on OCClub.
Das Keyboard Division Zero M50 Pro Laser Gaming Mouse on Tweaktown.
AZIO MGK 1 RGB Mechanical Gaming Keyboard on ThinkComputers.
Corsair Gaming K70 Rapidfire RGB Gaming Keyboard on eTeknix.
Datamancer Oaken 60% Keyboard Case on LanOC.
Cherry Stream 3.0 keyboard on Vortez.
Fnatic Gear RUSH G1 Keyboard on BenchmarkReviews.
Corsair Gaming M65 PRO RGB Gaming Mouse on LegitReviews.

Portable & Prebuilt:
ASUS ZenFone Zoom (ZX551ML) Smartphone on TechARP.
Dog & Bone Wetsuit iPhone 6/6S Case on TechnologyX.
OriginPC's EON17-X Laptop on Tweaktown.
Razer Nabu Watch on Tweaktown.

Cooling:
NZXT Kraken X41 All-In-One watercooler on OCAholic.
CRYORIG H7 CPU Cooler on Modders-Inc.
SilverStone Tundra TD02 Lite All-In-One watercooler on OCAholic.
Thermaltake Pacific RL240 Watercooling Kit on TechWareLabs.

Storage:
Seagate Backup Plus Ultra Slim 1TB USB 3.0 Portable Hard Drive on NikKTech.
OWC Mercury Electra MAX 6G 2TB SATA III SSD on Tweaktown.
Seagate NAS 8TB (ST8000VN0002) Hard Disk Drive on eTeknix.
Patriot Magnum2 USB 3.1 Flash Drive Review (256GB) on TheSSDReview.
Crucial BX200 960GB SSD on NikKTech.
Adata i-Memory 64GB Flash Drive on TechnologyX.

Software:
Dark Souls III PC on Tweaktown.
Ashes of the Singularity Performance on MadShrimps.

Cases:
Fractal Design Define Nano S on OCAholic.
BitFenix Pandora ATX Full-Tower on Tweaktown.



Friday again! Enjoy the long weekend..










































Zenator's DOOM Themed Case (0 Comments) (link)
Thursday, 21-April-2016 12:08:41 (GMT +10) - by Agg


Here's another project from Zenator. This time it's a somewhat gory DOOM-themed one. Amazing work so far, can't wait to see it finished!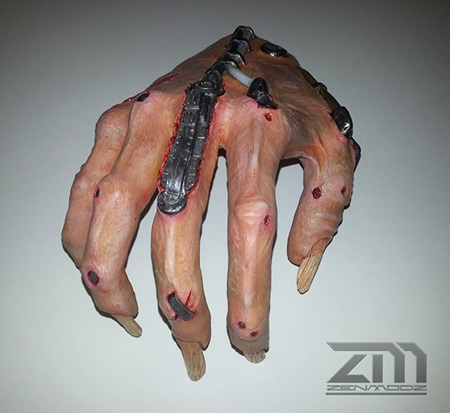 click for the worklog!
All original content copyright James Rolfe.
All rights reserved. No reproduction allowed without written permission.
Interested in advertising on OCAU? Contact us for info.

Recent Content


ADATA SP550 240GB SSD


Lexar Jumpdrive M20i Flash Drive


Lexar Jumpdrive M20c Flash Drive


Thecus N5810PRO 5-Bay UPS NAS


Synology DS715


Ainol Mini PC


Tile