News Archives
Our news archive search is now powered by Google. You can search the main site or the guest-viewable forums. To search the entire forums, log in and use the forum search engine.

Search the main OCAU site with Google: Search OCAU Forums with Google:

View News : Last 7 Days, Last 14 Days, Last 30 Days.

View Monthly Archives.



Monday Morning Reviews (1 Comments) (link)
Sunday, 24-May-2015 15:18:36 (GMT +10) - by Agg


Cooling:
Corsair Hydro Series H80i GT CPU watercooler on Vortez.
be quiet! Pure Rock CPU Cooler on Tweaktown.

Portable & Prebuilt:
Intel Compute Stick - A Computer In The Palm Of Your Hands on TechARP.
MSI Cubi mini-PC on HWHeaven.

Audio Visual:
EMTEC Stay Earbuds Wireless on TechnologyX.
ROCCAT Kave XTD 5.1 Analog headphones on Vortez.

Input Etc:
Turtle Beach Impact 500 TKL Mechanical Gaming Keyboard on eTeknix.
SteelSeries Sensei Wireless Gaming Mouse on NikKTech.

Misc:
Corsair CS850M PSU on Guru3D.
The Witcher 3: Wild Hunt Benchmarked, Performance Review on TechSpot.
ASUS GeForce GTX 980 ROG Matrix Platinum video card on Tweaktown.
OCZ Vector 180 240GB Solid State Drive on APHNetworks.
GIGABYTE Champion Series X99-Gaming 5P Motherboard on PCPerspective.



Friday again! Slightly delayed by me doing the "that thing they cut off my arm turned out to not be skin cancer" dance. But get yourself checked!











































Friday Morning Reviews (0 Comments) (link)
Friday, 22-May-2015 01:00:54 (GMT +10) - by Agg


Motherboard & CPU:
Gigabyte's Z97-HD3 motherboard on Tech Report.

Portable & Prebuilt:
2015 Apple MacBook Pro SSD Performance Comparison on TechARP.
Asus ZenFone 2 Sneak Peek With Lollipop And Intel Atom Z3580 Inside on HotHardware.
ASUS Zenfone 2 on LegitReviews.
Gigabyte Brix S mini-PC on HWHeaven.

Input Etc:
Kingston HyperX FURY Pro Gaming Mousepad on ThinkComputers.
Logitech MX Master Wireless Mouse on LegionHW.
Zalman ZM-GM4 Knossos Gaming Mouse on BenchmarkReviews.

Storage:
SSD Charts 2015: 56 SSDs - Kingston HyperX Predator 480GB on OCAholic.
Samsung 850 EVO 500GB SATA III M.2 SSD on Tweaktown.
Seagate Archive HDD 8TB SATA III HDD on NikKTech.




AMD's High Bandwidth Memory (HBM) (0 Comments) (link)
Thursday, 21-May-2015 03:13:26 (GMT +10) - by Agg


AMD have unveiled some details of their High Bandwidth Memory technology. AMD has been teasing about its next-gen Radeon (R9 390X we assume) graphics cards and processors back in early May. It is without doubt that at least some of the upcoming graphics cards will be the first to feature high-bandwidth memory (HBM), let's call is the turbo-charged offspring to GDDR5 memory, used in today's graphics cards.

Coverage on Guru3D, Tech Report, PC Perspective, Tweaktown and Hot Hardware.

Discussion here in our Video Cards forum.




Thursday Afternoon Reviews (1 Comments) (link)
Thursday, 21-May-2015 03:06:35 (GMT +10) - by Agg


Cases:
Supermicro SuperChassis S5 Mid-Tower on PCPerspective.
Lian-Li PC-O6s on HWHeaven.

Input Etc:
CM Storm Mizar Gaming Mouse on TechPowerUp.
Sentey Lumenata Pro SP mouse on Bjorn3D.

Motherboard & CPU:
Gigabyte Z97X-UD3H-BK Motherboard on LegitReviews.
ECS Z97I-Drone LEET Gaming (LGA 1150) Motherboard on eTeknix.

Portable & Prebuilt:
Dell Precision M3800 Mobile Workstation on HotHardware.
Microsoft Lumia 640 Windows phone on TechSpot.

Storage:
Samsung SM951 M.2 NVME SSD Review (256GB) on TheSSDReview.
Buffalo MiniStation Extreme NFC Portable Hard Drive on ThinkComputers.
OCZ ARC 100 240GB SSD on MadShrimps.
Silicon Power Armor A60: Rugged, Portable, and Affordable on Bjorn3D.

Memory:
Kingston HyperX Fury DDR4-2666 32GB Quad-Channel Memory Kit on Tweaktown.
G.SKILL Ripjaws 4 3000MHz on Bjorn3D.

Software:
The Witcher 3 Graphics Performance on Guru3D.
The Witcher 3: Performance Analysis on TechPowerUp.

Misc:
EVGA SuperNOVA G2 1600W 80 PLUS Gold Power Supply on Tweaktown.
Nvidia Titan X video card on LanOC.
NZXT Kraken X61 watercooler on OCAholic.




Tt CaseMOD Invitational Contest (0 Comments) (link)
Tuesday, 19-May-2015 15:05:57 (GMT +10) - by Agg


STUdog has completed his entry in the Thermaltake CaseMOD Invitational, representing Australia in the contest. Check out the build log in the forums.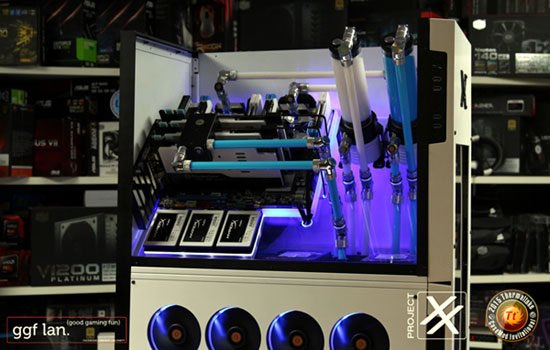 click for the worklog!



It turns out there are prizes to be won just for voting for your favourite entries. So, check out all the entrants (and then vote for STUdog ;) ) by visiting the contest thread.




Tuesday Night Reviews (0 Comments) (link)
Tuesday, 19-May-2015 13:44:31 (GMT +10) - by Agg


Portable & Prebuilt:
MSI Cubi mini-PC on OCAholic.
HP Stream 7 tablet on PCReview.
LG G4 smartphone on HotHardware.
ASUS Transformer Book T300 Chi convertible on TechReport.

Memory:
G.Skill Ripjaws 4 16GB 2666MHz Overclocking Ambrosia on Bjorn3D.
Crucial Ballistix Sport DDR4-2400 16GB Quad-Channel Memory Kit on Tweaktown.

Storage:
Silicon Power S80 480GB on Bjorn3D.
Kingston HyperX Savage 240 GB on TechPowerUp.
Intel 750 Series PCIe SSD on Vortez.

Input Etc:
Tesoro Lobera Spectrum keyboard on Modders-Inc.
Ozone Argon Advanced Pro Laser Gaming Mouse on eTeknix.

Cases:
Fractal Design Core 2500 on ThinkComputers.
Zalman Z11 Neo Mid Tower on LegitReviews.
In Win 707 Full-Tower on Techgage.
Thermaltake Versa H15 on OCAholic.
Antec ISK 110 90w Mini-ITX VESA Compatible Chassis on eTeknix.

Power Supply:
Enermax Digifanless 550 W PSU on HWInsights.
Efergy Engage Hub Solo Online Power Monitor on Tweaktown.

Cooling:
CRYORIG H5 Universal CPU Cooler on ThinkComputers.
DeepCool Captain 360 Liquid CPU Cooler on TechnologyX.
Fractal Design Kelvin S36 360mm Liquid Cooler on MadShrimps.
Cryorig R1 Ultimate CPU Cooler on BenchmarkReviews.
REEVEN Ouranos RC-1401 CPU Cooler on NikKTech.
Thermaltake Water 3.0 Ultimate CPU Cooler on HWSecrets.
BitFenix Spectre Pro LED Cooling Fan on APHNetworks.

Misc:
TRENDnet TEW-828DRU AC3200 Tri-Band Wireless Router on Tweaktown.
Gigabyte X99-UD4P on Bjorn3D.



All original content copyright James Rolfe.
All rights reserved. No reproduction allowed without written permission.
Interested in advertising on OCAU? Contact us for info.

Recent Content


Silicon Power USB Gift Pack


Google Chromecast


MyGica ATV510B Enjoy TV


Thecus N5550


SiliconDust HDHomeRun Dual


Intel Haswell on MSI Z87 MPOWER


Corsair AX860i PSU