News Archives
Our news archive search is now powered by Google. You can search the main site or the guest-viewable forums. To search the entire forums, log in and use the forum search engine.

Search the main OCAU site with Google: Search OCAU Forums with Google:

View News : Last 7 Days, Last 14 Days, Last 30 Days.

View Monthly Archives.



Imfaceroll's Tie Fighter PC (1 Comments) (link)
Sunday, 29-May-2016 13:31:48 (GMT +10) - by Agg


Imfaceroll has finished his incredible Tie Fighter PC. If you really like it, you can vote for it in the Tt CaseMOD Invitational, where I believe you can win a prize just by voting.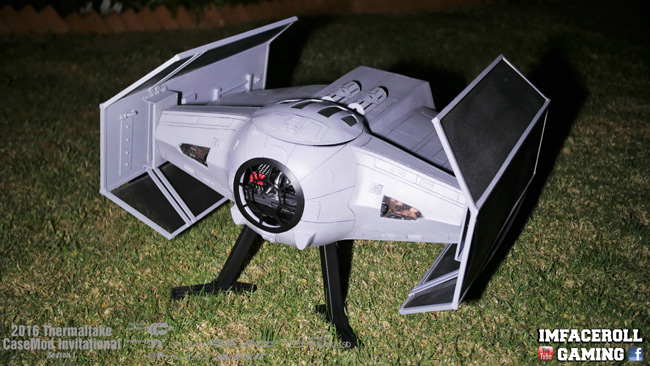 click for the worklog!





Friday again!




































Friday Morning Reviews (0 Comments) (link)
Friday, 27-May-2016 06:25:49 (GMT +10) - by booj


Storage:
Toshiba OCZ RD400 M.2 PCIe NVMe SSD on Legit Reviews.
OCZ RD400 NVMe SSD Review (256GB/512GB/1TB) on The SSD Review.
LaCie 8big Thunderbolt 2 1U Rack on TweakTown.

Audio:
Creative Labs iRoar Bluetooth Speaker on Hardware Asylum.
HyperX Cloud Revolver on LanOC Reviews.

Input etc:
SteelSeries Apex M500 Gaming Keyboard on ThinkComputers.
Corsair Gaming K70 RGB RapidFire keyboard on Guru3D.
QPAD MK-90 Pro Gaming Mechanical Keyboard on NikKTech.
Corsair Lapdog on Techspot.
Corsair Lapdog on TweakTown.
Corsair Lapdog on Vortez.

Smartphones:
TP-LINK Neffos C5L Smartphone on Madshrimps.
LG G5 on Techspot.
Flash Plus 2 Smartphone Revealed! on Techarp.

Misc:
Intel Skull Canyon NUC6i7KYK Mini PC on Hot Hardware.
Noctua NH-U12S CPU Cooler on TechnologyX.
Intel Core i5-6600K vs Core i5-2500K - 2D Performance on ocaholic.
Thermaltake Core X71 Chassis on TechnologyX.




ASIGN_Baz's Iron Man (0 Comments) (link)
Friday, 27-May-2016 00:18:19 (GMT +10) - by Agg


In case you've missed it, ASIGN_Baz has been making an Iron Man suit in steel, in a project going back to 2012. It seems to be nearing completion, if his latest update is anything to go by: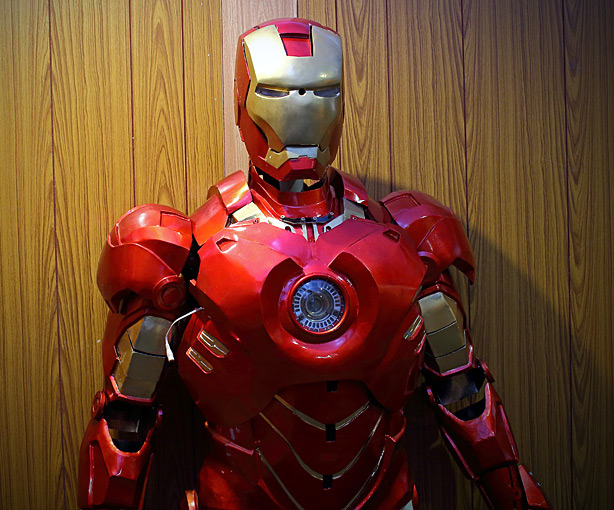 click for the worklog thread!






Wednesday Afternoon (13 Comments) (link)
Wednesday, 25-May-2016 16:48:32 (GMT +10) - by Agg


Microsoft's push for Windows 10 upgrades has taken another turn. Microsoft has faced criticism for changing the pop-up box encouraging Windows users to upgrade to Windows 10. Clicking the red cross on the right hand corner of the pop-up box now activates the upgrade instead of closing the box.

Sniper spotted this internet speed test from Netflix, with more info here. Netflix has launched a website that measures the speed of your connection, and it's sure to send some Australians into a spiral of misery. Fast.com allows internet users to quickly and easily check their download speeds in real time. "We all want a faster, better internet, yet internet speeds vary greatly and can be affected by other users on your network or congestion with your internet service provider," David Fullagar, vice president of content delivery architecture at Netflix, said in a blog post.

MadShrimps checked out three SFF coolers. oday we are going to tackle the latter and will test three coolers specifically designed to be compatible for this popular factor. We will put head to head the Corsair AIO H5 SF, the tiny Noctua NH L9x65 and the Cryorig M9i tower cooling solution.

TechSpot wonder if 4000MT/s memory makes a difference. For the most part we test using DDR4-3000, as it occasionally shows some benefits over the more typical 2400 and 2666 speeds. Going to 4000 MT/s (2000MHz) and beyond is a massive increase in frequency (and cost) and I struggled to imagine where this would be useful, particularly when gaming. Then again, curiosity had gotten the better of me...

Here's an impressive (if somewhat depressing) video of a hyper augmented future. There is a lot of potential for such tech, but as ever, the future reality isn't going to be exactly how we envisioned it. Typically it's worse. Hyper-Reality depicts one such potential future, and it's quite depressing as far as I'm concerned.

BabelTechReviews have been overclocking the GTX 1080. Today, we will present our final stable overclock using EVGA's latest non-public beta of Precision X16, or Precision XOC with our entire game benchmark suite of 26 games and 1 synthetic, and will give you a report on our adventure in overclocking the GTX 1080. EVGA's Precision XOC or Precision X 16 will be released to the public shortly, in less than 5 days and it features a scanner for a semi-automatic new way to set overclocks to fully unlock the new Pascal GPU's Boost 3.0.

Today's timewaster is FactoryIdle, from Stephen. Hey guys - a while ago I let you guys know about a game called ReactorIdle. The author has made a sequel of sorts called FactoryIdle which is a bit more thinky and complex. Run awaaayyyy.....




Wednesday Afternoon Reviews (0 Comments) (link)
Wednesday, 25-May-2016 16:07:34 (GMT +10) - by Agg


Input Etc:
Gigabyte XM300 mouse on TechPowerUp.
Tt eSPORTS LEVEL 10 M Advanced mouse on Vortez.
GAMDIAS Hermes 7 Color Mechanical Keyboard on APHNetworks.

Audio Visual:
SJCAM M20 Action Camera on FunkyKit.
SteelSeries Siberia 350 Headset on BenchmarkReviews.
Syllable D900S Tip Wireless Earbuds on FunkyKit.

Portable & Prebuilt:
Fitbit Alta Fitness Wristband on Tweaktown.
Shuttle XPC Cube Barebone SZ170R8 on MadShrimps.
Intel NUC NUC6i7KYK Skull Canyon Mini PC on LegitReviews.

Storage:
Toshiba OCZ RD400 PCIe (M.2. NVMe) 512GB SSD on Guru3D.
Toshiba OCZ RD400 512GB PCIe NVMe SSD Full Review on PCPerspective.
Toshiba OCZ RD400 Series High-Performance NVMe SSD on HotHardware.
OCZ RevoDrive 400 M.2 NVMe PCIe SSD on Tweaktown.
OCZ Trion 150 480GB SSD on OCClub.

Misc:
Enermax ETS-N30R-HE and ETS-N30R-TAA CPU Cooler on Tweaktown.
Linksys EA8500 Max-Stream AC2600 MU-MIMO Smart Wi-Fi Router on NikKTech.
Thermaltake Core X31 cases on ThinkComputers.



There's been some police raids related to the NBN late last week, and SMH explain what happened. On Thursday night, the Australian Federal Police raided the Melbourne office of former communications minister Senator Stephen Conroy and the home of a Labor staffer, setting off an unexpectedly heated end to the second week of the election campaign. The raids were part of an investigation, started in December, into damaging media leaks about the rollout of the National Broadband Network, following a referral from the company administering the infrastructure project, NBN Co. More info here and discussion continues in the massive NBN thread.

Meanwhile Telstra have been suffering outages once again. Three days of sporadic outages — now extended to four — in voice and data on NBN, data on ADSL, Telstra Internet Direct, its prepaid and recharge services down, MyAccount, and Telstra Wi-Fi off the air meant that May was not a very merry month this year.

FunkyKit have a mini SSD comparison. We've just published an article on the Mini SSD Performance Comparison – Difference between mSATA vs M.2 vs PCI Express Mini. "In this article we'll be taking a look at the mini SSD performance comparison between the various types of mini SSDs available on the market. Most mini SSDs can be found on newer laptops, ultrabooks and slimmer notebook models."

Google are planning to make driverless cars safer by sticking people to them. Okey dokey. Google just got a patent for a special kind of coating on self-driving cars that could help prevent pedestrian injuries. The company wants to coat autonomous vehicles with a sticky substance so that if they hit a pedestrian, the person would be glued to the car instead of flying off.

Anandtech report on the little brother of the NVIDIA GTX 1080, the GeForce GTX 1070. Previously disclosed at 6.5 TFLOPs of compute performance, we now know how NVIDIA is getting there. 15 of 20 SMs will be enabled on this part, representing 1920 CUDA cores. Clockspeeds are also slightly lower than GTX 1080, coming in at 1506MHz for the base clock and 1683MHz for the boost clock. Overall this puts GTX 1070's rated shader/texture/geometry performance at 73% that of GTX 1080's, and is a bit wider of a gap than it was for the comparable GTX 900 series cards.

LanOC have visited a 3D printer factory and also looked at their product, the sSeeMeCNC Eris. So yesterday I did a relatively short rundown on what is 3d printing and I also spoke about my visit with SeeMeCNC. Well today I'm actually going to dive into the SeeMeCNC Eris 3d printer that I picked up when I was visiting them. The Eris is their brand new portable delta printer. Not only is easy to carry, but they set out to make the Eris their first truly out of the box and printing experience. Generally, with most 3d printers you have a lot of build and setup time, but with the Eris shipping completely built and with their new Auto Leveling system they are hoping it will be a great printer for new 3d printing users.




Monday Morning Reviews (0 Comments) (link)
Monday, 23-May-2016 09:51:25 (GMT +10) - by Agg


Cooling:
CRYORIG A40 Hybrid Liquid Cooling System on NikKTech.
CRYORIG C7 CPU Cooler on APHNetworks.

Storage:
Thecus N2810 Two-Bay Consumer NAS on Tweaktown.
Thecus 2-bay N2810 4K NAS on MadShrimps.
Patriot Viper 64GB USB 3.1 Flash Drive on FunkyKit.

Cases:
Thermaltake Core P5 Mid-Tower on NikKTech.
InWin 303 Mid-Tower on eTeknix.

Misc:
GIGABYTE X99P-SLI Motherboard on PCPerspective.
Tesoro Sagitta Spectrum H6L Gaming Mouse on Tweaktown.
PC Specialist Liquid Series LS-E01 Gaming PC on eTeknix.
NVIDIA GeForce GTX 1080 Founders Edition video card on LegitReviews.



All original content copyright James Rolfe.
All rights reserved. No reproduction allowed without written permission.
Interested in advertising on OCAU? Contact us for info.

Recent Content


ADATA SP550 240GB SSD


Lexar Jumpdrive M20i Flash Drive


Lexar Jumpdrive M20c Flash Drive


Thecus N5810PRO 5-Bay UPS NAS


Synology DS715


Ainol Mini PC


Tile