News Archives
Our news archive search is now powered by Google. You can search the main site or the guest-viewable forums. To search the entire forums, log in and use the forum search engine.

Search the main OCAU site with Google: Search OCAU Forums with Google:

View News : Last 7 Days, Last 14 Days, Last 30 Days.

View Monthly Archives.


Case:
Lian-Li O7S Chassis on Guru3D
Fractal Design Core 2500 Case on Benchmark Reviews
SilverStone Fortress SST-FT05B-W Full-Tower Chassis on TweakTown

Gaming:
Olliolli 2: Welcome to Olliwood (PS4) on Gaming Nexus
Flame Over (Vita) on Gaming Nexus
GTA V PC on TechnologyX

Keyboard/Mouse:
Tt eSPORTS Challenger Prime Gaming Keyboard on ThinkComputers.org
Cougar 600M Gaming Mouse on Techgage
Topre Type Heaven on LanOC

All-in-one:
Nox Xtreme lanbx on techPowerUp
Dell Venue 11 Pro 7140 Convertible on Madshrimps
MSI Cubi Mini PC Kit on Hardware Asylum

Videocard:
NVIDIA Quadro M6000 on Hot Hardware
Gigabyte G1 Gaming GeForce GTX 960 4GB Graphics Card on APH Networks

Audio:
Sound Blaster X7 on HardwareHeaven
OAXIS Bento Close-Contact Induction Wireless Speaker on TweakTown
Ozone Rage ST Headset on Modders-Inc

CPU/Motherboard:
AMD FX 8320E Processor on PureOverclock
ECS Z97-PK Motherboard on PC Perspective

Storage:
OCZ Vector 180 960 GB on ocaholic
ASUSTOR AS5102T 2-Bay Enthusiast NAS on eTeknix
Samsung SM951 512GB SSD on Legion Hardware
Crucial BX100 500GB SSD on TweakTown
Seagate Enterprise NAS HDD 6TB SATA III HDD on NikKTech
Intel SSD 750 NVMe PCIe SSD on Legit Reviews
Intel 750 Series SSD on HardwareHeaven

Misc:
Patriot FUEL iON Magnetic 2100mAh Battery Pack on TweakTown
Patriot FUEL iON Magnetic Charging Pad on TweakTown
Corsair H110i GT vs NZXT Kraken X61 on Vortez





They shall grow not old
As we who are left grow old
Age shall not weary them
Nor the years condemn
At the going down of the sun
And in the morning
We will remember them

Lest We Forget





Friday again - thanks to SM this week!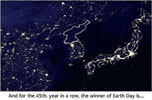 Color Office Supplies Giveaway (0 Comments) (link)
Thursday, 23-April-2015 07:17:24 (GMT +10) - by Agg


Here's something different - we've got some packs of office supplies to give away, from Color Office Supplies. So if your desk is lacking goodies, check out the details in the thread: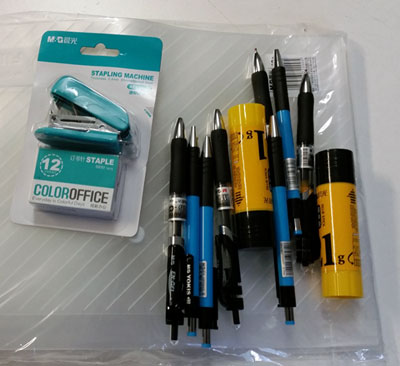 click for the thread!






Thursday Afternoon (4 Comments) (link)
Thursday, 23-April-2015 06:14:05 (GMT +10) - by Agg


I hope the crazy weather in Sydney hasn't affected any of you too drastically.. we got off pretty lightly and it seems to be blue skies again at the moment.

Intel have a new "Compute Stick", which aims to turn any TV into a PC. Powered by a quad-core Bay Trail processor, the Compute Stick has a surprising amount of horsepower to power multimedia playback, office applications, and typical web usages. It does not have enough performance compete with a standard notebook by today's standards, but it doesn't intend to with its $150 price point. Coverage on LegitReviews, HotHardware, Tweaktown, Tech Report and PC Perspective.

If you'd prefer to DIY, TechSpot have a powerful mATX PC guide. Every enthusiast dreams of building a budgetless rig with nothing but the best hardware. Thus, we're throwing caution to the wind by cramming the priciest and most powerful gaming hardware into a 32L chassis. The end result should be a ridiculously powerful mATX system ready for any and all tasks.

Fastmail have posted their take on the metadata laws and how they are affected, thanks Owen. This means that FastMail is not obligated to retain metadata relating to email sent/received by our users, nor are we required to provide Australian law enforcement agencies with access to such metadata without a warrant. That's presumably true of other overseas-hosted services, although I haven't noticed an official statement from gmail yet.

In the meantime you can download your Google search history. Google just gave Chrome users a little feature with big implications: You can now download your search history. It might seem silly—and somewhat frightening—to download a massive file containing everything you have searched for since enabling the web history setting, but the list is an interesting peek into how Google sees you.

Given we just passed the 81st anniversary of an iconic Loch Ness Monster photo, Google want you to help search for Nessie via Street View. The internet is really good at over-analysing photos, and Google is good at bringing the internet into our homes. So for armchair amateur sleuths, this should be The Dream: a chance to find the Loch Ness Monster without having to go to dampest darkest Scotland. However it's worth bearing in mind that the BBC performed a comprehensive search of the Loch in 2003 and didn't find anything..

Closer to home, it's being suggested that the NBN might give us the world's most expensive internet. "The ACCC, NBN Co and [Communications Minister] Malcolm Turnbull need to accept that the model is broken," he said. "We need to drastically reduce the [connectivity virtual circuit] charge … by 70 per cent immediately ... otherwise the NBN will be the most expensive broadband network in the world."

Netflix traffic continues to grow, with Optus apparently considering breaking net neutrality by asking Netflix to pay a fee for guaranteed delivery. Speaking at the CommsDay conference in Sydney today, Optus chief Allan Lew floated the possibility of a premium service provided to streaming services like Netflix. To ensure end-users got the best customer experience, Lew said Optus needed to make sure over-the-top providers "understand they need to work collaboratively with Optus to preserve network quality".




Thursday Afternoon Reviews (0 Comments) (link)
Thursday, 23-April-2015 04:38:42 (GMT +10) - by Agg


Input Etc:
Cougar 500K Keyboard on Modders-Inc.
Aorus Thunder K7 keyboard on OCAholic.
Jamstik Guitar Controller on TechnologyX.
Arion Bluetooth Mini Keyboard with Speakerphone on eTeknix.
Corsair Gaming Sabre Optical RGB Gaming Mouse on MadShrimps.

Cases:
Phanteks Enthoo Evolv Micro Tower on NeoSeeker.
be quiet! Silent Base 800 Full-Tower on Tweaktown.
Antec P70 Mid-Tower on Techgage.
Fractal Design Define S on TechPowerUp.
In Win D-Frame Mini on Modders-Inc.

Cooling:
CRYORIG R1 Ultimate CPU Cooler on ThinkComputers.
Corsair Hydro H100i GTX watercooler on BenchmarkReviews.

Storage:
Diamond DS3900V2 Ultra USB 3.0 Docking Station on Tweaktown.
Kingston HyperX Predator 480GB PCI-Express Solid State Drive on ThinkComputers.
Inateck HBU3VL2-4 USB 3.0 Hub and HBU3VL3-4 Hub with Ethernet on eTeknix.

Audio Visual:
Razer Seiren microphone on HWHeaven.
Etekcity RoverBeats T12 Wireless Bluetooth Mobile Speaker on Tweaktown.

Portable & Prebuilt:
ASUS TS700-E8-RS8 Barebones Workstation on Tweaktown.
Boston Venom 3401-7T Workstation on eTeknix.
Patriot FUEL iON Magnetic Charging S4 Case and Stand on Tweaktown.
GameBench Compares iPhone 6 and Galaxy S6 in Real-World Mobile Games Testing on PCPerspective.

Misc:
Gigabyte X99-SOC Champion motherboard on LanOC.
Linksys WRT1200AC Wi-Fi Router on Tweaktown.
GeForce GTX TITAN X video card on HWSecrets.
Crucial Ballistix Sport LT 16GB DDR4 memory on Vortez.




Tuesday Morning Reviews (0 Comments) (link)
Tuesday, 21-April-2015 00:43:49 (GMT +10) - by booj


Storage:
Samsung SM951 512GB M.2 PCIe SSDs in RAID 0 on Legit Reviews.
Samsung SM951 PCIe SSD 512GB on Techspot.
QNAP TVS-463 8G AMD Powered NAS on techPowerUp.
Patriot New Ignite Series M2 SATA SSD on Modders-Inc.

Cooling:
Scythe Mugen Max SCMGD-1000 Heatsink on Frostytech.
Phanteks PH-TC12LS & PH-TC14S CPU Cooler on PureOverclock.

Cases:
Fractal Design Define S Window on Vortez.
Enermax Thormax GT Full-Tower Case on Modders-Inc.
SilverStone Kublai KL05 on APH Networks.
Fractal Design Define S on Guru3D.
Lian Li PC-V1000L/B Special Edition Full-Tower on TweakTown.
BitFenix Aegis on ThinkComputers.

Notebooks & Systems:
Intel NUC5i7RYH Broadwell-U Iris NUC on Anandtech.
ACER Switch 11 Pro 2-in-1 Laptop on Legit Reviews.
ASUS EeeBook X205TA Review: $199 Windows Laptop on PC Perspective.

Misc:
Inateck BR1001 Bluetooth Audio Receiver on APH Networks.
TRENDnet AC1900 Dual Band Wireless Router on NikKTech.




SiliconAngel's FreeNAS Guide (2 Comments) (link)
Monday, 20-April-2015 11:01:45 (GMT +10) - by Agg


SiliconAngel has a very detailed FreeNAS build log over in the Storage & Backup forum. If you've been thinking about building a FreeNAS machine, this guide is a great place to get started: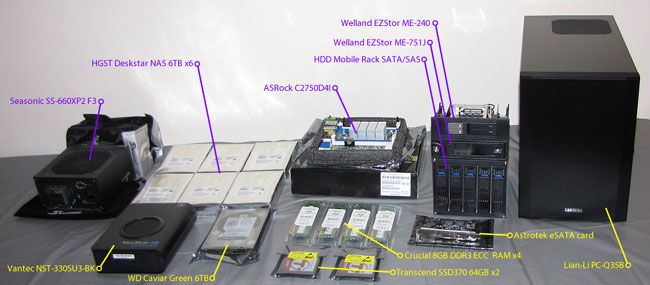 click for the thread!
All original content copyright James Rolfe.
All rights reserved. No reproduction allowed without written permission.
Interested in advertising on OCAU? Contact us for info.

Recent Content


Silicon Power USB Gift Pack


Google Chromecast


MyGica ATV510B Enjoy TV


Thecus N5550


SiliconDust HDHomeRun Dual


Intel Haswell on MSI Z87 MPOWER


Corsair AX860i PSU