News Archives
Our news archive search is now powered by Google. You can search the main site or the guest-viewable forums. To search the entire forums, log in and use the forum search engine.

Search the main OCAU site with Google: Search OCAU Forums with Google:

View News : Last 7 Days, Last 14 Days, Last 30 Days.

View Monthly Archives.


Thanks to Matthew and David this week!











































Friday Morning Reviews (1 Comments) (link)
Friday, 27-November-2015 06:31:27 (GMT +10) - by booj


Motherboards:
ASUS Maximus VIII Ranger on ocaholic.
Gigabyte Z170X-UD5 on Modders-Inc
Gigabyte's Z170X-Gaming G1 on The Tech Report.

Storage:
Seagate Game Drive for PlayStation 1TB on TweakTown.
Synology DS715 2-bay NAS on Techpowerup.
SanDisk Extreme 500 240GB USB 3.0 Portable SSD on TweakTown.

Input etc:
MSI Interceptor DS200 Gaming Mouse on ThinkComputers.
G.Skill KM780 RGB Mechanical Gaming Keyboard on eTeknix.
Corsair STRAFE RGB on Vortez.
Tesoro Excalibur Spectrum RGB Mechanical Gaming Keyboard on NikKTech.
iClever Foldable Wireless Keyboard on Technology X.

Cases:
Be quiet! Silent Base 600 on Guru3D.
Phanteks Enthoo Pro M Mid-Tower on TechnologyX.
Jonsbo UMX3 Case on ocaholic.
NZXT H440 New 2015 Edition & Hue+ on Vortez.

Portable:
Lenovo Yoga 900 on HotHardware.
Nvidia Shield Android TV on eTeknix.

Misc:
Gigabyte GTX 980 Ti Waterforce Xtreme Gaming 6 GB on Techpowerup.
ID-Cooling IS-VC45 SFF CPU Cooler on TweakTown.




Thecus N5810PRO 5-Bay UPS NAS (11 Comments) (link)
Wednesday, 25-November-2015 13:39:22 (GMT +10) - by Agg


I've taken a look at the Thecus N5810PRO, a 5-bay network-attached storage unit. It's got a few unusual features that make it interesting, such as a built-in UPS, five Ethernet ports, HDMI connectivity and the fact that it's basically a full Intel-based Linux PC under the hood. Check it out: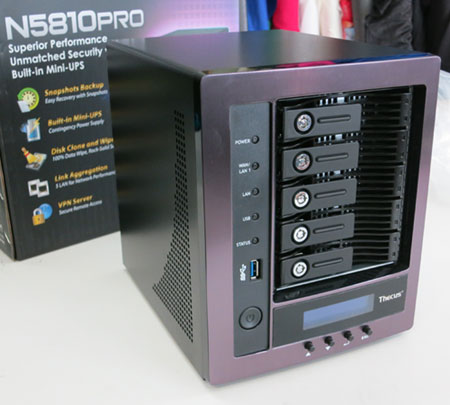 Click for the review!






Wednesday Afternoon Reviews (0 Comments) (link)
Wednesday, 25-November-2015 13:36:01 (GMT +10) - by booj


Graphics Cards:
ZOTAC GeForce GTX 980 AMP! on Technology X.
Gigabyte GeForce GTX 950 Xtreme Gaming on ocaholic.
Gigabyte GeForce GTX 980 Ti Extreme Gaming WaterForce on Guru3D.
Asus Radeon R9 380X Strix on Anandtech.

Storage:
Kingston HyperX Predator 240GB M.2 PCIe SSD on Hardware Asylum.
ASUSTOR AS1004T 4-bay NAS on Madshrimps.
Intel SSD 750 1.2TB PCIe on ocaholic.
Synology DiskStation DS1515 5-Bay NAS on Big Bruin.
QNAP TS-563 NAS on Modders-Inc.
HyperX Savage USB 3.1 Flash Drive on Legit Reviews.

Cases:
Lian Li PC-O8 on Vortez.
SilverStone ML08 Mini-ITX Slim Case on Benchmark Reviews.

Cooling:
SilverStone Tundra TD02-Lite AIO Liquid CPU Cooler on NikKTech.
Thermaltake Riing LED RGB Fans on ThinkComputers.
CRYORIG C7 on Techpowerup.

Audio:
iClever Bluetooth Wireless Speaker on TechnologyX.
Astro A40 TR + Mix Amp Pro & Mod Kit Multi-Format Pro Gaming Headset on eTeknix.

Misc:
Zotac Steam Machine (Zbox NEN SN970) on Hardware Heaven.
EMTEC Power Connect Portable Charger on APH Networks.




Wednesday Morning (4 Comments) (link)
Wednesday, 25-November-2015 05:16:57 (GMT +10) - by booj


Think Computers have a guide on custom water cooling. The first part will cover designing your loop. While we understand you must be excited to get going on building, you must first take your time and carefully decide how you want your loop to connect and flow. After we've decided on our loop design we will go over some of the most popular parts and components for bringing your dream system to life.

A small Irish based drug company is set to 'buy' US giant Pfizer. In what's called a "reverse-inversion," Allergan, a small Dublin-based drug company that makes products such as Botox, will technically buy the US-based pharmaceutical behemoth Pfizer, which makes products such as Viagra and Lipitor. The $160 billion merger, officially announced Monday, will allow Pfizer to move its executive offices to Ireland, thus lowering its tax rate, while also morphing into the world's largest drug maker. Seems legit..

A Vietnamese Australian man with the phonetically awkward name of Phuc Dat Bich is taking matters into his own hands after repeatedly being blocked by Facebook. The man has taken the unusual step of posting a picture of his passport on social media after being repeatedly blocked by Facebook. The unfortunately named Phuc Dat Bich - whose name is actually pronounced Phoo Da Bic - posted the image after the tech giant banned him several times.

AMD have released a revamped software/driver package they call the AMD Radeon Software Crimson Edition. There's plenty of coverage from the big sites including The Tech Report, techPowerUp, Hot Hardware and Anandtech.

Yahoo has been running a test that prevented some people from accessing email on their Yahoo Mail accounts because they were using ad blocking software. Some people who logged into their Yahoo Mail accounts last week were greeted with an ultimatum: "Please disable Ad Blocker to continue using Yahoo Mail."

It seems that Canon has had enough of grey imports into the US. Canon USA has filed lawsuits against a number of camera gear retailers in an attempt to stop the sale of gray market camera gear. Canon claims that gray market products infringe upon its US trademark for the Canon brand. In addition to seeking the shutdown of the gray market dealers, Canon is also asking for the profits earned by those dealers from selling gray market goods. Thanks Scootre.

aftahours let us know about Microsoft's decision to remove the stand alone November update for Windows 10. If you want the November update for Windows 10, you can no longer use the Media Creation Tool to get it—Windows Update is the only option.

Finally, big congratulations to Mark Webber on winning the FIA World Endurance Championship alongside co-drivers Timo Bernhard and Brendon Hartley!




Monday Morning Reviews (0 Comments) (link)
Monday, 23-November-2015 02:17:12 (GMT +10) - by booj


Motherboards:
Gigabyte Z170X-UD5 on OCC.
ASUS Maximus VIII Extreme on ocaholic.
ASRock Fatal1ty Z170 GAMING K6+ on techPowerUp.
EVGA Z170 Classified on TweakTown.

Storage:
SilverStone ECM20 m.2 Adapter on Benchmark Reviews.
Seagate Enterprise NAS 8TB SATA III HDD on NikKTech.
Understanding M.2 RAID NVMe Boot and 2/3x M.2 NVME RAID0 Tested on The SSD Review.

Video Cards:
ASUS Radeon R9 380X STRIX on TweakTown.
Asus R9 380X Strix OC on LanOC Revews.
Sapphire Radeon R9 380X Nitro Video Card on Legit Reviews.

Cases:
Thermaltake Suppressor F31 Case on ThinkComputers.
Thermaltake Suppressor F31 on TweakTown.
In Win 805 Computer Case on APH Networks.
Thermaltake Core X9 Stackable E-ATX Chassis on eTeknix.

Power Supplies:
Rosewill Photon and Quark 550W PSU on Modders-Inc.
Deep Cool DA500 Aurora 500W Power Supply on eTeknix.
EVGA SuperNOVA 650W and 750W Platinum Power Supply on PC Perspective.

Mobile:
Sony Xperia Z5 on Techspot.
Huawei SmartWatch on Legit Reviews.

Misc:
G.Skill Ripjaws MX780 RGB Laser Ambidextrous Gaming Mouse on eTeknix.
Patriot Memory Viper 4 DDR4-3400 8GB Dual-Channel Memory Kit on TweakTown.



Researchers have crafted flexible electronic circuits inside a rose. Eventually such circuitry may help farmers eavesdrop on their crops and even control when they ripen.

Playstation 2 emulation is apparently coming to the Playstation 4. "We are working on utilizing PS2 emulation technology to bring PS2 games forward to the current generation," a Sony representative told WIRED via email. "We have nothing further to comment at this point in time."

It appears that Steam sales will no longer include flash or daily sales. the article also apparently confirms the dates of the Steam Autumn and Winter sales. Valve will not run any flash or daily deals during its Steam autumn or winter sales, Eurogamer can confirm. Steam's autumn sale will run from next Wednesday, 25th November at 6pm UK time until Tuesday, 1st December at 6pm UK time.

The recent terrorist attacks in Paris have EU leaders planning a crackdown on Bitcoin and other anonymous online payment methods. A week after the attacks in Paris, home affairs ministers from European Union countries are due to gather in Brussels on Friday 20th November for a crisis meeting to discuss methods of strengthening the region's response to terrorism. One crucial item on the agenda is a planned crackdown on virtual currencies and anonymous payments made online and through pre-paid cards.

The Netflix business model is looking stronger than ever. Some 51% of American internet users say they used the site to watch movies or TV shows over the past 12 months, according to a survey conducted by RBC Capital Markets, representing an all-time high.

The 30th anniversary of Microsoft Windows passed on the 20th of November. Check out this visual history of the ubiquitous OS.

Australia's internet site blocking laws could be in for a test. Though not in the way that was expected. A small Australian ISP has received a demand that it block access to an overseas website or face legal action in the Federal Court. If the case goes ahead, it would be the first time Australia's site-blocking laws would be used and tested in court.



All original content copyright James Rolfe.
All rights reserved. No reproduction allowed without written permission.
Interested in advertising on OCAU? Contact us for info.

Recent Content


Thecus N5810PRO 5-Bay UPS NAS


Ainol Mini PC


Tile

Synology DiskStation DS415+


Silicon Power Mobile X20


Silicon Power USB Gift Pack


Google Chromecast