News Archives
Our news archive search is now powered by Google. You can search the main site or the guest-viewable forums. To search the entire forums, log in and use the forum search engine.

Search the main OCAU site with Google: Search OCAU Forums with Google:

View News : Last 7 Days, Last 14 Days, Last 30 Days.

View Monthly Archives.


Thanks to Scott and Simon this week!









































Friday Morning Reviews (0 Comments) (link)
Friday, 28-April-2017 11:06:58 (GMT +10) - by Agg


Motherboard & CPU:
Aqua Computer and Rockit Delidding Tools tested on Core i7-7700K on TechPowerUp.
AMD Ryzen 5 1600X Overclocked Benchmark Results At 4.1GHz on LegitReviews.
AMD Ryzen 5 1400 on TechSpot.
Intel Core i7-7700k versus AMD Ryzen 1700X 14 Game CPU Showdown on LegitReviews.

Video Cards:
Red Devil RX 570 vs. EVGA GTX 1060 3GB Overclocking Showdown on BabelTechReviews.
ASUS GeForce GTX 1060 OC 6GB 9Gbps Edition on eTeknix.
MSI GTX 1080 Ti Armor 11G on OCClub.

Input Etc:
GIGABYTE XK700 XTREME Mechanical Gaming Keyboard on FunkyKit.
AZIO MK Retro Keyboard on TechPowerUp.

Cooling:
GIGABYTE Xtreme Gaming XTC700 CPU Cooler on Tweaktown.
Scythe Byakko CPU Cooler on ThinkComputers.
FSP Windale 6 CPU cooler on TechPowerUp.

Portable & Prebuilt:
Dell Inspiron 15 7000 (7567) Gaming on PC Perspective.
Lenovo IdeaCentre Y710 Cube Gaming PC on Tweaktown.

Misc:
Windows 10 Creators Update vs. Ubuntu 17.04 Linux Radeon Gaming Performance on Phoronix.
Linksys WRT3200ACM AC3200 MU-MIMO Gigabit Wi-Fi Router on NikKTech.
be quiet! Pure Base 600 PSU on TechPowerUp.
Micron 5100 ECO and MAX SSD on HotHardware.
GeIL EVO Forza DDR4-2400 32GB Memory Kit on ThinkComputers.
Transcend DrivePro 520 Dashcam on Techgage.




Iron Man at Zing Tuggeranong 6th May (1 Comments) (link)
Wednesday, 26-April-2017 14:42:07 (GMT +10) - by Agg


Those of you who have been following along with ASIGN_Baz's amazing Building Iron Man in STEEL project now have a chance to see it in the flesh, err, metal! On the 6th of May at Zing Tuggeranong in the ACT, from 12 noon until 3pm, Barry will be demonstrating the suit to raise funds for the Starlight children's foundation. If you don't know what this is all about, check out the thread - it's an amazing project.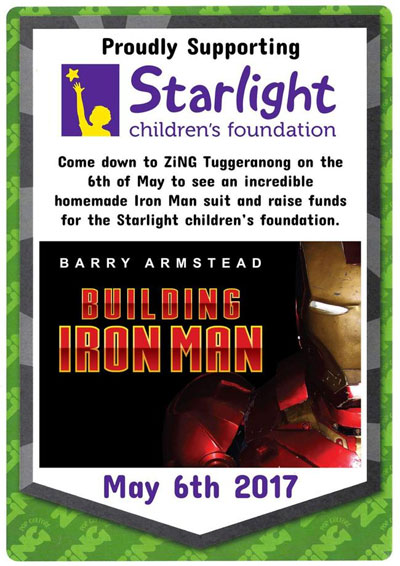 click for the thread!






Intel Optane Memory Reviews (2 Comments) (link)
Wednesday, 26-April-2017 14:04:40 (GMT +10) - by Agg


The reviews of Intel's Optane Memory storage accelerator are out. This is a 32GB M.2 SSD which aims to improve the responsiveness of a HDD-based system. I'm still struggling to see who would really benefit from this over other solutions, but here's some reviews which might change my mind:

Tech Report
PC Perspective
Tweaktown
HotHardware
The SSD Review
LegitReviews
ArsTechnica
AnandTech

Discussion continues in this thread in our Storage forum.




Wednesday Midday Reviews (0 Comments) (link)
Wednesday, 26-April-2017 12:37:32 (GMT +10) - by Agg


Motherboard & CPU:
BIOSTAR RACING X370GT7 AM4 Motherboard on MadShrimps.
AMD's Ryzen 5 1600X & 1500X Processors on Techgage.
MSI Z270 SLI PLUS Motherboard on ThinkComputers.
AMD Ryzen R5 1600X 6-Core AM4 Processor on eTeknix.

Input Etc:
Corsair's K95 RGB Platinum gaming keyboard on TechReport.
HyperX's Pulsefire gaming mouse on TechReport.
yperX Pulsefire FPS Optical Gaming Mouse on NikKTech.
HyperX Pulsefire FPS Gaming Mouse on Tweaktown.

Video Cards:
EVGA GeForce GTX 1080 Ti SC2 with iCX Technology on PCPerspective.
AORUS GeForce GTX 1080 Ti 11G on Tweaktown.
MSI GeForce GTX 1060 GAMING X PLUS on Guru3D.
Palit GeForce GTX 1080 Ti GameRock Premium 11 GB on TechPowerUp.
ASUS RoG STRIX GTX 1080 Ti 11GB on eTeknix.
AORUS GeForce GTX 1080 Ti 11G on Tweaktown.
PowerColor Red Devil Golden Sample RX 580 on Vortez.
RX580 Crossfire Testing on LanOC.
PowerColor Red Devil Radeon RX 570 4GB on eTeknix.

Audio Visual:
Sony H.ear Go -- A Speaker with Great Connectivity on HWSecret.
Sennheiser AVX-ME2 Set Review – Wireless Clip-On Lavalier Microphone on FunkyKit.

Storage:
Thecus N2810 Pro 2-Bay NAS on TechPowerUp.
Team Group T-FORCE CARDEA M.2 480GB SSD on Guru3D.

Furniture:
Autonomous SmartDesk 2 standing desk on BabelTech.
COUGAR Armor Gaming Chair on BenchmarkReviews.

Misc:
Fierce PC Imperial Hive prebuilt PC on Vortez.
Synology RT2600ac Wireless Router on Tweaktown.





They shall grow not old
As we who are left grow old
Age shall not weary them
Nor the years condemn
At the going down of the sun
And in the morning
We will remember them

Lest We Forget





Several large international vendors have suggested blocking Australian buyers may be an option if the online GST laws go ahead. Under new laws slated to come into effect from July 1, overseas businesses with an annual turnover of $75,000 or more will be required to register with the ATO to collect GST on all goods sold, including purchases under the current low-value threshold of $1000. Giving evidence before a Senate economics committee in Melbourne on Friday, representatives for eBay, Alibaba and Etsy hit out at the government's vendor collection model, which would place the burden of tax collection on the platforms.

The Goverment's "cyber minister" has suggested that ISPs should take responsibility for stopping malware. He said the government was currently working on its own efforts to "prevent government users visiting sites known to be malicious", and said telcos were similarly responsible for protecting their customers from malware. "Just as we trust banks to hold our money, just as we trust doctors with our health, in a digital age we need to be able to trust telecommunications companies to protect our information from threats," Tehan said, as reported by the West Australian. ITWire are not impressed with this suggestion. But going after telcos and all the other waffle mentioned by Tehan is a waste of time. It is an attempt to be seen to be doing something when you have no clue as to what that "something" is.

TechSpot have a 3-way mechanical RGB KB battle. Over the past couple of weeks I've received mechanical gaming keyboards from Creative and Razer, the Sound BlasterX Vanguard K08 and BlackWidow Chroma V2. To flesh this out into a true three-way battle, we're comparing them against Corsair's K70 RGB Rapidfire, which we rated as the best for gaming in our Best Keyboards article last year. Let's see if this still holds true.

Mark Zuckerberg has explained more of his 10 year plan for Facebook. And while this announcement seems pretty innocuous, make no mistake: Facebook is, once again, putting itself into direct competition with Google and Apple, trying to create yet another parallel universe of apps and tools that don't rely on the smartphones' own marketplaces.

Today's timewaster would have to be Tomb Raider in your browser! Turn your sound down first, warns Boneman. Discussion here.




Monday Afternoon Reviews (0 Comments) (link)
Monday, 24-April-2017 13:00:19 (GMT +10) - by Agg


Audio Visual:
Mad Catz F.R.E.Q.9 Wireless Surround Headset on NikKTech.
The Edifier S350DB Price, Specifications & Demo speakers on TechARP.

Input Etc:
Cherry MX Board 6.0 Keyboard on Modders-Inc.
GIGABYTE XM300 Gaming Mouse/XMP300 XTREME Gaming Mouse Pad on FunkyKit.

Video Cards:
MSI GTX 1080 Gaming X Plus 11 Gbps 8 GB on TechPowerUp.
PNY GTX 1070 XLR8 OC Gaming 8GB on eTeknix.
XFX RX 460 4GB Slim Single on OCClub.

Power Supply:
SilverStone ST45SF V3.0 450W on APHNetworks.
Seasonic PRIME Titanium 850W on APHNetworks.
Riotoro Onyx Series Power Supply on PCPerspective.

Misc:
Hidrate Spark 2.0 Bluetooth Smart Bottle on Tweaktown.
Phanteks Enthoo Evolv mATX Tempered Glass case on OCAholic.
MSI GT73VR Titan GTX 1070 SLI Gaming Laptop on eTeknix.
AMD Ryzen R5 1500X Quad-Core AM4 Processor on eTeknix.
Promise Technology Apollo Cloud 2TB on Tweaktown.



All original content copyright James Rolfe.
All rights reserved. No reproduction allowed without written permission.
Interested in advertising on OCAU? Contact us for info.

Recent Content


Getting Started with Arduino


ADATA Ultimate SU800 256GB SSD


FSP Hydro 700W and Hydro G 850W PSUs


Crucial BX200 SSD


ADATA SP550 240GB SSD


Lexar Jumpdrive M20i Flash Drive


Lexar Jumpdrive M20c Flash Drive