News Archives
Our news archive search is now powered by Google. You can search the main site or the guest-viewable forums. To search the entire forums, log in and use the forum search engine.

Search the main OCAU site with Google: Search OCAU Forums with Google:

View News : Last 7 Days, Last 14 Days, Last 30 Days.

View Monthly Archives.



Tuesday Evening (1 Comments) (link)
Tuesday, 27-January-2015 07:44:13 (GMT +10) - by Agg


Saints Row 4 for PS4 has been recalled in Australia. Unfortunately over the weekend, it has come to light that the PlayStation 4 retail release of Saints Row IV: Re-Elected has a serious manufacturing issue and a nationwide recall is now underway in Australia. A manufacturing issue has caused an incorrectly classified version of Saints Row IV: Re-Elected for our territory to be released. This strictly affects PlayStation 4 retail versions. Discussion here.

Tech Report have been talking to NVIDIA about GTX 970 memory issues, but apparently the cards are working as intended. This weekend, Nvidia admitted there are some quirks in the GeForce GTX 970's memory config. Those revelations touched off quite a bit of speculation and concern. To clear the air, Nvidia Senior VP of Hardware Engineering Jonah Alben spoke with us yesterday evening. Alben's primary message to us was straightforward. He said the GTX 970 is "working exactly as we designed it." More info on PC Perspective.

Neowin are the latest to share their hands-on experience with Microsoft HoloLens. I had to have the distance between my pupils measured so that HoloLens could be calibrated for my eyes, but Microsoft said that in the production models, the calibration is done automatically, so consumers won't have to worry about this in the future.

Sniper sent in this video which is a few years old now but still cool - some interesting gears made of wood. Clayton Boyer demonstrates a variety of square, oval, pentagonal, organic and other unbelievably-shaped gears--and they really work!

There's an Easter Egg of sorts inside the Google Chrome browser - a dinosaur game.




Facebook Down (1 Comments) (link)
Tuesday, 27-January-2015 06:59:20 (GMT +10) - by Agg


Yes, in case you're wondering, it seems that Facebook is down, along with Instagram and some other big sites - and have been for about 40 minutes. It's not entirely clear why, as yet. Discussion is going on in this thread.




Tuesday Morning Reviews (0 Comments) (link)
Monday, 26-January-2015 13:42:53 (GMT +10) - by Agg


Hope you had a great long weekend!

Audio Visual:
Asus STRIX DSP Gaming Headset on eTeknix.
Luxa2 GroovyW Bluetooth Speaker on TechnologyX.

Cases:
In Win D-Frame Mini Case on TechnologyX.
AZZA Z Mini-ITX Gaming Chassis on Tweaktown.
Lian Li PC-T80 Modular Test Bench Chassis on eTeknix.

Storage:
Plextor M6e Black Edition SSD 256GB on TheSSDReview.
Synology DiskStation DS215j 2-Bay NAS on eTeknix.
Plextor M6M 256GB mSATA SSD on Tweaktown.

Cooling:
Noctua NH-D9L CPU Heatsink on APHNetworks.
Cooler Master Nepton 240M AIO CPU Cooler on eTeknix.
Thermalright Macho Rev.B CPU Cooler on Tweaktown.

Input Etc:
CM Storm Quickfire Ultimate Mechanical Keyboard on eTeknix.
Speedlink Parthica Gaming Keyboard on eTeknix.
Gigabyte FORCE M63 FPS Laser Gaming Mouse on eTeknix.
CM Storm NovaTouch TKL keyboard on OCaholic.
Razer BlackWidow Chroma Mechanical Gaming Keyboard on NikKTech.

Portable & Prebuilt:
Supermicro 7048GR-TR (Intel C612) Workstation Tower System on Tweaktown.
ASUS ZenFone 6 Smartphone on HWHeaven.

Misc:
MSI Z97 GAMING 9 AC (Intel LGA 1150) motherboard on TechPowerUp.
Tenda AV1000 Gigabit Powerline Adapter on eTeknix.
Hands-on With Windows 10's Preview Build 9926 on Techgage.



Well, it's that time of year again when Agg turns a little older, a little wiser, a little more shouty and pointy... and this year is an important one: the big 40!

Happy birthday, Aggster, hope you're having an awesome birthday weekend!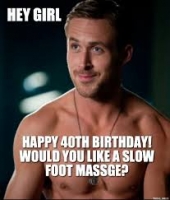 Thanks to aftahours and mpot this week!





































Friday Afternoon (0 Comments) (link)
Friday, 23-January-2015 03:14:33 (GMT +10) - by Agg


Windows 10 will apparently be free for many people, thanks aftahours. The rumors were right: Microsoft is going to make Windows 10 available for free to users running Windows 7, Windows 8.1 and Windows Phone 8.1 on their devices. But there's a catch, at least so far: The Windows 10 update will be available for free for one year from the date that Windows 10 is commercially available. Windows 10 is likely to be commercially available as of fall 2015, according to previous comments from Microsoft execs.

mpot sent in another interesting article from BackBlaze, this time simply considering which is the best HDD. Let's get right to the heart of the post. The table below shows the annual failure rate through the year 2014. Only models where we have 45 or more drives are shown. I chose 45 because that's the number of drives in a Backblaze Storage Pod and it's usually enough drives to start getting a meaningful failure rate if they've been running for a while.

Microsoft's HoloLens will also be helping NASA. NASA and Microsoft have teamed up to develop software called OnSight, a new technology that will enable scientists to work virtually on Mars using wearable technology called Microsoft HoloLens. Developed by NASA's Jet Propulsion Laboratory (JPL) in Pasadena, California, OnSight will give scientists a means to plan and, along with the Mars Curiosity rover, conduct science operations on the Red Planet.

aftahours also spotted this PC in a mouse. The Mouse-Box look and works like a conventional mouse, but contains a processor, flash storage, an HDMI connection, and Wi-Fi connectivity.




Friday Morning Reviews (4 Comments) (link)
Friday, 23-January-2015 00:05:08 (GMT +10) - by Agg


Video Cards:
ASUS GeForce GTX 960 Strix on BenchmarkReviews.
MSI GeForce GTX 960 Gaming OC on Guru3D.
Palit GTX 960 Super JetStream 2 GB on TechPowerUp.
NVIDIA GeForce GTX 960 SLI on TechPowerUp.
ASUS GeForce GTX 960 STRIX OC Edition on OCAholic.
Gigabyte GeForce GTX 960 G1 Gaming on Guru3D.
Gigabyte GeForce GTX 960 G1 Gaming on OCAholic.
2-way SLI review: ASUS GeForce GTX 960 Strix on Guru3D.
Zotac GTX 960 AMP!-edition on Bjorn3D.
KFA2 GeForce GTX 960 EXOC on Guru3D.
NVIDIA GeForce GTX 960 Review With EVGA And ASUS on HotHardware.
EVGA GTX 960 SSC 2 GB on TechPowerUp.
NVIDIA, MSI, EVGA GTX 960 on OCClub.
ZOTAC GeForce GTX 960 AMP! Edition on Tweaktown.
MSI GTX 960 Gaming OC 2 GB on TechPowerUp.
GTX 960 on HWHeaven.
NVIDIA GeForce GTX 960 on Phoronix.
ASUS STRIX GTX 960 on NeoSeeker.
GIGABYTE GTX 960 G1 Gaming on Vortez.
EVGA GTX 960 Super Superclocked on HWAsylum.
NVIDIA GeForce GTX 960 (GM206) on Tweaktown.
Asus GTX 960 Strix on LanOC.
ASUS GTX 960 STRIX DirectCU II on Vortez.
NVIDIA GeForce GTX 960 2GB on PCPerspective.
GeForce GTX 960 on TechSpot.
GeForce GTX 960 on TechReport.
GeForce GTX 960 SLI Review: 2x Gigabyte GTX 960s on TechSpot.
ASUS Strix Edition GeForce GTX 960 on Techgage.
Palit GeForce GTX 960 JetStream on LegionHW.
ASUS GTX 960 STRIX OC 2 GB on TechPowerUp.

Audio Visual:
SteelSeries Siberia Raw Prism headset on Vortez.
Kingston HyperX Cloud II Gaming Headset on BenchmarkReviews.

Input Etc:
Logitech G402 mouse on LanOC.
Corsair Vengeance K70 RGB Fully Mechanical Gaming Keyboard on MadShrimps.
Tt eSPORTS Poseidon ZX Mechanical Gaming Keyboard on ThinkComputers.

Cases:
Thermaltake Core V21 Stackable Micro-ATX on eTeknix.
Raijintek Metis Mini-ITX Aluminum Chassis on eTeknix.
Cooltek C3 small aluminium case on OCAholic.

Storage:
Patriot Blaze 120GB Low-Cost SSD on Tweaktown.
Kingston SDCA3 microSDHC/SDXC UHS-I U3 Card 64GB on TheSSDReview.

Misc:
LUXA2 Aluminium MFi Lightning USB Charge / Sync Cable on ThinkComputers.
Doogee Pixels DG350 Smartphone on ModSynergy.
Thermaltake Toughpower Grand 1050W 80 PLUS Platinum PSU on Tweaktown.
MSI X99S MPower Motherboard Overview and Overclocking Guide on Tweaktown.
Reveen Steropes CPU cooler on TechPowerUp.




Windows 10 and Microsoft HoloLens (3 Comments) (link)
Thursday, 22-January-2015 15:13:51 (GMT +10) - by Agg


Microsoft have made some pretty big announcements at their Windows 10 event. As expected, Microsoft made a strong push toward connecting its devices more seamlessly, part of its universal apps program. Office, Outlook, and other apps all work quite similarly across devices, and Cortana is everywhere, working as a natural-language interface and personal assistant. The big surprise, however, was Microsoft's foray into virtual reality, with its HoloLens glasses, an ambitious bid to create a system for overlaying holographic images over the real world. Windows 10 discussion continues here in the forums.

The official Microsoft HoloLens video is viewable here, and ArsTechnica share their thoughts on this new gadget in this article - and they like it. For the second time in as many months, I feel like I've taken a step into the world of science fiction—and for the second time in as many months, it's Microsoft who put me there. More coverage on Engadget.

It's an interesting move, following only a few days since Google announced they were ending Google Glass sales. Google is halting sales of its Internet-linked eyewear Glass but insisted the technology would live on in a future consumer product.




Interesting Forum Threads (0 Comments) (link)
Wednesday, 21-January-2015 05:31:29 (GMT +10) - by Agg


Here's a snapshot of what's going on in some of the forums. You can also find new interesting things you might have missed via the Who's Online page, the New Posts page and the Live forum view. Also try the Today's Posts link (find it on the Quick Links menu) and the handy Who Quoted Me? feature.

CoolerChip Kinetic Sandia AIR Cooler in Overclocking & Hardware.
GIGABYTE GEFORCE GTX 980 WATERFORCE TRI-SLI in Video Cards & Monitors.
AMD Catalyst 14.12 "Omega" Driver in Video Cards & Monitors.
Retro Magazines in Retro & Arcade.
IBM JX, happy 30th birthday my first PC in Retro & Arcade.
Just Started at a new company and... in Business & Enterprise Computing.
E-Reading - where to start? in Portable & Small Form Factor.
Any Tricks to Choosing a Home Rack? in Networking, Telephony & Internet.
Ariston LBF51 X AUS.R Dishwasher Arduino conversion in Electronics & Electrics.
New CNC Router - Welded steel in Hobby Engineering.
Wood engraving project in Hobby Engineering.
DIY Solar panel setup on a budget in Hobby Engineering.
This plane will be able to fly anywhere in the world within 4 hours in Science.
Tabletop & Board games: any good ones? in Other Toys/Hobbies.
How much does it cost to have a dog? in Pets & Animals.
Is it time to switch sides? RHD vs LHD in Motoring.
DB10 - the new Bond car in Motoring.
2015 Formula 1 preseason chatter in Motorsport.
Effective punishment for young children in Lifestyle.
Thunderbirds are go! in Entertainment.
Triple J Hottest 100 2014 in Entertainment.
Social networking for career development in Career, Education & Finance.
Gen Y: Is it getting shafted and what's the solution? in Career, Education & Finance.
The mega-commute is driving us into an early grave in Current Events & Serious Discussion.




Wednesday Afternoon (0 Comments) (link)
Wednesday, 21-January-2015 04:52:58 (GMT +10) - by Agg


If you're a member of our OCAU.mc Motorcycle Club forum, head over to this thread where we're deciding if that forum should be merged into the main OCAU forums.

Renegade sent in this interesting Australian research into quantum storage. Scientists from ANU and New Zealand's University of Otago have jointly developed an optical quantum hard drive constructed of atoms of rare earth element europium embedded in a crystal.

mpot meanwhile spotted this decentralised storage idea. There is a new idea out there, proposed by Shawn Wilkinson, Tome Boshevski & Josh Brandof, that if you have unused disk space on your HD that you should rent it out. It is a great idea and the concept may have a whole range of implementations. Let us take a closer look at what the 3 visionaries are exactly saying.

OCClub have a guide to overclocking a Pentium G3258. Like all overclockers, it was a journey with many failures along the way. One day it would boot and run Prime95, and the next time Windows would not load. It took a while to sort it out by backing down to 4.5GHz and raising each setting until I settled on the below settings. Then I raised it until it would not go any higher with the set voltage I felt safe with.

MadShrimps report on a new free tablet benchmark. The new TabletMark benchmark from BAPCo is one interesting software each hardware enthusiast should check out, which is offered free of charge and thanks to the community the database will grow consistently in order to have comparisons between lots of tablet models which are now present on the market from different manufacturers.

Here's a James Bond type hack from scarletxfi, with a wireless keylogger disguised as a USB charger. The device, called the KeySweeper, masquerades as a working USB wall charger. However, it secretly monitors any Microsoft wireless keyboards within range and "passively sniffs, decrypts, logs and reports back" everything typed on them, its creator alleges. It could be used to record passwords and bank details, or capture confidential documents as they're being typed.

There's some conflicting plans for space internet from two of the world's billionaires. Google are apparently interested in investing in SpaceX, too. Now Musk tells Bloomberg Businessweek that his "Space Internet venture could one day stretch all the way to Mars." "It will be important for Mars to have a global communications network as well," he explains in the interview. "I think this needs to be done, and I don't see anyone else doing it."

Meanwhile, there's been zero gravity robotics challenge onboard the International Space Station. The Space Station was turned into a playing field for the finals. The ultimate robot game challenged youngsters to write algorithms that controlled the Spheres, short for Synchronised Position Hold, Engage, Reorient, Experimental Satellites.

David sent in this Keyspace Scholarship for Women in ICT through the University of QLD. The scholarship is to encourage and support female students who aspire to a career in Information Communications (ICT) to undertake the Bachelor of Information Technology, Bachelor of Multimedia Design, or Bachelor of Engineering (Honours) degree (with a specialisation in ICT related studies) at The University of Queensland.




Wednesday Afternoon Reviews (0 Comments) (link)
Wednesday, 21-January-2015 04:11:49 (GMT +10) - by Agg


Cooling:
be quiet! Pure Rock CPU Cooler on ThinkComputers.
Cooler Master's Hyper D92 CPU cooler on TechReport.
Thermaltake NiC L32 Non-Interference CPU Cooler on Tweaktown.

Cases:
Corsair Carbide 330R Titanium Edition on OCClub.
Nanoxia Deep Silence 4 mATX/mITX on NikKTech.
SilverStone Raven RV05 on TechPowerUp.
Corsair Graphite Series 380T on LanOC.
Fractal Design Define R5 on OCAholic.
Phanteks Enthoo Mini XL on BenchmarkReviews.
Raijintek Metis Windowed on OCAholic.

Storage:
Samsung Portable SSD T1 500GB on CustomPCReview.
Samsung T1 SSD portable on HWHeaven.
Samsung T1 500GB Portable USB 3.0 SSD on Guru3D.
Samsung Portable SSD T1 500GB on PCPerspective.
Samsung Portable SSD T1 on Vortez.
Samsung's Portable SSD T1 on TechReport.
Samsung PSSD T1 Portable 1TB SSD on Tweaktown.
Samsung Portable SSD T1 Review (1TB) on TheSSDReview.

Portable & Prebuilt:
On Test The Track With Dell's Venue 8 7000 And Intel's Moorefield on HotHardware.
Motorola Moto G 2nd Gen. Smartphone on HWSecrets.
Mio Spirit 6970 LM Truck GPS Navigation System on NikKTech.

Power Supply:
Corsair CS850M 850W on ThinkComputers.
Patriot Fuel iON Magnetic Wireless Charger on LegitReviews.

Input Etc:
CHERRY's MX-Board 3.0 Professional Keyboard on Techgage.
Rapoo V900 on OCaholic.
Cougar 700K mouse on LanOC.

Video Cards:
AMD Radeon R9 290X 4GB vs 8GB at 4K with maxed out settings on Tweaktown.
Alienware 13 + Graphics Amplifier for laptops on TechSpot.



All original content copyright James Rolfe.
All rights reserved. No reproduction allowed without written permission.
Interested in advertising on OCAU? Contact us for info.


Recent Content


Silicon Power USB Gift Pack


Google Chromecast


MyGica ATV510B Enjoy TV


Thecus N5550


SiliconDust HDHomeRun Dual


Intel Haswell on MSI Z87 MPOWER


Corsair AX860i PSU