News Archives
Our news archive search is now powered by Google. You can search the main site or the guest-viewable forums. To search the entire forums, log in and use the forum search engine.

Search the main OCAU site with Google: Search OCAU Forums with Google:

View News : Last 7 Days, Last 14 Days, Last 30 Days.

View Monthly Archives.



H. R. Giger Tribute PC (0 Comments) (link)
Wednesday, 23-July-2014 11:13:06 (GMT +10) - by Agg


Here's an amazing mod from MNPCTech, a tribute to H. R. Giger who passed away in May 2014: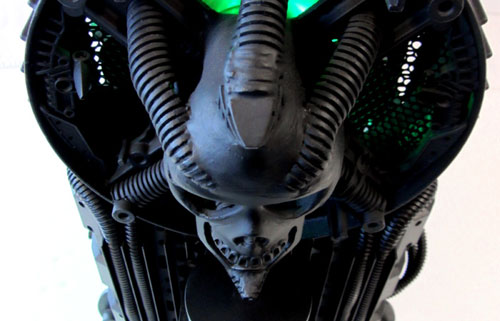 click for the thread!






GIGABYTE Contests (1 Comments) (link)
Wednesday, 23-July-2014 06:11:15 (GMT +10) - by Agg


GIGABYTE have posted the results of their recent CATZILLA OC contest. GIGABYTE TECHNOLOGY Co. Ltd., a leading manufacturer of motherboards and graphics cards, today announced the winners of the GIGABYTE CATZILLA OC Contest hosted on HWBOT.org. With $1,000 and two GIGABYTE Z97 series motherboards up for grabs, the GIGABYTE CATZILLA OC Contest invited the overclocking community to push their hardware to the limit by running the custom made CATZILLA benchmark skin on their GIGABYTE 9 Series motherboard.

Meanwhile there's another contest here in our Forums, where you can win a motherboard or some mystery prizes. Each benchmark will award 10 points to the highest score, 8 to the second, 6 to the third, 4 to the fourth and 2 to the fifth. Prize 1 will go to the top scoring individual, with additional prizes going to a prize draw for any individual who submits scores in all 3 benchmarks.


click for the thread!






Wednesday Afternoon (4 Comments) (link)
Wednesday, 23-July-2014 05:06:20 (GMT +10) - by Agg


This Friday is SysAdmin Day, when System Administrators hopefully get appreciated for what they do behind the scenes. System Administrator Appreciation Day, also known as Sysadmin Day, SysAdminDay, SAD or SAAD, is an annual event created by system administrator Ted Kekatos. The event exists to show appreciation for the work of sysadmins and other IT workers. It is celebrated on the last Friday in July.

After teaching the rest of the world how a viral marketing campaign should be done, Weird Al Yankovic is now #1 in the charts for the first time in his career. The exposure Yankovic earned via mobile and social networks leaped an astounding 3,391% between the weeks of July 7-13 and July 14-20.According to Kontera, the Amobee Brand measurement company for web analytics, Yankovic's video exposure in that period obliterated not just Mraz's, but that of every other major music star. His closest competition, Beyonce, had roughly half as much exposure as the satirist. Discussion continues here.

Copyright infringing households in the UK will now get warnings and nothing else, thanks to new laws. From the beginning of 2015, up to four warnings will be sent annually to individuals suspected of online piracy, although if these warnings are ignored no further action will be taken. The scheme is called Creative Content UK (previously known as the 'voluntary copyright alert programme' or Vcap) and is a significant step back from plans outlined in the Digital Economy Act 2010, which would have seen persistent pirates have their internet access cut.

On a related note, |Renegade| spotted some 8TB HDDs from Seagate, with 10TB on the way. Seagate, after hinting in May that it would release 8TB and 10TB hard drives in the next 12 months, has started delivering early samples of its 8TB hard drive to "major customers" (i.e. enterprise customers). Curiously, while Western Digital hit 6TB last year by filling its drives with helium, Seagate appears to be pushing the 3.5-inch spinning disk storage envelope by simply increasing areal density. Western Digital, incidentally, despite being the first to 6TB, hasn't announced anything new since November 2013. Maybe helium wasn't quite ready for prime time?

NVIDIA's Shield gaming tablet has arrived, with preview info on Tech Report, HotHardware, PC Perspective, HWCanucks, Hexus and Techgage. Just under a year since the release of the Shield Portable, Nvidia has announced a second member of the Shield family. As expected, it's the Shield Tablet, an Android slate with an emphasis on gaming. Like the Shield Portable before it, the Shield Tablet will sell direct from Nvidia, not from a partner company. The Shield Tablet extends Nvidia's Android gaming focus to a new form factor, making it one of the first tablets anywhere with a fairly pure gaming mission.

Anthony spotted this strange move from Microsoft, blocking Google search on certain Lumia phones. If you buy a Lumia 630 or 930 Windows Phone and want to use Google as your default search engine, you're out of luck: Microsoft has disabled that capability in those phones. For better or worse, you're stuck with Bing. Will this come back to bite Microsoft?

mpot sent word of some iOS backdoors which seem to bypass encryption on Apple devices. When your backup is encrypted, you will need to enter the password when enabling or disabling encryption or when restoring from the backup, but according to Zdziarski, there is a iOS service called mobile file_relay, can be accessed remotely or through a USB connection to bypass the backup encryption. Looks like Apple have denied the claims already, though.

I may not have my flying car yet, but maybe I can have a hoverbike, thanks Ben!




Wednesday Midday Reviews (0 Comments) (link)
Wednesday, 23-July-2014 02:54:30 (GMT +10) - by Agg


Motherboard & CPU:
Intel Core i7 4790K – Haswell gets a refresh on Bjorn3D.
MSI Z97M Gaming on OCAholic.
Gigabyte Z97X-SOC FORCE Motherboard on MadShrimps.
Intel Pentium G3258 (Haswell) 20th Anniversary CPU Gaming Performance on Tweaktown.

Audio Visual:
TDK A12 TREK Micro Wireless Speaker on NikKTech.
Kingston HyperX Cloud Pro Gaming Headset on HWHeaven.

Storage:
Western Digital Red Pro 4TB NAS WD4001FFSX Consumer HDD on Tweaktown.
Intel SSD Pro 2500 Series 240GB Encrypted SSD on Tweaktown.
Intel SSD 2500 Pro 240GB Solid State Drive on HotHardware.
Plextor M6S PX-256M6S 256GB SSD on NikKTech.
Intel P3700 NVMe SSD Installed In a Win 8.1 Consumer PC on TheSSDReview.

Misc:
BitFenix Fury 550G Alchemy-Sleeved Power Supply Preview on BenchmarkReviews.
Lantronix SLB Remote Branch Office Manager on Tweaktown.
Gigabyte GeForce GTX 770 vs. ASUS Matrix Platinum video cards on HWSecrets.
iOttie Easy Flex Wireless Qi Standard Charging Car Mount on ThinkComputers.



Audio:
Superlux HD668B Headphones on Benchmark Reviews
Tt eSPORTS SYBARIS Wired And Wireless Gaming Headset on NikkTech
Ozone Onda Pro Headset on Funky Kit

Keyboard & Mouse:
ThermalTake Level 10 M Hybrid Mouse on PureOverclock
Cooler Master Quick Fire Rapid-i Mechanical Keyboard on Madshrimps

Videocard:
HIS R9 280 IceQ X2 OC 3GB GDDR5 Video Card on Madshrimps
AMD Radeon R9 280X Round-up on Legion Hardware

Case:
Silverstone Raven RV 05 on ocaholic
Phanteks Enthoo Pro Full-Tower Case on Legit Reviews
BitFenix Shadow Mid-Tower Chassis on TweakTown
NZXT Phantom 240 Mid-Tower Chassis on TweakTown
Fractal Design Core 3500 Computer Case on Benchmark Reviews

Storage:
Patriot STELLAR 64GB USB/microUSB 3.0 OTG Flash Drive on Overclockers Club
Seagate Desktop HDD 5TB ST5000DX000 on TweakTown
Corsair Voyager Air 2 on HardwareHeaven
Toshiba Nearline MG04ACA500A 5TB SATA III HDD on Nikktech
Crucial MX100 512GB SSD on FunkyKit
SanDisk Extreme PRO 480GB SATA SSD on Custom PC Review
Kingston DataTraveler microDuo 32GB USB Flash Drive on APH Networks
Synology DS414j Budget-friendly 4-bay NAS Server on Madshrimps
OCZ RevoDrive 350 on Vortez
Samsung 845DC Pro SSD 800 Gigabyte on ocaholic
Western Digital Red 6TB NAS Consumer HDD on TweakTown
Lexar JumpDrive P10 64GB USB 3.0 Flash Drive on Funky Kit
Toshiba HG6 SSD Review (512GB) on Hardware Heaven
Crucial MX100 256GB SSD on TweakTown
Plextor M6S PX-256M6S 256GB SSD on Nikktech

Cooling:
Thermaltake NiC C5 CPU Cooler on Tech Powerup
Noctua redux Series on Vortez
Aerocool Air Force 120mm Fans on Funky Kit
Be Quiet! Dark Rock 3 CPU Cooler on NikkTech
Arctic Accelero Hybrid II-120 GPU Cooler on Techgage
Enermax Liqtech 120X AiO Liquid CPU Cooler on Think Computers

Powersupply:
SilverStone Strider Gold S ST85F-GS 850W Power Supply on APH Networks
Rosewill Capstone Modular 1000W on Tech Powerup

Tablet/Portable:
Xiaomi Mi Pad 7.9 Android Tablet on PC Perspective
LG G3 Mobile Phone on Techspot

Misc:
Kingston HyperX Impact 2x4GB DDR3-1600 1.35V Memory on Funky Kit
Valiant Hearts: The Great War PC Game on TweakTown



Catch of the Day have recently informed their customers to update their passwords after a security breach that happened 3 years ago. In a belated disclosure released late on Friday, daily deals website Catch of the Day sent a message to customers revealing it was hacked in May 2011 in an incident that revealed customer data, including passwords and credit card details.

Good news for Cyclists - Google Maps for mobile now lets cyclists avoid (or head for) the hills with an inbuilt elevation chart for each route entered. The update plots elevation against distance, allowing you to compare the amount of climbing you'll have to do. It shows multiple routes in the same search display, so you really can judge one against the others.

Electronic DNA perhaps could become the secure login of the future. Unique habits can be used to prove users' identity – but may also reveal if they are drunk, or have had sex, researchers say.

Public transport users in Sydney that use the Opal Card system may be getting watched and tracked by Transport NSW, with NSW Police having access on information on a users' travel history with a warrant. Transport NSW has now defended the practice, saying that it "may only disclose information to a law enforcement agency that is necessary for law enforcement purposes, for the investigation of an offence, for the enforcement of criminal law or to assist in locating a missing person".

Amazon has officially announced their Kindle Unlimited service, providing endless reading and listening for $9.99 a month. Dubbed a "Netflix for books" by our own Darrell Etherington, the service offers over 600,000 books for free reading on Kindle and Kindle-enabled devices as well as thousands of audiobooks from Audible.

Michael sent in this interesting read about how this person met with Sonic the Hedgehog creator Yuji Naka, and, showed and handed over an old pre-release Genesis ROM version of Sonic back to its creator. Naka looked happy. A few clicks later, and the file was on a USB drive, and then, in the hand of the father of Sonic. The early version of a classic game this man had worked on—one that had been illegally copied many years ago and distributed through illicit means since—was now back in the hands of its creator.

Sverker Johansson is responsible for writing over 2.7 million articles on Wikipedia over the last seven years, which works out to be 8.5% of all the content on the site. His claims to authorship are contested however, as they were created by a computer generated software algorithm, otherwise known as a bot. Johansson has named his Lsjbot.

A bit of useless information - if you fold a piece of paper in half 103 times, it will get as thick as the universe. The myth: You can't fold a paper in half more than eight times.* The reality: Given a paper large enough — and enough energy — you can fold it as many times as you want. The problem: If you fold it 103 times, the thickness of your paper will be larger than the observable Universe: 93 billion light-years.



Our thoughts are with those involved in the MH17 crash - discussion of that topic is underway here. If you're concerned about people who might have been on that flight you should try to contact them directly, but if you are unsuccessful in contacting them, DFAT has more info.

Thanks to gasman and t1mbot for pics submissions this week.











































Friday Afternoon Reviews (0 Comments) (link)
Friday, 18-July-2014 03:08:52 (GMT +10) - by Agg


Motherboard & CPU:
Haswell Devils Canyon Performance on HWAnalysis.
Biostar's Hi-Fi Z97WE on TechReport.
Intel Pentium G3258 On Linux on Phoronix.
ASRock Z97 OC Formula Preview on OCaholic.
Intel Pentium G3258 (Haswell) 20th Anniversary Edition CPU Performance on Tweaktown.

Audio Visual:
ASUS Essence STX II 7.1 Sound Card on Guru3D.
Asus PG278Q monitor on TFTCentral.
SB Inferno Gaming Headset on LanOC.
LOGiiX Blue Piston Chamber Bluetooth NFC Speaker on ModSynergy.

Portable & Prebuilt:
BlackBerry Q10 smartphone on TechnologyX.
EVGA Tegra NOTE 7 & ASUS Transformer Pad TF701T on NeoSeeker.
Shuttle Barebone DS81 on MadShrimps.
Maingear Rush Review With Radeon R9 295X2 CrossFire prebuilt PC on HotHardware.
Digital Storm Vanquish 2 Level 4 Desktop Gaming PC on Tweaktown.

Cases:
Phanteks Enthoo Pro Full-Tower on Tweaktown.
Aerocool Dead Silence DS200 Mid-Tower on eTeknix.
Spire Ridge 6602B on OCAholic.
Phanteks Enthoo Luxe on TechPowerUp.
Silverstone Raven 5 (RV05) on TechSpot.

Storage:
ALLONE Cloud Disk Drive 101 RAMDisk Review (32GB) on TheSSDReview.
ADATA SP610 512GB Versus Corsair Force LX 512GB on LegitReviews.
Intel DC P3700 800GB NVMe vs. Intel 730 Series SATA SSD RAID on Tweaktown.
Samsung 845DC PRO 400GB SATA SSD on CustomPCReview.
Corsair Flash Voyager GTX 128GB on Vortez.
Crucial MX100 512GB SSD on TechWareLabs.
QNAP TS-451 NAS on LegionHW.
Corsair Flash Voyager GTX 128GB USB 3.0 Flash Drive on Tweaktown.
Synology DS415Play 4-Bay NAS on eTeknix.
Corsair Flash Voyager GTX 128GB USB 3.0 Flash Drive on LegitReviews.
Kingston SSDNow mS200 240GB mSATA SSD on BigBruin.
Kingston MobileLite Wireless G2 Card Reader on BigBruin.

Power Supply:
Antec HCP-850 850W PSU on NikKTech.
BitFenix Fury 650G Power Supply on PureOC.

Input Etc:
Gamdias Hermes Cherry MX Blue Mechanical Gaming Keyboard on eTeknix.
GAMDIAS HERMES Essential GKB2000 Mechanical Keyboard on BenchmarkReviews.

Networking:
Linksys AC1200 MAX Wi-Fi Range Extender (RE6500) on HWHeaven.
Linksys WRT1900AC Dual Band Smart WiFi Wireless AC Router on LegitReviews.

Misc:
Sapphire Radeon R9 280 Dual-X 3GB video card on Techgage.
DeepCool Gabriel Low-Profile CPU Cooler on NikKTech.



All original content copyright James Rolfe.
All rights reserved. No reproduction allowed without written permission.
Interested in advertising on OCAU? Contact us for info.


Recent Content


MyGica ATV510B Enjoy TV


Thecus N5550


SiliconDust HDHomeRun Dual


Intel Haswell on MSI Z87 MPOWER


Corsair AX860i PSU


Bauhn AMiD-9743G Android Tablet (3G, GPS)


AMD Trinity A10-5800K & GIGABYTE F2A85X-UP4